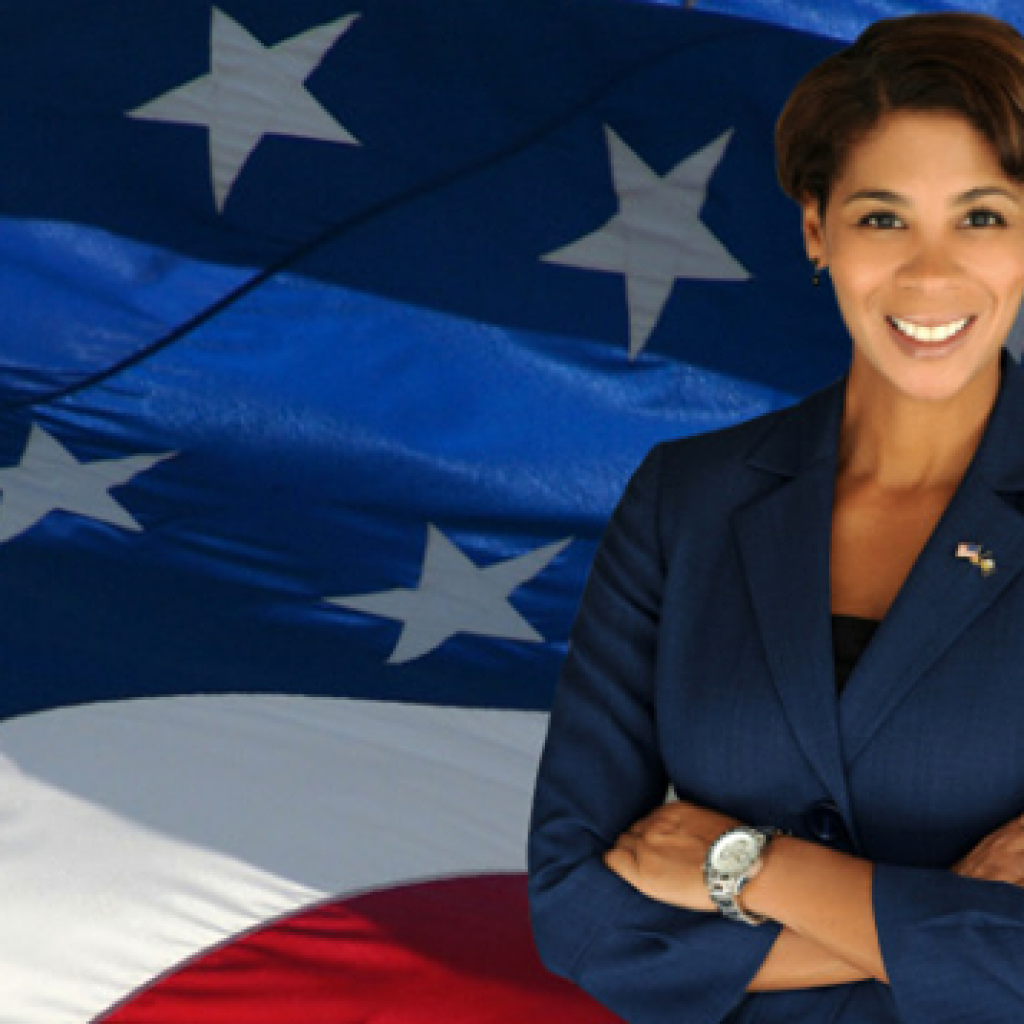 Florida Democratic Senate hopeful Pam Keith was already a decided underdog in her attempt to become the Democratic party's nominee for U.S. Senate next year — and that was before Alan Grayson got into the race last week.
But Keith, a 46-year-old African-American former Navy JAG officer, says she's not overly concerned that the Florida political press will probably be obsessed between what is likely to be an intense, drawn-out battle between the liberal Grayson and the more centrist Patrick Murphy in the Democratic Senate contest.
"I'm not worried about that," Keith said Friday during an interview at La Tropicana, the venerable Cuban coffee shop in Tampa's Ybor City. "I'm sort of expecting that to happen. I think there are factions in the party that want to keep the focus in that direction, and that's OK. If they're focused on those two, they're going to be focused on each other and I'm going to continue doing what I'm doing. I believe what I'm doing is what the voters are really interested in."
While Grayson supporters think the Florida Democratic Party establishment is firmly in the bag for Murphy, not all progressives are lining up behind the Orlando firebrand. Keith enjoys the support of Florida Squeeze blogger Kartik Krishnaiyer, for example. When asked whether she gets upset about stories that mention only Murphy and Grayson as the Democratic party nominees for Senate, Keith said simply it's "disrespectful to the voters."
"I think it's factually inaccurate," she said. "I question the journalistic integrity of anyone who writes something that's factually inaccurate, but it is what it is."
A foreign service brat, Keith was born in Turkey, lived in Morocco and Syria before moving back to the U.S., where she lived in places like Oakland and Lexington, Ky., before ultimately making her way to Palm Beach County, her home now.
She spent a couple of days last week in Tampa meeting potential voters, and said she's been making trips throughout the state to Orlando, Jacksonville and Tallahassee, and points in-between.
" I think there's no time when you're not trying to get money, but I think that every campaign is different and it has to be based on the candidate," she said. "So my campaign has started with an emphasis on getting my name out, with an emphasis on the grassroots connection and (getting) hopefully some of the earned media. And as people get to know me, then you have more success and say, 'This is who I am, this is what I'm doing', and people say, 'Oh, I've heard of you! Somebody told me about you. I saw you on Facebook,' and then you have more success at fundraising."
Regarding some of the issues, Keith said she supports raising the minimum wage while acknowledging the downside that it presents for some small businesses. Florida's minimum wage stands at $8.05 an hour, while it remains $7.25 nationally. How much does she think it should be raised?
"I certainly think it's north of $10," she said. "I would like to see a phase in towards $15." But she expresses concerns about that could affect small businesses. "One of the things that I would particularly like to see phased in is the payroll tax consequence to the employers that are on the margins, whose profits aren't very high or are just barely making it," she says.
On immigration, Keith is for a pathway to citizenship for the undocumented in this country, and supports most of the Senate's comprehensive immigration plan it passed two years (the bill strongly supported at the time by Marco Rubio). But she said when she hears her Republican friends consistently trot out the phrase, "more border security," she questions exactly how much more are they talking about?
"Do you mean walls, do you mean drones? Armored vehicles? Talk to us about what you think our southern border should look like?" she questioned. "Because we already have thousands of people working on that border, so if it's not that, or if you want to go from thousands to tens of thousands, OK, tell us how much that's going to cost? Right? I think that's a part of the bill that I thought was woefully inadequate."
Regarding national security and the National Security Agency's surveillance program exposed thanks to former contractor Edward Snowden's revelations two summers ago, she said there are different points of view on dealing with the war on terrorism.
Asked about Kentucky GOP senator and presidential candidate Rand Paul's pushback against some of the excesses of NSA surveillance, Keith said she respects his stance on the issue, but doesn't wholeheartedly embrace it.
"I don't think it's ever a good idea to play fast and loose with civil rights and freedoms in this country," she said. "We should never have a cavalier attitude about the privacy of American citizens, but we also have to understand the realities of our circumstances. We have to understand that not only is our Uncle Sam tracking down some of the things that we're doing, never doubt that some of our enemies are tracking those very same things, and information is power. If I had a choice to who knows what I'm up to? I would rather it be Uncle Sam than Proctor and Gamble."
In talking about what animates her, Keith brought up her military background, saying her job in the Navy was to help fight our enemies abroad. But, she said, there are "enemies within," as well, and they work to disenfranchise voters, not just of the ability to vote, but also to know and learn about those competing for office.
"There are enemies to our process; those who don't respect voters and try to disenfranchise them; those who gerrymander districts to try to water down intention of the voters; those who try to pollute our system with influence peddlers and try to buy access. That's wrong, and those who feel they can determine who our candidates are going to be without the voters say so? That is as much a threat to our process as is anything else. And I'm going to stand up against that, to the best of my ability."