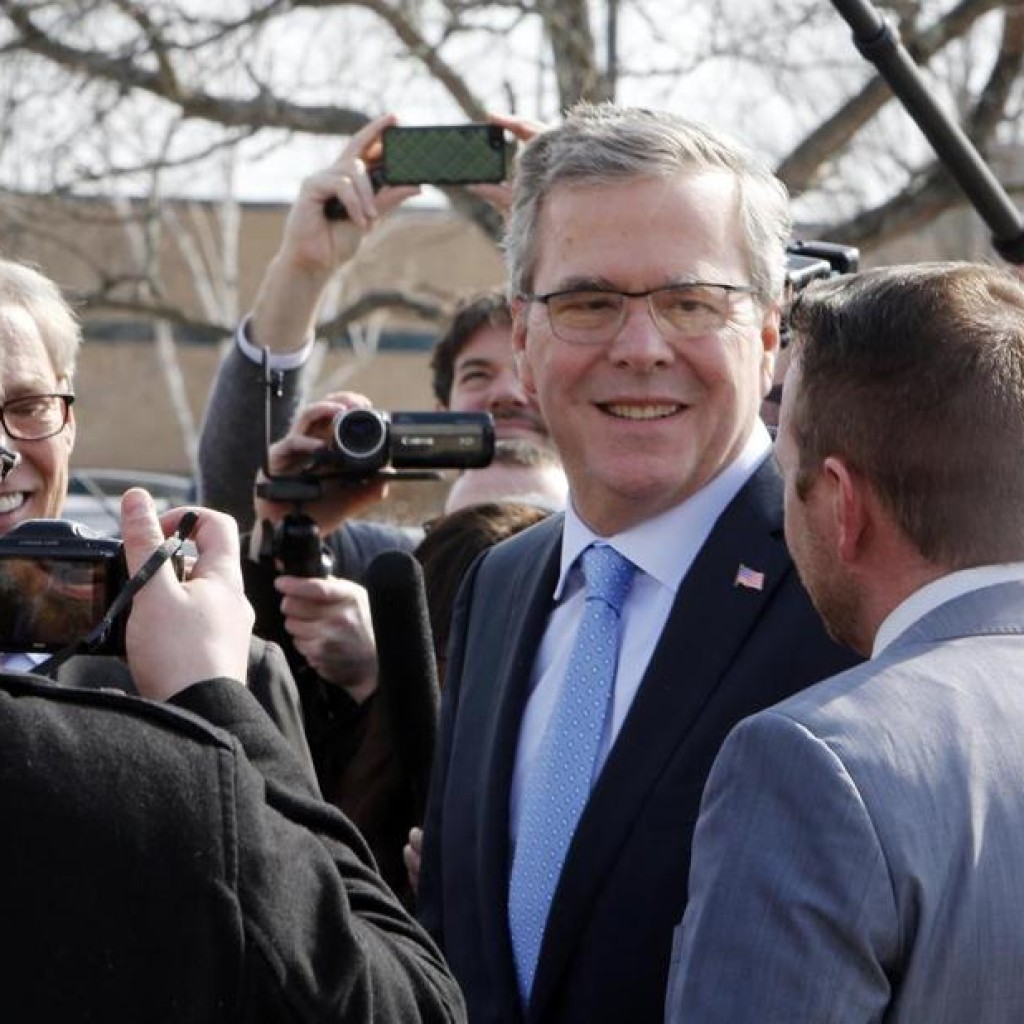 Jeb Bush told a group of elite Republicans and libertarians in a speech in Southern California on Sunday night that America is desperate for leaders, and he is the man who can fill that gap in Washington.
"People are desperately looking for is a leader, and I hope you're looking at him, " Bush said to Politico reporter Mike Allen in a conversation at the St. Regis Monarch Beach luxury resort, in Dana Point, California. The interview was live streamed on Politico's website.
The event was the Koch Brothers summer conference, where Bush was the last of five Republicans invited to speak at the weekend event as officials with the family network laid out their plans to spend $889 million by the end of next year on issue advocacy, higher-education grants and political activity. Marco Rubio, Ted Cruz, Carly Florina and Scott Walker also addressed the conference over the weekend.
It was Bush's first public appearance since Hillary Clinton blasted him at the allegedly nonpartisan National Urban League meeting in Fort Lauderdale on Friday. Some conservatives criticized the governor for not responding back in kind to the Democratic presidential front-runner, but the only question that Allen posed to Bush on Sunday night regarding the former first lady had to do with her issues involving her home brewed server for her emails when she served as Secretary of State from 2008-2012.
"I think it's a complete, unmitigated disaster," he said. He then referred to other great security lapses, such as the NSA files released by Edward Snowden and Bradley Manning's Wikileaks revelations.
"In that environment, for the Secretary of State to say it's okay for me to have a private server, the security's gonna be great, and then to say there's no confidential information or nothing related to national security that went on this?" Bush said. "And now we find out that's not the case? Gee, apart from being wrong, it's just bad politics for her as well."
Nobody has raised more money in this presidential campaign than Bush. Right to Rise, his super PAC, brought in more than $111 million for the first six months of the year. And the former Florida Governor wasn't apologizing for a second about being so successful in raising that amount.
"Money helps. I'm playing by the rules of the game," he said when asked about his financial prowess. "The way it's laid out. And if people don't like it, that's just tough luck."
Two weeks ago Bush took on "Mount Washington" in a speech in Tallahassee, where he laid down strict rules about lobbyists that he says he would implement if elected president. But since then, Bush has been accused of hypocrisy, considering how much money he's received from lobbyists in his campaign. He shrugged in response to a question asked by Allen about that seeming contradiction.
"Maybe they see my leadership skills based on my record, and my capabilities, and they say, I want to see this guy elected, "he responded. "Even if it might make my world a little uncomfortable. They know what my views are about lobbying reform. And if people support me, it's because I have ideas that give them some confidence that I'm going to make it happen."
Though he said he wouldn't commit to raising one dollar in taxes for cutting $10 in spending (a sentiment that all of the 2012 GOP presidential candidates rose their hands  at a debate to agree to), he rebuked Allen when the reporter suggested that he was ready to sign Washington tax activists Grover Norquist's infamous no-tax pledge. "I don't sign pledges," he said with authority. "I have the benefit of having a record of cutting taes, I don't have to sign pledges, It's in my core, it's who I am."
Bush frequently talks about being a doer, not a talker, boasting about his achievements in Florida, a "purple state," as he invariably says, though the Legislature was then and remains now solidly Republican. He dismissed recent reports that his economic success in Tallahassee was due to the massive run-up in housing prices — which peaked in Bush's last year in office, then plunged the state into recession. He talked about the state's 4.4% growth rate, and as he has done throughout this campaign, season, said that he can bring that same level of growth in Washington, though for the first time downgraded it a bit, saying that he'd take 3.75% growth. "We should have aspirational goals and then act on it with action and commitment."