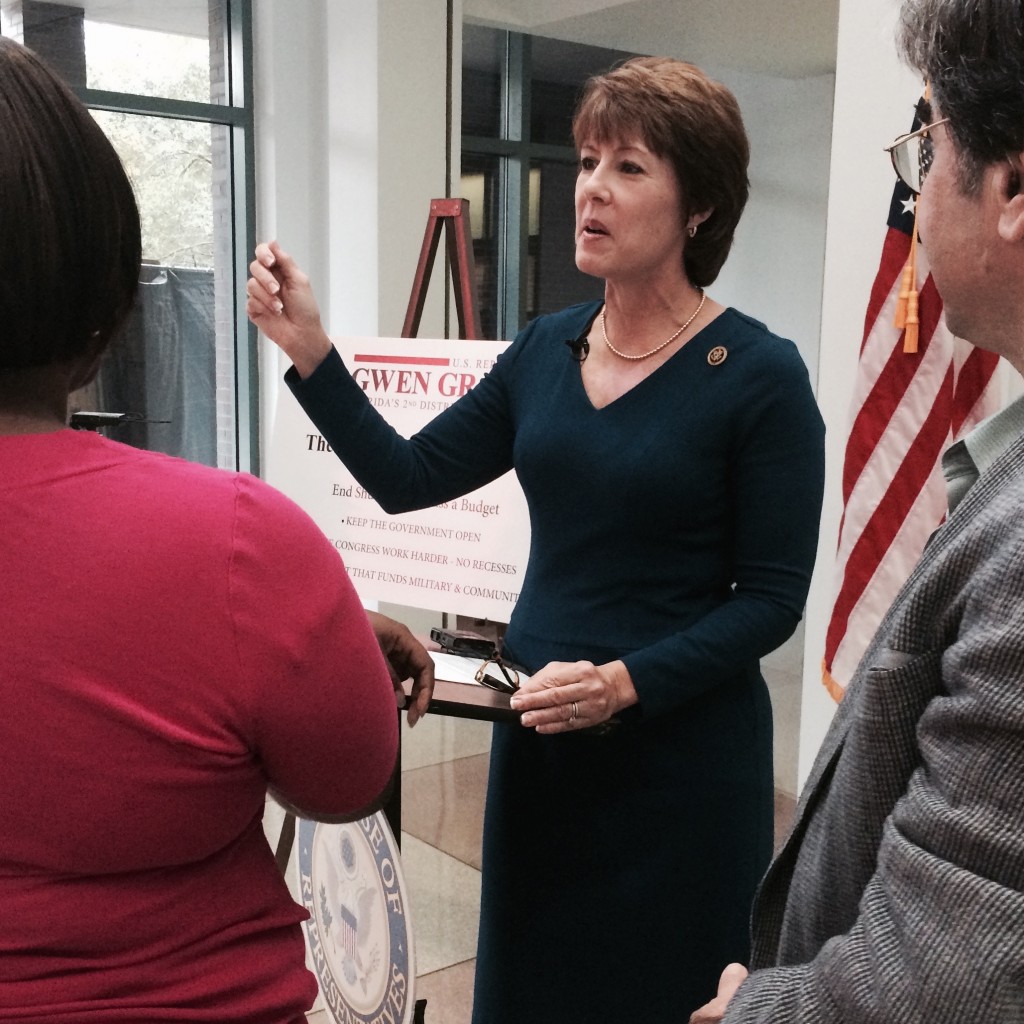 Democratic Congresswoman Gwen Graham Friday said she'll propose legislation to head off any further shutdowns of the federal government.
Graham, speaking to reporters outside her district office in Tallahassee City Hall, said she's filing the "Shutdown Prevention Act," which would force Congress to pass a federal budget each year.
"It's a shame we have to be here today," she said. "The government should do its job and not put our country through another shutdown."
Late Wednesday, a bitterly divided Congress approved a stopgap spending bill to keep the federal government open — but with no assurance there won't be yet another shutdown showdown in December. Graham voted for the bill.
The legislation finances the government through Dec. 11, providing 10 weeks to negotiate a more wide-ranging budget deal that would carry past the 2016 presidential election.
Approval of such stopgap measures used to be routine, but debate this year exposed acrimonious divisions between pragmatic Republicans and junior lawmakers in the GOP's tea party wing who are less inclined to compromise.
The tea partyers had demanded that the must-pass measure be used to punish Planned Parenthood, stripping it of federal money because of its reported practice of supplying tissue from aborted fetuses for scientific research.
Graham's bill aims to prevent future showdowns. In a handout, she explained the mechanics of the bill, which could be filed as early as next week:
Within 24 hours of a government shutdown, any member would be allowed to offer a clean 30-day continuing resolution. This will prevent small minorities of extreme partisans from threatening shutdowns, when a majority of members support keeping the government open.

During the ensuing 30-day extension, Congress is forced to actually work by cutting off their travel funds; forbidding recesses; and limiting their weekends to just two days (a stark comparison to the three- and four-day weekends they currently enjoy.)

Congress is then forced to negotiate and pass an annual budget or penalty measures re-activate with the next 30-day continuing resolution.
"This will require Congress to do its job, to sit down, to be together, and work to develop a budget," Graham said.
Graham said she is currently seeking a Republican co-sponsor. "There are a number of Republicans who recognize this is our No. 1 responsibility," she said. "We must do better."
Graham said a 16-day shutdown in 2013 hurt her north Florida district, which stretches roughly from Bonifay to Perry. "Civilian Department of Defense employees were furloughed, base commissaries were closed and veterans' services were limited," she said.
A copy of the bill can be read by clicking here. 
Material from The Associated Press was used in this post.