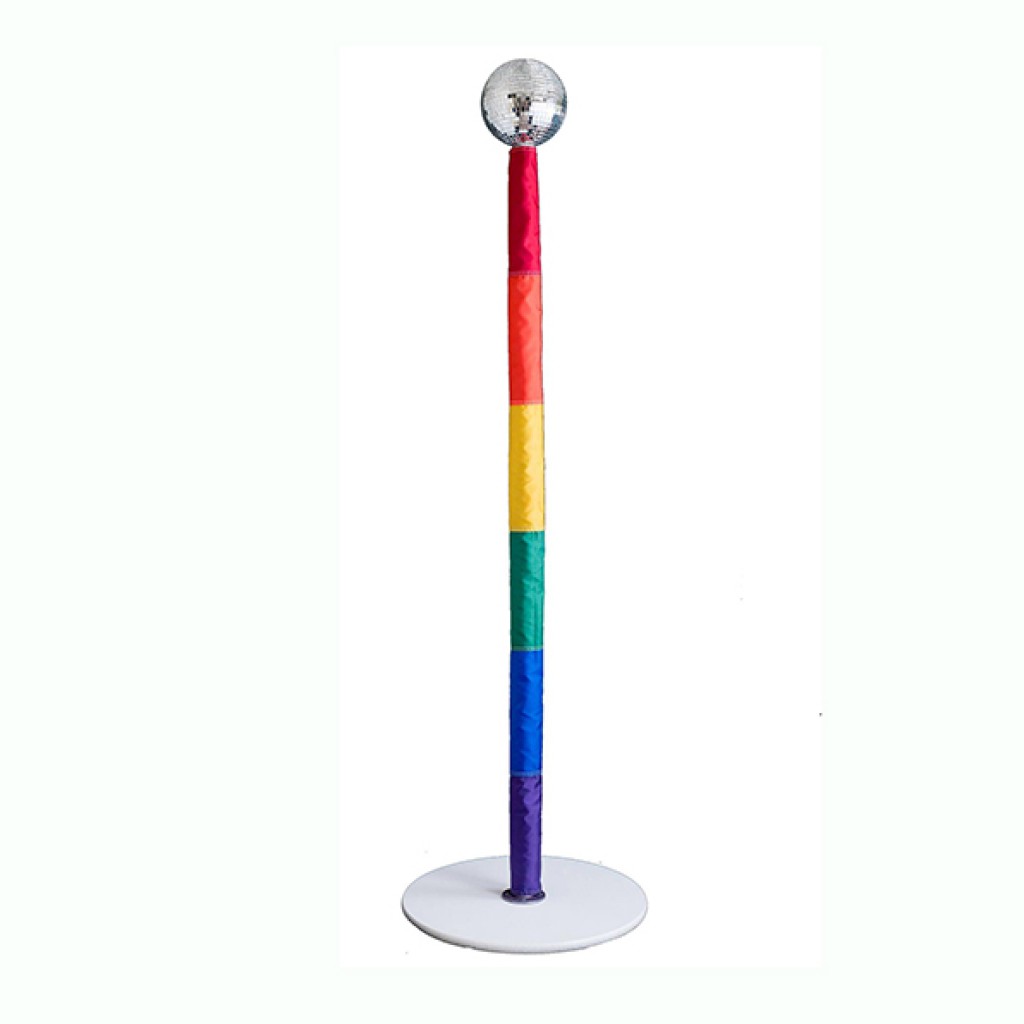 Festivus returns to Tallahassee, with a gay twist this year.
Political blogger (and all-around s**t-stirrer) Chaz Stevens will once again bring his Festivus Pole – the unadorned metal pole made famous on "The Strike" episode of Seinfeld – as a holiday display in the rotunda of the Florida Capitol.
But instead of a modest stack of 16 Pabst Blue Ribbon cans – in so much as anything Stevens does can be described as "modest" – the 2015 version celebrates Gay Pride, with a nod to the U.S. Supreme Court decision legalizing same-sex marriage as a constitutional right.
Updated Festivus Poles – which Stevens plans as holiday displays in state capitals nationwide – will be adorned in bright colors, similar to those in a Gay Pride Rainbow Flag. Topping the pole will be a mirrored disco ball.
Over the past few years, the Festivus Pole has become something of a trademark for the Boca Raton-based blogger, who thrives on stirring up controversy.
Stevens' website – My Acts of Sedition (MAOS) – frequently takes on local political shenanigans, often with a "preponderance of f**s" (2.4 per sentence, he prefers) and pictures of his targets with penises Photoshopped on their faces (at least we hope they are Photoshopped).
The new, improved Pole will support The Humanity Fund, an advocacy program seeking to combat social injustice with humor. Stevens, as founder and executive director, describes the fund as "dedicated to protecting and promoting freedom of speech and religion, especially the separation of Church and State."
Stevens says he created the first Festivus Pole two years ago for display in the Florida Capitol, to protest the "violation of our rights" after the state allowed a Christian Nativity scene to be placed in the rotunda.
What ensued became a media sensation with mentions on the "Colbert Report," "Daily Show," Fox News and international media outlets. While most reporters got the joke, some clearly didn't.
Fox News host Gretchen Carlson blasted the tribute to a fictional holiday, incredulously complaining, "Why do I have to drive around with my kids to look for a Nativity scenes and be, like, 'Oh, yeah, kids, look, there's baby Jesus behind the Festivus pole made out of beer cans!' It's nuts!"
Joining the Pole in Florida were other irreverent holiday demonstrations, including posters from atheists and a crudely made cardboard Flying Spaghetti Monster. Although the state initially denied them a permit, the Satanic Temple expects to put up a display this December, after the group made threats to sue Florida for the right to a public holiday display.
Publicity surrounding the Pole – officially titled "Festivus Pole 2015 Rainbow Gay Edition" – will focus on lesbian, gay, bisexual and transgender rights. Stevens has already established an Indiegogo page for supporters, with donations going to a variety of LGBT youth organizations.
"Hopefully, Gretchen Carlson and her kids will enjoy these Gay Pride Festivus Poles as much as we do," Stevens says. "#MyGayPridePole."
And we suspect she will.