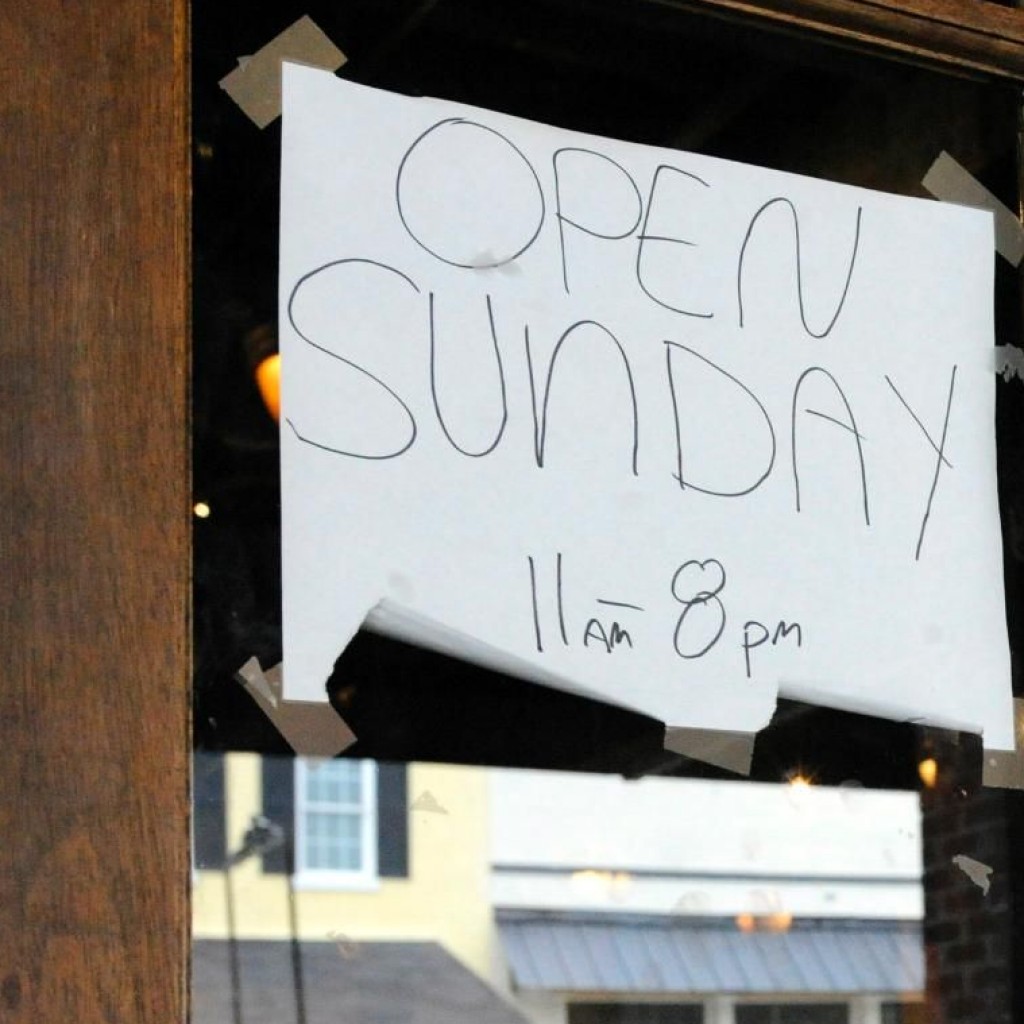 Prayers said and the closing hymn sung, tea-drinking churchgoers fill Marble City Grill for Sunday lunch. But hard on their heels comes the afternoon crowd: craft beer-drinking, NFL-watching football fans.
Such a scene would have been impossible just months ago because Sunday alcohol sales were long illegal in Sylacauga, hometown of both the actor who played TV's Gomer Pyle and the white marble used to construct the U.S. Supreme Court building. While the central Alabama city of 12,700 has only one hospital, four public schools and 21 red lights, the chamber of commerce directory lists 78 churches.
Yet few were surprised when residents voted overwhelmingly in September to legalize Sunday alcohol sales. Churches lacked either the heart or influence to stop it.
That shift is part of a broad pattern across the South: Churches are losing their grip on a region where they could long set community standards with a pulpit-pounding sermon or, more subtly, a sideward glance toward someone walking into a liquor store.
In metro Atlanta, youth sports teams regularly practice and play games on Sunday mornings and Wednesday nights — times that were strictly off-limits a generation ago because they conflicted with church worship services. In Mississippi, dozens of businesses display anti-discrimination stickers distributed by a gay rights group rather than worry about a church-based backlash.
"It doesn't matter who wants to buy a house," said real estate agent Diana Britt, who drives around Jackson, Mississippi, in a work vehicle decorated with one of the stickers. "If they want to buy a house, I'll sell them a house."
Church-based crusaders against gambling also are on a losing streak as all but two Southern states, Alabama and Mississippi, have lotteries. And, perhaps most tellingly, a recent survey by the Pew Research Center showed 19 percent of Southerners don't identify with any organized religion. That's fewer "nones" than in other regions, but the number is up 6 percentage points in the South since 2007.
The South is still the Bible Belt, and that same Pew survey found that church affiliation remains stronger in the states of the old Confederacy than anywhere else in the United States. Seventy-six percent of Southerners call themselves Christians, and political advertisements often show candidates in or near church. Religious conservatives remain a powerful force in many Southern statehouses.
Still, the same South that often holds itself apart from the rest of the country is becoming more like other U.S. regions when it comes to organized religion, said Jessica Martinez, a senior researcher in religion and public life at Pew.
And while race divides many things in the South, the trend is evident among blacks, whites and Hispanic adults, she said.
"We've seen this sort of broader shift throughout the country as a whole with fewer people identifying as being part of the religious base," she said. "In the South you see a pattern very similar to what we are seeing in other regions."
Thomas Fuller, a religion professor at Baptist-affiliated Samford University near Birmingham, said there's no single reason churches are losing the cultural wallop they once packed. Migration into the region and the Internet are but two factors chipping away at a society that seemed much more isolated just a generation ago, he said.
"The South is not nearly as homogeneous, is far more diverse culturally now than it's ever been," said Fuller. "In a way you're a little hard-pressed now to talk about Southern culture in a singular fashion. It's not nearly as one-dimensional anymore or easy to describe."
In Sylacauga, 45 miles southeast of Birmingham, Mayor Doug Murphree said the push for Sunday alcohol sales was linked to attracting new businesses.
"We're not really trying to promote drinking in Sylacauga. But if you look at a big chain restaurant like Ruby Tuesday or O'Charley's, they're open on Sunday and a big part of their business is alcohol," said the mayor.
Murphree, who attends a Baptist church, said he met with members of the local ministerial association before the citywide vote to explain the city's economic situation and the need for Sunday alcohol sales. Pastors listened, and by and large they didn't preach against it.
"They said they were not going to try to block us," he said.
So now, Marble City Grill can sell alcohol after 1 p.m. on Sunday just two blocks up North Broadway Avenue from the white-columned First Baptist Church of Sylacauga.
"Things have changed," said Julie Smith, who owns the restaurant with her husband. "We've been open 10 years and at first we had people who wouldn't come because we sold alcohol. They come now."
Around corner from the restaurant, Dee Walker said he's attracting a larger crowd every Sunday afternoon at his craft beer and wine shop, The Fermenter's Market at The Rex, named for the old hotel in which it is located.
Walker grew up in neighboring Clay County, the last dry county in Alabama, and recalls the petition drives and fire-and-brimstone sermons anytime someone mentioned legalizing alcohol sales. Southern churches no longer have that kind of influence in many places, Walker said.
"You've got some diminishing populations when it comes to the religious opposition," said Walker, standing behind a bar with 36 taps for craft beer. Walker said his customers include church deacons and elders; a Baptist layman quoted Scripture while drinking a hoppy brown ale on a recent weekday afternoon.
Joe Godfrey, a Southern Baptist minister and head of a group that calls itself "Alabama's Moral Compass," recalls a time when churches were the center of Southern society.
"I can remember when schools looking to schedule an event would call the local churches to see if they had anything … that might conflict with the school's tentative plans. If so, the school would find a different date to hold their event. That is no longer true," said Godfrey, executive director of Alabama Citizens Action Program.
"Today, churches try to find a time to schedule their events when ball teams, schools and civic clubs are not already planning something else," said Godfrey. "Instead of being the 'hub' of the community, churches today are simply one 'spoke' in the wheel of people's lives."
Fuller, the religion professor, said the loss of influence isn't all bad for Southern churches. The idea of churches controlling Southern society is giving way to individuals searching for a deeper faith, he said.
"The fact that you didn't drink, cuss or chew or go with girls who do, didn't dance, didn't do this or that, was far more a litmus test of one's faith and devotion to Christ in a previous day and in many instances in a way that, I think, produced a superficial sort of religion in many respects," he said. "I think there has been some growth and development in outlook."
Republished with permission of the Associated Press.