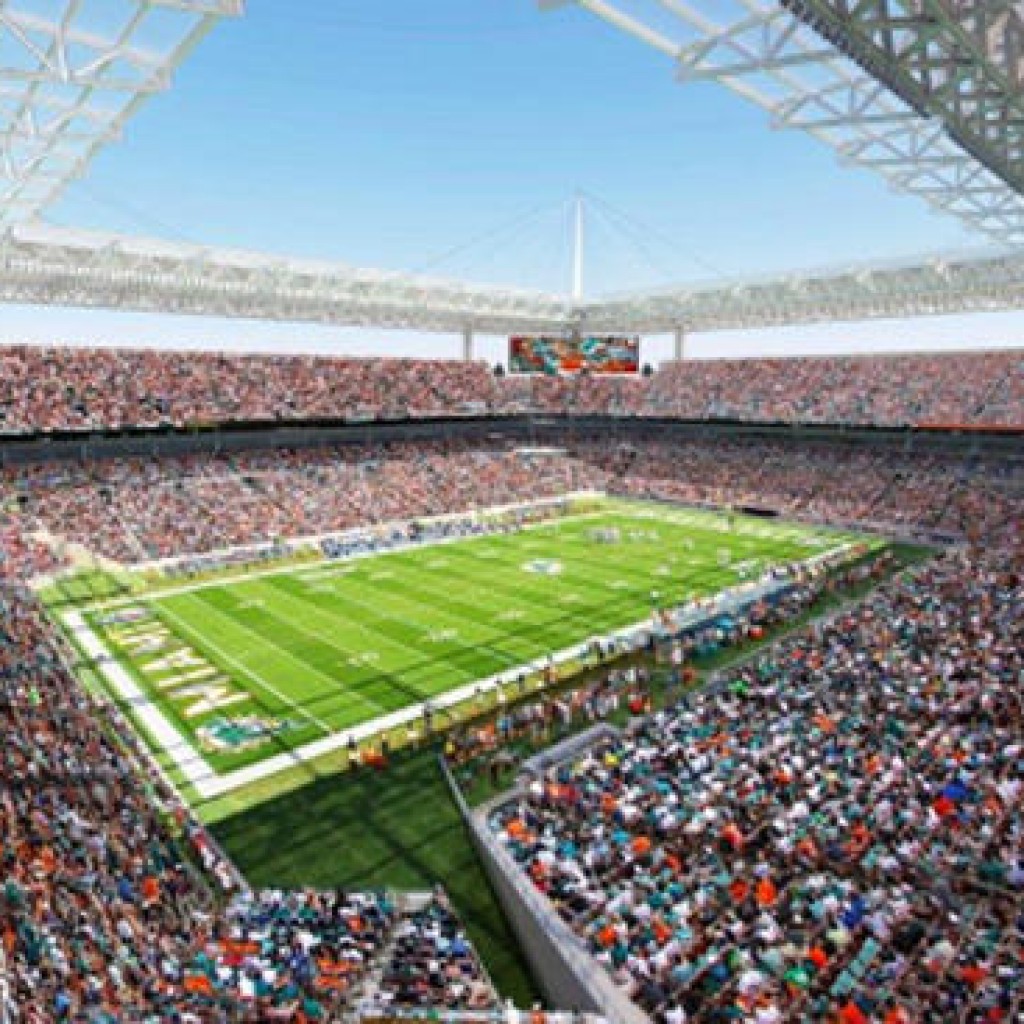 Four Florida sports teams have come to Tallahassee with the hope of leaving with state money to renovate and improve facilities, a process where the first step is scheduled to begin at month's end.
Each applicant – Daytona International Speedway, the Miami Dolphins, Tampa Bay Buccaneers and Jacksonville Jaguars – is jostling for a slice of the Florida Department of Economic Opportunity pie, in the form of cash from the Sports Development Program.
No one wants to go home empty-handed; but one does stand a better chance of losing – the Miami Dolphins.
It's not that the Dolphins are completely undeserving of taxpayer money (as much as any privately-owned sports team can be), but compared to the other three, the team has a much tougher road ahead.
Who gets the money is ultimately based on ranking by the DEO, expected to come by the end of December 2015. Once the four groups are listed by relative need, the recommendations will go to the Florida Legislature, which then selects a recipient (or recipients), and what amount they will receive.
Of all the factors used in the process, one is considered most crucial: Demonstrating Return on Investment (ROI) to the state of Florida.
Therein lies the challenge for the venerable Dolphins franchise.
On most applications, ROI is based on actual events – think the annual Daytona 500 – part of a guaranteed schedule and a history of proven results.
For the Dolphins, not so much.
With Miami, events determining the team's ROI are not much more than wishful thinking, and not necessarily based on hard, provable numbers. When it comes to fiscal responsibility, "wish lists" just don't cut it.
Call it "fantasy sports," in that much of the sports on the Dolphins application is pure fantasy.
The list has become pretty long, too; such as the 2018 College Football Playoff national championship game. It was originally an event listed in the Dolphins' application, but now awarded to Atlanta. Miami also lost its chance to host the 50th Anniversary Super Bowl – that one is going to Santa Clara, California — and the 2017 College Football Playoff National Championship Game, which will be held in Tampa.
Houston and Minneapolis are already hosting Super Bowls for 2017 and 2018.
All of this suggests one unavoidable conclusion; even if the Dolphins completed taxpayer-supported renovations to Sun Life Stadium, they still might not attract the high-profile events they need for a healthy return on taxpayer investment. Making things worse, other events on the Dolphins' fantasy application require a bid process, which puts them in direct competition with facilities in more attractive locations.
Complicating matters are the team's estimates for related revenue – taxes, retail, restaurants, lodging and the like. Each will be negatively impacted by failed bids; more proof that Miami's projected ROI is seriously skewed.
Then there are the actual plans for Sun Life Stadium. With an original capacity of 75,540, the intended renovations, once complete, which shrink that number to 65,326, a drop of more than 10,000. Longtime season ticket holders would be forced to choose new (less desirable) seating, most likely at considerably higher prices.
It wouldn't take much to imagine what that would do to team loyalty.
As reported by Brian Bandell of the South Florida Business Journal, analysis within the Dolphin organization show the facility paying as much as $18 million annually in sales taxes for games and related activities at Sun Life Stadium. However, those figures primarily rest with the facility landing a Super Bowl every six years, and WrestleMania and a college football championship every five years.
Wishful thinking at best; a recipe for disaster at worst.
The Dolphins should have as good a chance of winning money from Tallahassee as they do making the NFL playoffs.