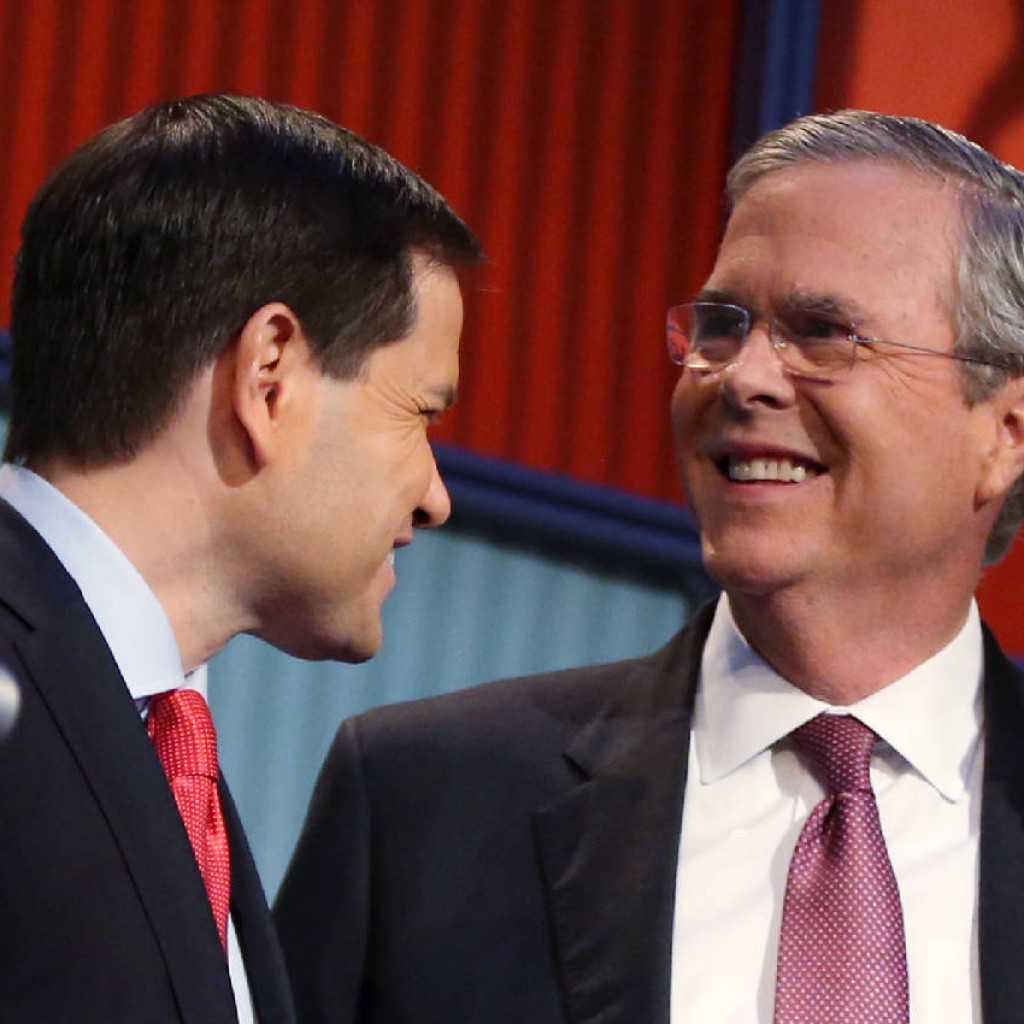 There's one week until the first nominating contest of 2016, and candidates are doubling down on their campaign efforts in Iowa and New Hampshire.
Marco Rubio began the week in the Hawkeye State, scheduling seven events in two days, and is planning to spend the entire week leading up to the Iowa caucuses barnstorming through the state.
He isn't alone: Jeb Bush, his friend and fellow GOP hopeful, is also campaigning in Iowa, holding events there to rally support by Monday's caucus. He's also campaigning hard in New Hampshire, where he's hoping to stage a comeback when voters head to the polls on Feb. 9.
Boots on the ground, though, aren't the only way political hopefuls are hoping to drum up support. In recent days, candidates have been contacting supporters to ask for money to help with the final stretch.
On Wednesday, the Bush campaign sent an email to supporters touting an Emerson College Polling Society survey that has the former Florida governor  in second place in New Hampshire.
"Friend — first the good new: A new poll released last night has Jeb in second place, surging past the nearest competition," the email reads. "The bad news: This is only going to increase the amount everyone else will spend against us, and we're seriously close to missing our $250,000 goal for the month. Unless you step up now, we won't be able to combat the attacks that are coming, and we'll lose."
The email asks supporters "rush a contribution of just $1" to help the campaign get on track.
Bush raised more than $24.8 million as of Sept. 30; while Right to Rise, a super PAC backing Bush, has raised more than $103.2 million, according to the Center for Responsive Politics.
Bush isn't alone in sending a fundraising plea to supporters as the first nominating contest nears. On Wednesday, the Rubio camp sent an email encouraging supporters to chip in.
"No matter the size of your donation, it will make a huge impact and ensure we are able to succeed in the Iowa caucuses next week and ultimately win the Republican nomination," the email read.
According to Center for Responsive Politics, Rubio raised more than $15.1 million as of Sept. 30, while Conservative Solutions PAC, the super PAC backing Rubio, raised more than $16.1 million.
The Iowa caucuses are Monday, and the New Hampshire primary is one week later on Feb. 9.