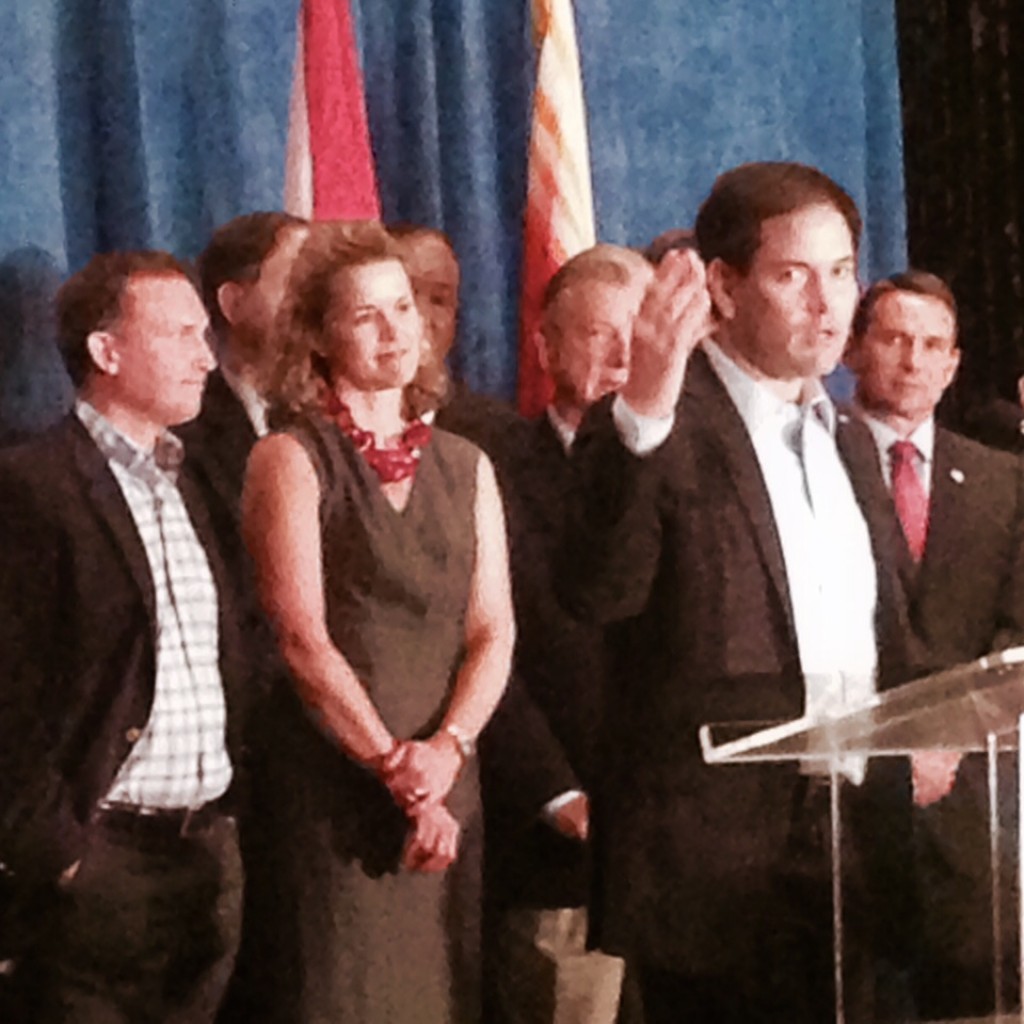 Jacksonville Mayor Lenny Curry, get ready for your closeup. You're about to become central to the GOP Florida Presidential Primary in a real way.
As the only Republican big city mayor in the state, and as someone whose endorsement can swing the election, you're going to be courted.
The local party hands want you to be part of Marco-mentum. And some would say you owe Senator Rubio.
On the eve of the election, Rubio came here and delivered your talking points as if they were his own.
Rubio has always been at home in Duval County, a point he made when he recalled that the Duval Republican Executive Committee was among the first to let him speak when he started his run for U.S. Senate.
"This city can be anything that it wants to be," Rubio said in May. However, he added, Jacksonville is hamstrung by being "less safe than it was four years ago."
"I've never seen any city advertise 'Move here because the crime rate is higher than it was three years ago,'" Rubio said, before lambasting the mayor as saying problems were "someone else's fault."
"You haven't had the leadership you deserve," Rubio said, describing the city's fiscal management as "inexcusable."
"In elections like this, 30 votes can make all the difference in the world between victory and defeat," Rubio said.
Meanwhile, Ted Cruz came to Jacksonville for the Lincoln Day dinner. Cruz didn't endorse; he didn't want to dive into the mayoral race.
Word is, had he known that the race was important, he would have endorsed Lenny, instead of sitting on his hands.
When Donald Trump came to town, meanwhile, he didn't know who the mayor was.
Lenny Curry has not divested himself of ego. The question is not if Curry backs Rubio. But when.
The South Carolina primary: February 20.
The date that endorsement could drop: February 21.
Curry's endorsement would be just fine with the base. They love Marco. They soured on Jeb sometime back. Expect the local money and backing to move over, unless Jeb comes back from the dead in New Hampshire.
The only major Trump supporter locally, however, is a big one: Susie Wiles.
As central to local government a while back as Sam Mousa is in this era, with a Tallahassee pedigree to match, Wiles is Trump's co-chair.
Wiles would be uniquely positioned to advance the Trump narrative in the Jacksonville media, should she choose to offer some interesting leads.
For now, she is as cool as ever, even as she plants seeds of doubt on Rubio's viability.
"I think Senator Rubio is a gifted orator and has developed a good work ethic in the last few months," Wiles said, with the second part of that compound sentence speaking volumes.
"Together with money and a good field organization," Wiles added, Rubio "did well in Iowa and may well be the 'establishment' favorite son."
Then, the iron fist in the velvet glove from Wiles.
"New Hampshire will be very telling and I predict – with significantly more competition from people who have actually run something (the Governors) – [Rubio] will find it tougher going."
Wiles describes Trump's second place finish in Iowa, meanwhile, as "very fine."
Wiles is an outlier in the Jacksonville political establishment. One thing to watch in the coming days and weeks: the emergence of oppo dump stories in the Jacksonville press, targeting Rubio and Trump.
When reading those, smart readers will take note of the potential sources of the narrative, as much as the content of the narrative.
As Jacksonville goes, so could Florida. As Florida goes, the nomination. Since the days of John Delaney, GOP Presidential candidates have worked hard here for a reason.