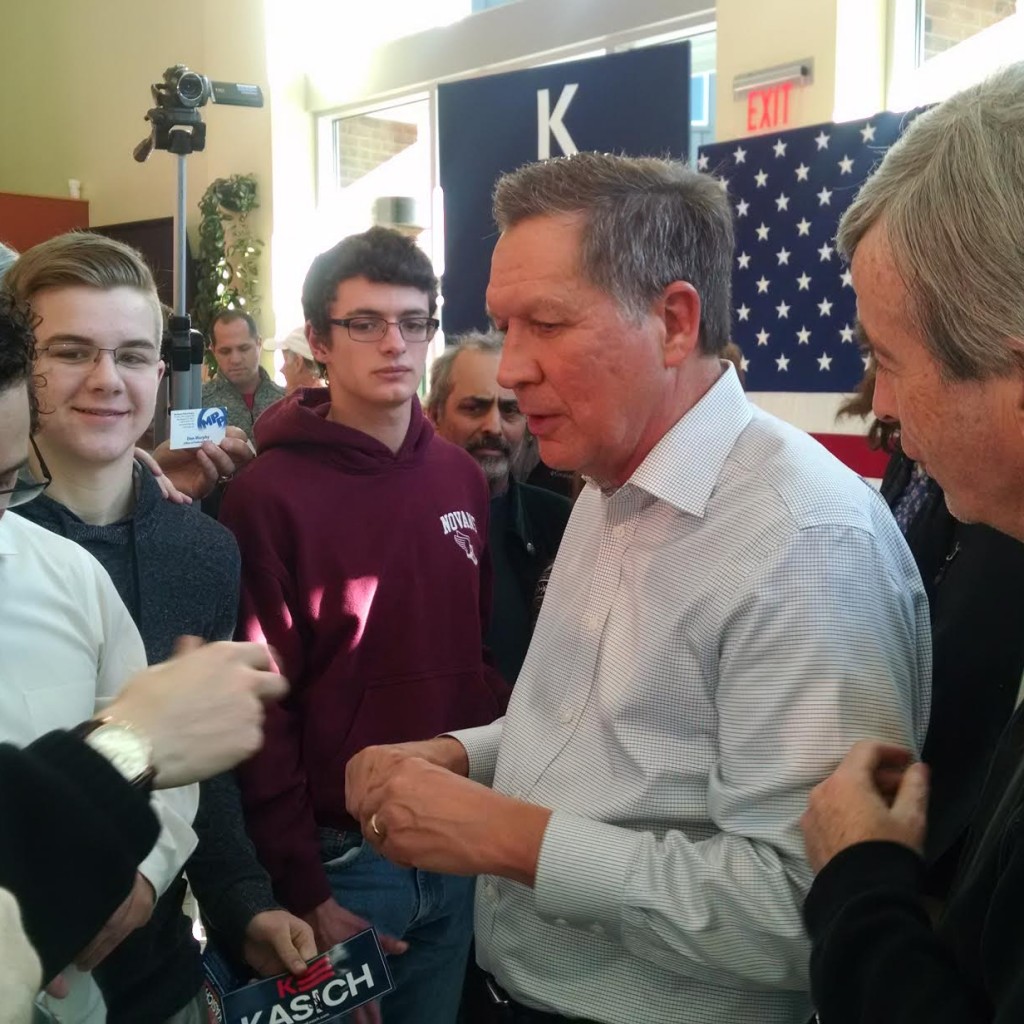 Like his two fellow governors who are running for the Republican Party nomination for president, New Hampshire is a do-or-die state for Ohio Gov. John Kasich this Tuesday.
Though winning seems out of the picture, a solid placing in the top three at least is crucial for Kasich, Jeb Bush and Chris Christie, which is why all three have placed so much time and investment in the Granite State.
Unlike Bush and Christie, Kasich hasn't spent much time at all in trying to run down Marco Rubio. Could his more positive form of campaigning turn the trick in a state whose residents say they dislike negative ads and prefer retail politics?
"I think it's about the resilience of voters," Kasich told reporters in front of his campaign bus after appearing at a town hall at Nashua Community College in Nashua. "I think that if we come out of here and do well, people are going to say, 'Wow. He was positive. He never went after anybody and he did really well.'"
Kasich says his campaign has been fundamentally positive, and says if it ends up working, it could show that there's been a serious change with the electorate. "Maybe they are fed up with negative, and they want to find out what  you're for. At least I'm hopeful that'll be the case."
Kasich received the best reviews this cycle for his Saturday night debate performance. He said he's been frustrated by the debates during the past six months, often because there are simply far too many candidates on stage to make a a real impression in a sound-bite setting.
"I would so much like us to change the format, to go to a town hall format, where we can really have an in-depth conversation, " he said, acknowledging that he has found a certain groove in the smaller field.
Unlike every other Republican running, Kasich never criticizes his fellow candidates, and only on occasion says anything critical about President Barack Obama, something that seems de rigeur to win the nomination. Toward the end of the town hall, a woman stated before posing her question that she thanked him for running such a positive campaign, saying it was "very refreshing" as the crowd erupted with applause.
"I want to say to all the campaigns: Why don't you all take down your negative ads and tell people what you want for the next 48 hours and let people decide," he responded. "Take all the nonsense down."
Kasich has been the recipient of negative ads produced by Bush's Right to Rise super PAC and another unidentified group that calls him too liberal to be the nominee. One ad saying he's bad for New Hampshire has been effective, based on what I've learned this past week.
Last week Kasich won the endorsement from The New York Times for the GOP nomination, which led to mocking from conservative quarters. Kasich joked that while some may be critical of that designation, "They all showed up to get it, I happened to get it and they went 'awww, that's bad.'"
The Times wrote that "Kasich is no moderate," noting how he's gone after public-sector unions, fought to limit abortion rights, and opposes same-sex marriage. However, they also noted how he's "capable of compromise and believes in the ability of government to improve lives."
"We have to have people operating as Americans, and not as Democrats and Republicans," he told the crowd. "That just doesn't work for our country."
Speaking of the Times, Kasich noted the front-page story in Sunday's edition about Bernie Sanders. The story reported that despite mounting evidence of trouble at the Department of Veterans Affairs in 2014 when he was the Senate Veterans Affairs Committee chairman, Sanders initially regarded the complaints as overblown.
Prefacing his remarks that it wasn't meant to be an attack on the Vermont senator who is leading in the polls in the New Hampshire Democratic primary, Kasich said Sanders obviously loves "big government."
"He thinks it's great. I think that big isn't good, whether it's government, unions, or business, I don't like anything big," Kasich said. "You know why he rejected it? Because he thinks that government can no harm. OK, that's a legitimate position. It just happens to be a dead-wrong position."
The Real Clear Politics average of polls in New Hampshire currently places Kasich in third place, 3 points below Rubio and just above Ted Cruz. Obviously, anything can happen by the time the polls close Tuesday evening.