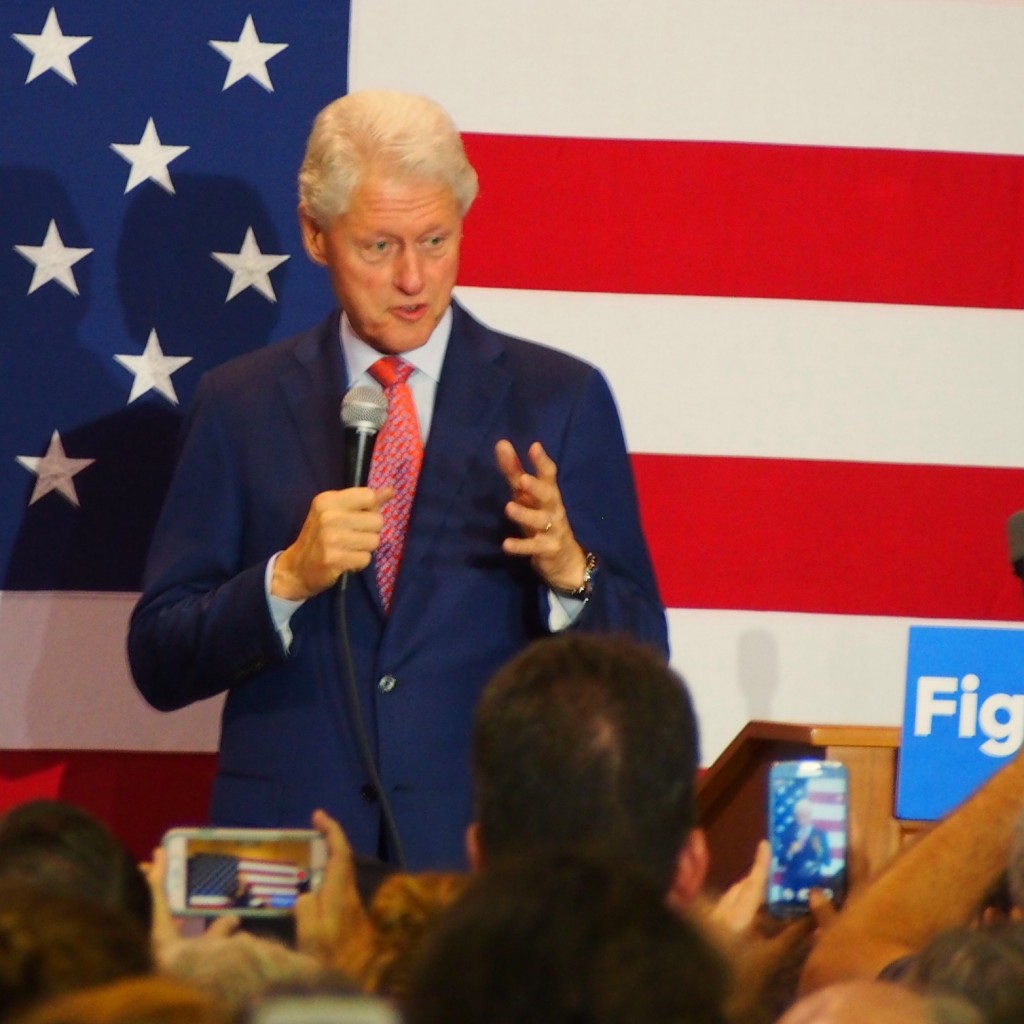 Former President Bill Clinton wrapped up Hillary Clinton's campaign for Florida's Democratic primary by assuring a Rollins College rally that a more universal prosperity is possible and she is ready to deliver it.
Speaking to about 3,000 people gathered in a basketball gym at the Winter Park campus, Bill Clinton said the recovery from the 2008 economic collapse just needs a little more time to fill out and she has the ideas to make sure it happens fairly.
"We can grow together. We just haven't had time yet. You can go back 400 years and see that serious financial crises on average take 10 years to get over," he said, adding that the future looks good. He described a picture of an America where the prosperity of the country spreads to its people.
"We are still a little ways from every American being able to live in that picture and find themselves and their children in it. Hillary is running for president to put everyone in it," he said.
The 42nd president was hoarse and appeared fatigued as he offered the 39-minute, election-eve speech.

Yet he came even though there is very little suspense in Florida's Democratic primary. Various polls have had Hillary Clinton up 23 to 30 points over U.S. Sen. Bernie Sanders in Florida. Sanders, of Vermont, apparently was so lacking confidence in Florida he planned to spend the primary day in Phoenix, prepping for next week's round of primaries.
Bill Clinton briefly outlined his wife's plans to offer incentives to corporations to share profits with workers, rather than commit everything to shareholders, leaving workers wondering when they would share in a company's success.
He talked about various plans to reinvest in the coal country and other areas to help them get through a national transition to renewable energies, saying "They're good people, they, too, deserve a chance to start again."
He talked about further health care reforms, seeking to lower prescription drug prices and insurance deductables, and seeking ways to make college more affordable, and providing the opportunity for people to refinance student loans into instruments that resemble home mortgages.
And he talked about bringing barriers down, to reduce job discrimination and help disabled adults find work.
And he ended by reminding everyone of her unique resume, as an active First Lady, U.S. senator and U.S. secretary of state. She is ready, he said.
"What matters is who can bring more change for more Americans, more quickly," he said. "We waited long enough for a raise. We have waited enough to come together. And I have to tell you, I first thought so when I met her 45 years ago and I thought so last night when we had a conversation. She is the best change-maker in the world."