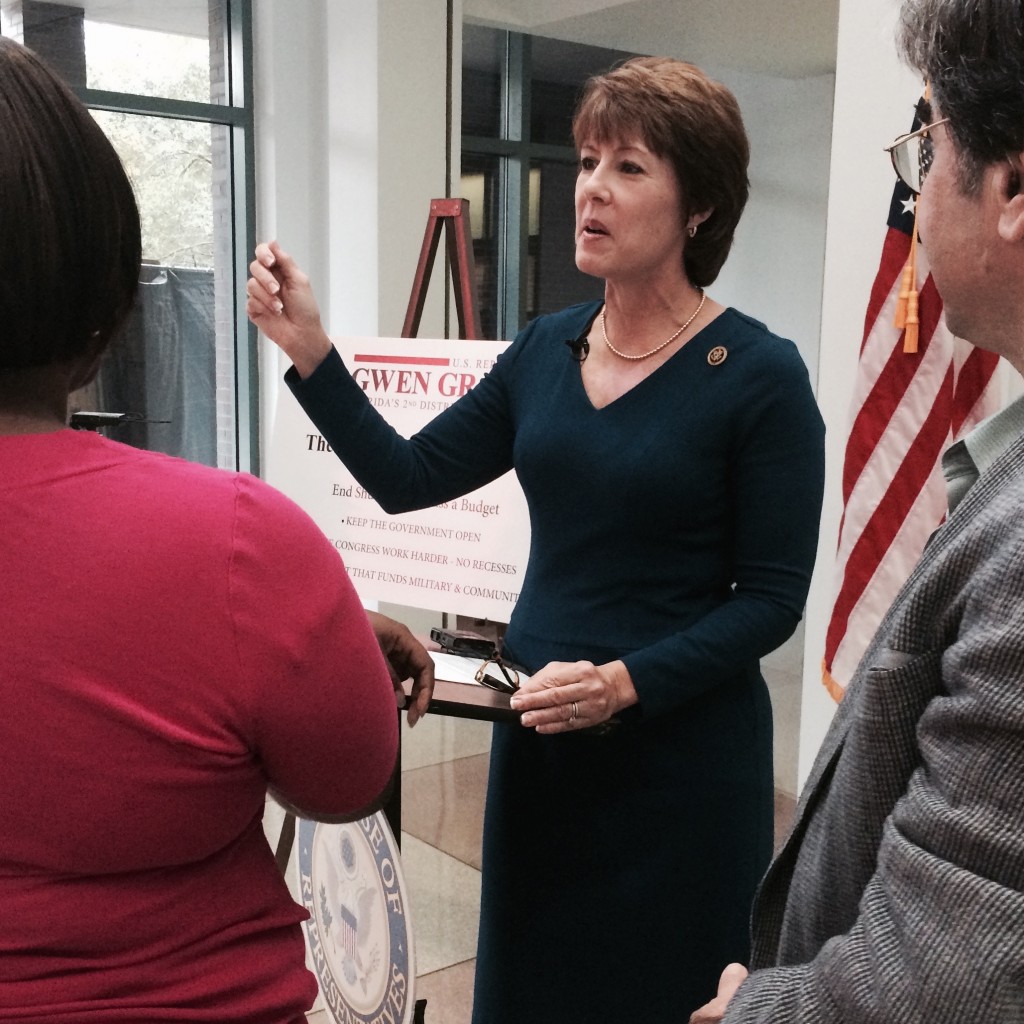 U.S. Rep. Gwen Graham made waves on Thursday when she said she's eyeing a 2018 run for Florida Governor.
Here's an early look at what Sunshine State politicos are saying regarding the Panhandle's first Congresswoman's announcement.
"Gwen has been a great partner to work with in the House. From her work on the Apalachicola Bay to fighting oil drilling off our beaches, she always puts Florida first. She's accomplished much, and I know we're going to continue to see great things from her in the future," said U.S. Sen. Bill Nelson.
"From working to protect Florida's natural treasures to defending women's rights, Gwen has been a great addition to our state's congressional delegation. I look forward to continue working with her in the House and as she moves forward," said fellow U.S. Rep. Lois Frankel.
"In Congress Gwen has proven her deep commitment to the people of her district and the state of Florida," said former Democratic CFO Alex Sink. "I am so pleased she wants to continue to be a leader and serve the people of our state."
"As the Democratic leader in Florida's House, I know what kind of leadership our state needs. We need a governor that respects and cares about the people of our state — Gwen Graham is that type of leader," said House Minority Leader Mark Pafford.
"Representative Graham understands public servants must speak for all the communities they represent. She's done that in Congress, and I believe in her next step of service, she'll give a voice to all Floridians," said Sen. Oscar Braynon, the Senate Democratic Leader-designate.
Former Broward senator Nan Rich – who also was a Democratic gubernatorial candidate in 2014 – also offered kind words ahead of Graham's potential run.
"Throughout my career in public service, I've fought to improve the lives of women, children and families across Florida. Gwen Graham fought for these same issues as a strong Democratic voice in Congress. I know she'll continue to be an advocate for all of us in the years to come," said Rich.
"Gwen has proven in a short amount of time in Congress that she is a tireless fighter for Florida women and families. Her leadership will be missed in Congress — but we're incredibly excited about her future and the opportunity for Gwen to serve families across the state of Florida," said Stephanie Schriock, President of the Democratic women's PAC EMILY's List.
Graham's "North Florida Way" has notably featured reaching across the aisle. U.S. Rep. Carlos Curbelo tipped his hat in Graham's direction on Thursday as well.
Gwen Graham understands that only by working across the aisle can we get things done for the American people. Many of us in the House will miss her thoughtfulness and willingness to build consensus and offer solutions. I wish her well," said Curbelo, who is running a tough reelection campaign in a redrawn CD 26 in Miami.
"I'm excited to join Gwen in this history making moment for our state and look forward to assisting her in her future endeavors," added former Sen. Tony Hill, who has also reportedly taken an interest in a run for Congress in 2016.
The announcement has also gotten substantial traction on social media.
According to spokesman Matt Harringer, her just-released video – in which she declares she'd like to help reform Florida's "dysfunctional" state government – was shared more than 200 times and viewed 13,000 times on Thursday morning.