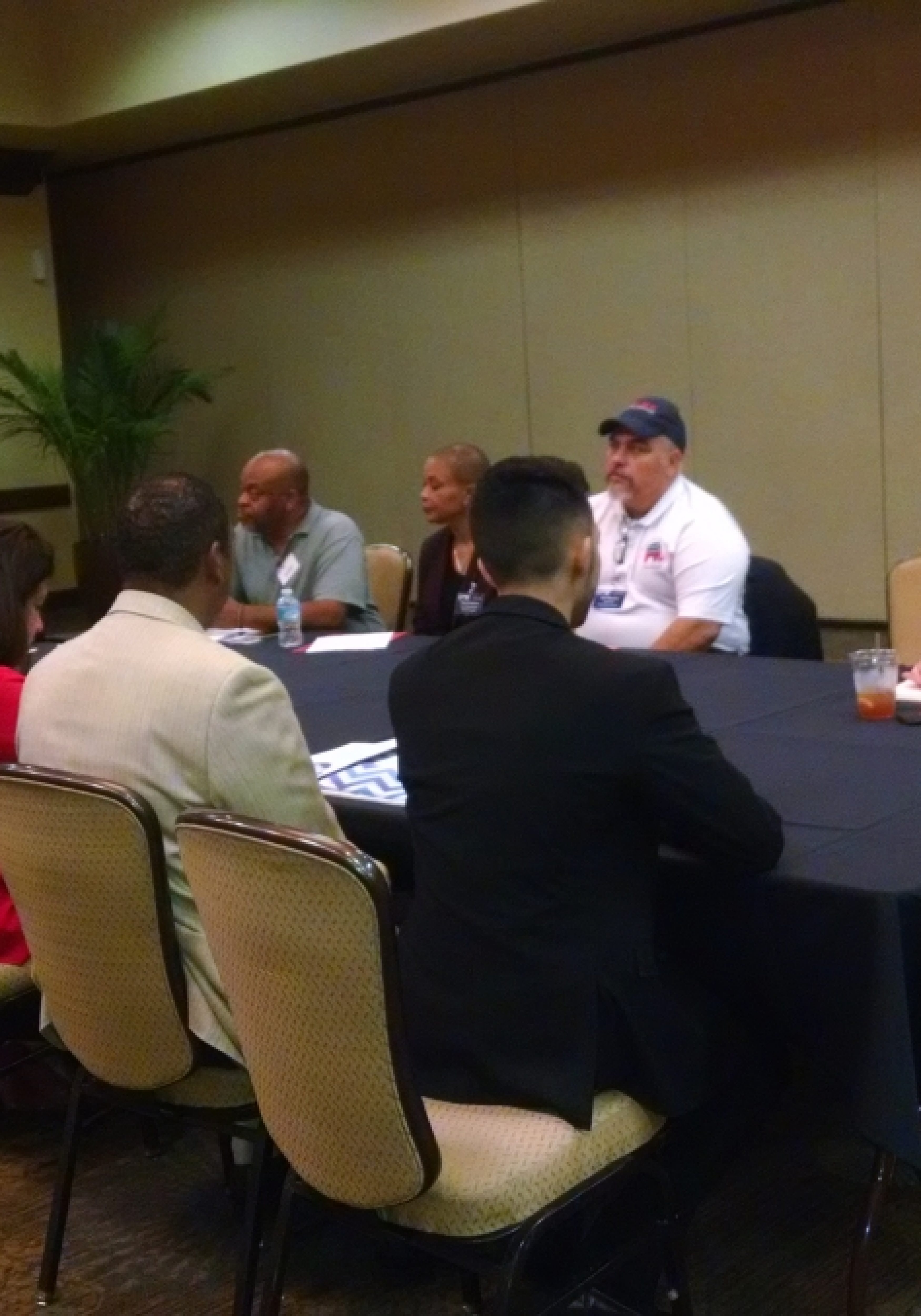 "Is there an issue?" asked Republican Party of Florida Community Engagement Chairman Michael Barnett after reciting Donald Trump's declaration that he wants Mexico to build a security wall on the U.S. Southern border. "Apparently, there's an issue."
Yes, there's an issue.
A survey conducted by the political opinion research group Latino Decisions last month shows 73 percent of Florida Latinos view the GOP presidential front-runner as "very unfavorable."
Barnett was speaking to a group of 10 members of his committee in a session held on Friday at the RPOF's annual spring meeting at the DoubleTree hotel in Tampa.
He brought up Trump's comments about Latinos — which include having the estimated 11 million undocumented people in the U.S. deported back to their native country and calling many of them rapists — as being a serious challenge in getting Hispanics to vote GOP this fall in the Sunshine State.
"We are in favor of legal immigration, not illegal immigration, because of the hardship that it imposes on citizens legally," responded Deb Tamargo, chair of the Hillsborough County Republican Executive Committee. "We are 100 percent on board with Donald Trump's sound message, which is that it's a security issue."
"We love immigration. We're against illegal immigration, but that message doesn't seem to be getting across," complained Barnett.
"When you say you're going to do a mass deportation, it affects us all, " worried Hendry County Republican Committeewoman Margie Nelson. "Once he said that, it automatically closed ears. If he does not come out and amend what he said — if he doesn't smooth things over, he's not going to get them on his side."
"I want to keep this positive," Barnett interjected, adding that he wanted to move on to the next agenda talking point. "We can't control what the campaign's message is. I'm here to discuss what OUR message is."
Leaving Trump behind, the conversation continued about outreach, and discussing what else could be done to draw Latinos into the fold in Florida.
Niger Innis, a spokesperson for the Congress of Racial Equality (CORE), said that socialism was "the bogeyman we need to have."
"Look how far out country's changed," he said, referring to how it was considered racist to call Barack Obama the "S" word, and "now the driving force in the Democratic Party is an open socialist."
Innis went on to say that Obama was playing "footsie and kissy face with the communists in Cuba," and said that could be how to target Hillary Clinton in the fall to win Latino voters.
Deb Tamargo disagreed, saying young people thought socialism might be cool. Instead she said the problems in Venezuela could be targeted to Democrats.
The discussion continued, but he message on how to win Latinos didn't seem to come together before the session ended.