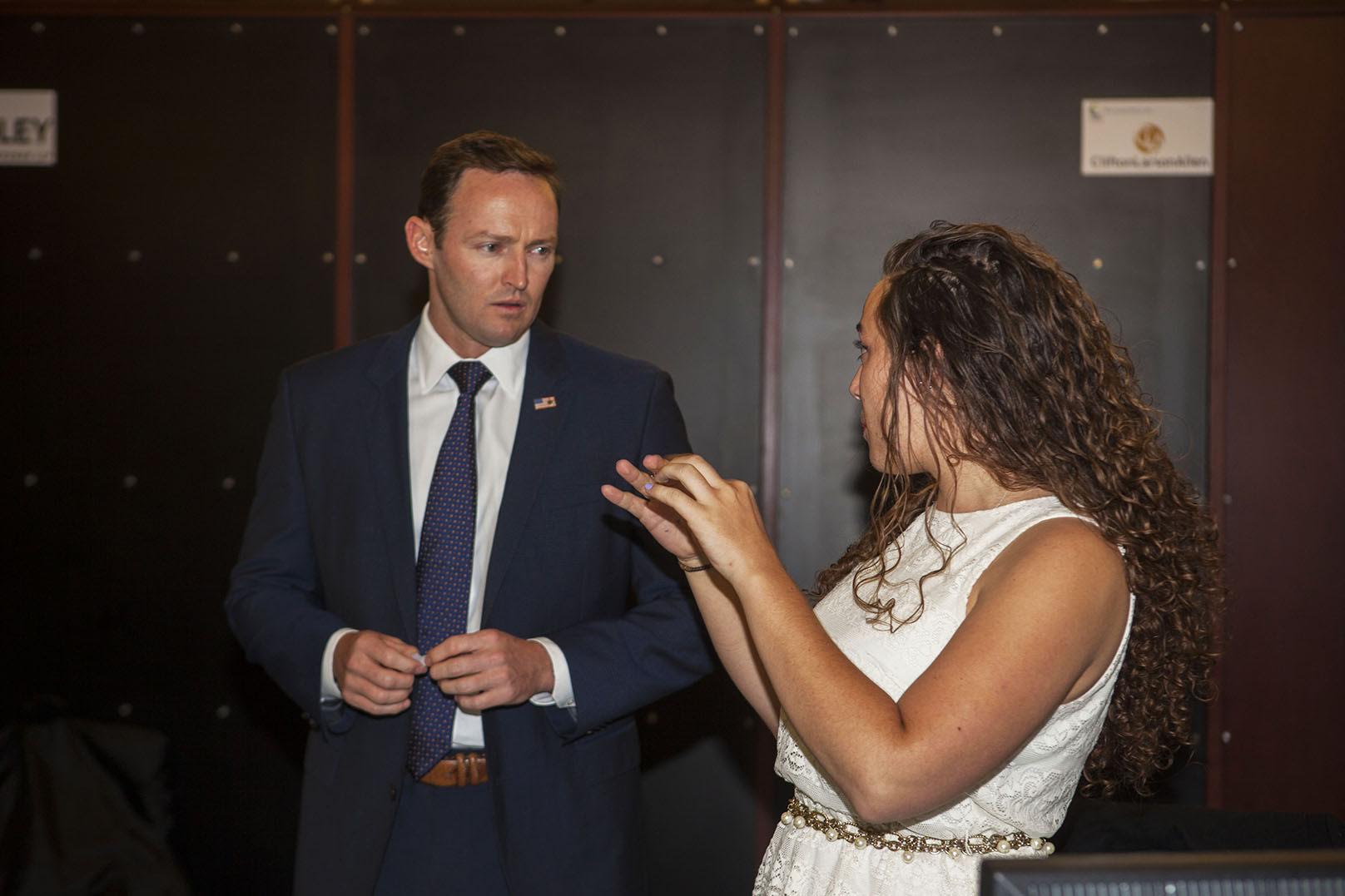 Although both have a primary election to get through in two weeks, Patrick Murphy and Marco Rubio are acting like the general election for U.S. Senate is already on. That was evident in Tampa Monday morning, when the Jupiter Democrat denied he was overlooking Alan Grayson and the Aug. 30 primary, but then immediately lit into his probable Republican opponent this fall.
"We don't take anything for granted," Murphy responded, adding that he's going out and about to try to meet as many voters as he can. "Everyone I talk to, whether they're Republican, Democrat or independent, tells me: 'Patrick, I want a senator who at least wants the job. Who at least wants to be there to solve our problems.'"
Murphy spoke with reporters after making an appearance at Tampa Bay WaVE, a local nonprofit that has been helping entrepreneurs build, launch, and grow tech businesses since 2008. He was joined by Mayor Bob Buckhorn, one of the first elected officials in the Tampa Bay area to back Murphy's candidacy more than a year ago.
"Sen. Rubio's missed more votes than any senator from Florida in nearly 50 years. That's to me is unconscionable," Murphy added.
When Rubio announced in late June he would reverse his previous stance and run again for his Senate seat, he refused to commit to fulfilling a full six-year term in office, saying, "What I'm not going to do any more are these unequivocal pronunciations." The comment came after he had reversed his statements over the past year that he would not run for re-election to his Senate seat. With Donald Trump on the rocks in his current presidential run, more than a few Republicans are already thinking of the potential field in 2020 — and Rubio could very well be in that mix again.
"He's in this because he wants to run for president again," Murphy said. "That's his ambitions. I care about working for the people of Florida, for getting things done for Floridians, and part of that is getting around and meeting entrepreneurs and meeting people, hearing what's on their minds so I can be the strongest voice for them."
In the days before the presidential primary, Buckhorn blasted Rubio for being a no-show in Tampa for the majority of his five years-plus as a senator. He repeated the charge Monday.
"If it's any indication, I've seen Patrick Murphy more in the last five weeks that I saw Marco Rubio in the last five years," Buckhorn says. "I have never met Marco Rubio. That speaks volumes about his commitment to Florida, and certainly his commitment to the Tampa Bay area."
Although Buckhorn supports Murphy, he's also expressed praise for Rick Scott and Pam Bondi in the past, statements that have at times alienated him from some local Democrats. Buckhorn insisted he wasn't being partisan in expressing his disappointment about Rubio's performance when it comes to showing Tampa some attention.
"It doesn't matter if it's a Democratic mayor or a Republican mayor," Buckhorn added. "We're the third-largest city in this state, we're the economic engine that drives this state, and the fact that our U.S. senator has never taken the time to spend any time to talk about issues with the local leaders, I think that's an indictment right there."
The Rubio camp has pushed back on those charges, but there's no doubt that he's been a much more visible in the Tampa Bay area in recent weeks, including a visit to a Republican Party of Florida field office in Brandon on Saturday, and making an appearance at Republican convention watch party in South Tampa last month.
Murphy and Buckhorn spent more than a half-hour chatting with some of the local entrepreneurs who were at Tampa Bay WaVe, including Akira Mitchell, with TechStart TampaBay. It's a local nonprofit that teaches kids how to code, build robots and 3D print. "Our focus is on the next generation of creators. We provide opportunity, inspiration and education for them."
Murphy also spoke with Sherry Benton with taoconnect.com, and Saravana Pat Bhava's business with pikmykid.com. Both talked of potential remedies they hoped the federal government could work on if Murphy makes it to the Senate.
Not surprisingly, his visit was blasted by the Rubio campaign.
"Patrick Murphy was caught lying about being a small business owner himself, making him the last person to know what it takes to help Florida's entrepreneurs succeed," said campaign spokesman Michael Ahrens. "Murphy doesn't even know whether the business he claims to own is still operating. Florida's small businesses already have a senator who fights for them, and that's why local business groups from across the state are supporting Marco's campaign."
Ahrens' comment referenced allegations made by reporter Miami television reporter Jim DeFede earlier this summer, who reported Murphy exaggerated claims he was a small business owner and a certified public accountant. Then, Murphy responded with a memo saying that the story was inaccurate with some of its claims.