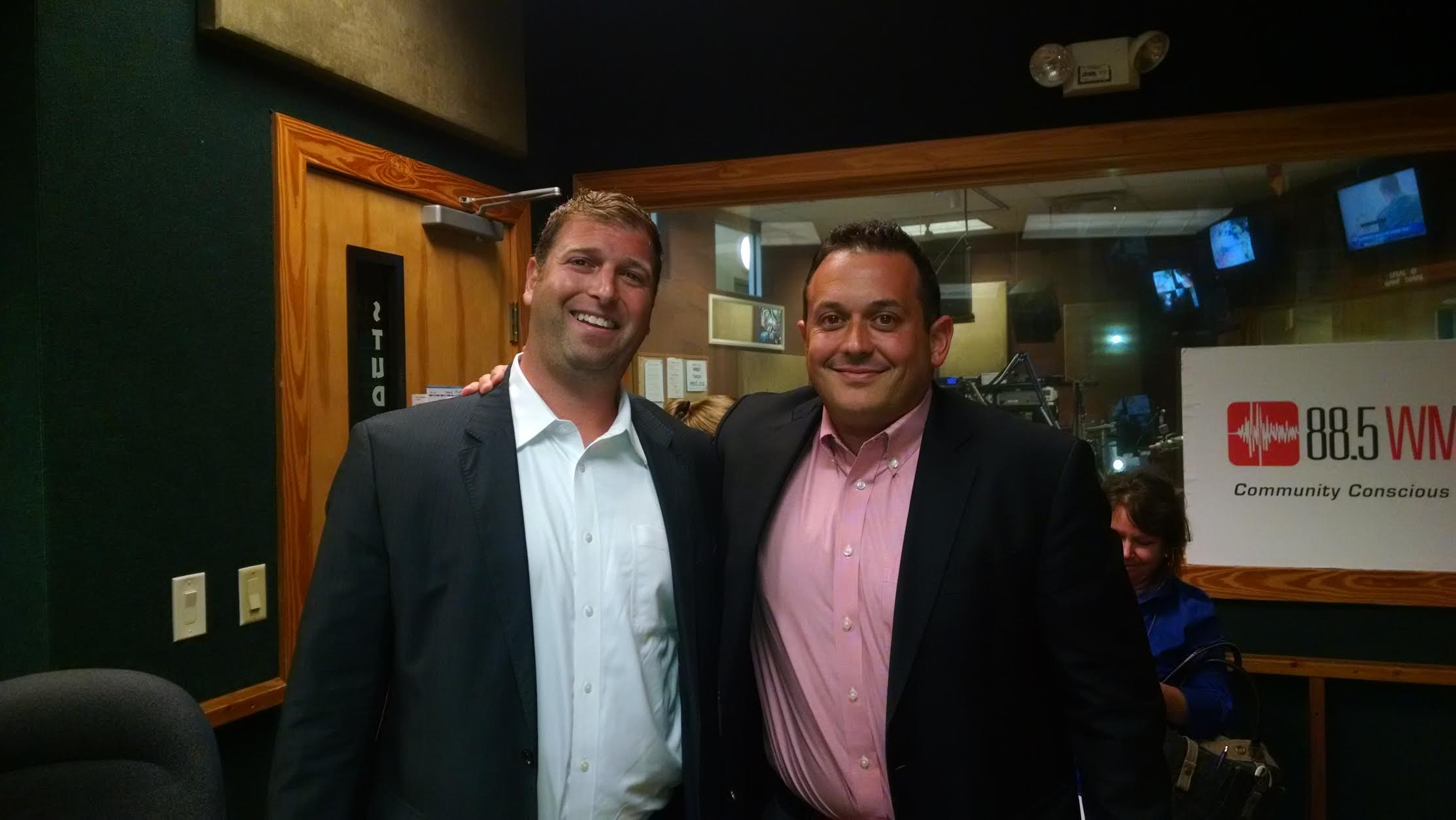 During a radio debate Thursday, House District 68 Democrat Ben Diamond challenged what exactly his opponent, Eric Lynn has done in the community, while Lynn turned around to question Diamond's independence when it comes to the insurance industry.
Those two exchanges came toward the conclusion of a 38-minute debate on Tampa radio station WMNF 88.5 this afternoon, when the two candidates were allowed to question each other in a debate moderated by this reporter (listen here).
The two St. Petersburg-based Democrats are challenging each other in the seat that has been occupied by Dwight Dudley since 2012, and are ideologically very similar on most of the important issues going into next Tuesday's primary election.
"I've been working on a number of local issues for awhile," Diamond said in leading up to his question to Lynn, referring to his work on the PSTA board and his support for 2014's Amendment One ballot measure. What have you done?, he essentially asked his primary opponent.
Lynn attempted to turn the tables as he considered his response, indirectly calling out Diamond for lacking sufficient roots in Pinellas. "I know that you're new to St. Pete, Ben, that you just moved here two years ago." He went on to say he was most proud of being an advocate for veterans in the county. "Unfortunately, we have too many men and women that served our military in Afghanistan and Iraq who are coming home who don't have health care, who don't have jobs, and they need to be assisted by a number of groups here in Pinellas County."
When it was his turn to ask a question, Lynn reminded listeners about a controversial issue that took place back in 2013, when Heritage Property and Casualty Insurance Co., a Pinellas County firm that had given $110,000 to Gov. Rick Scott's re-election campaign, was rewarded when the Citizen's Property Insurance Corp. board of governors (the insurer of last resort in Florida) approved a deal that could have ended up paying Heritage up to $52 million to take over 60,000 insurance policies. The Tampa Bay Times reported that Scott's office said the governor played no role in the $52-million deal at Citizens, and insisted campaign contributions were not a factor.
Lynn then got to the point, saying that same Heritage Property and Casualty Insurance Company has contributed $20,000 to Diamond's political action committee, "Protecting Pinellas Families."
"What did you promise the insurance companies?" Lynn asked, adding that a fourth of all of Diamond's campaign contributions have come from the insurance industry. "Why is the insurance company that helped Rick Scott, helping you in this race?"
Diamond responded by calling it a loaded question.
"I have a track record of working on progressive issues," he said. "I'm just as committing to lowering insurance rates as is our current representative, Dwight Dudley, is."
Diamond went on to say that the No. 1 issue driving up insurance rates in Florida is insurance fraud. "The thing that is driving up the cost of insurance in Florida is these water claims that are being fraudulently turned into very expensive claims. So I'm going to stand on the side of policy owners, and stand for lower rates."
The candidates agreed on virtually every question posed to them by the moderator, with similar stances on opposing the legalization of marijuana in general (they do support medical marijuana), supporting the Legislature's passage of a bill to stop doing businesses with companies that boycott Israel, and supporting undocumented immigrants getting driver's licenses.
The only time they disagreed was on whether or not the region's two transit systems, HART and PSTA, should merge. Diamond was for such a merger, while Lynn isn't.
The two Democrats face off against each other Aug. 30 in the district that encompasses parts of St. Petersburg, Pinellas Park, Lealman and Feather Sound. The winner faces Republican JB Benshimen in November.