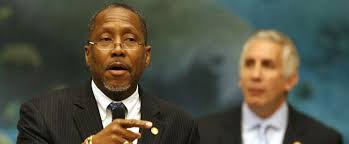 With machine and manual recounts now finished in Hillsborough and Pinellas counties, Darryl Rouson is the winner in the Democratic primary for Senate District 19.
He defeated Ed Narain by a mere 66 votes (that's what the Rouson campaign told us. The Florida Division of Elections website shows the difference to be 77 votes. The Tampa Bay Times reports that Rouson received 73 more votes than Narain).
The results will not be certified until Thursday, September 8, but the vote tally will not change.
Early polling in the Senate District 19 race that encompasses both parts of both Hillsborough and Pinellas County showed that while nearly three-quarters of the district was situated in Hillsborough, the quarter of voters in Pinellas County were more likely to go to the polls. And that's what happened in Tuesday's election that for now has given St. Petersburg-based Darryl Rouson an extremely narrow lead over Tampa's Ed Narain, with a recount scheduled to take place on Friday. The two candidates remain just 75 votes apart on Thursday night, after more than 37,000 ballots were cast in the two counties.
Although only 26.4 percent of the district is in Pinellas, 42 percent of the total vote in the contest came from Pinellas County, says Barry Edwards, Rouson's campaign manager, who says flatly, "We had the best field operation in the state of Florida in any Senate race, and that's why he won."
There were four candidates in the race, two based in Hillsborough (Narain and former state Representative Betty Reed), and two in Pinellas (Rouson and civil justice attorney Augie Ribeiro).  Although Narain went after Ribeiro in some of his advertising materials, the fact is that Ribeiro's late entry into the race split up some of that Pinellas vote that was clearly destined for Rouson. Of the 15,809 people who voted in the SD 19 race in Pinellas, 12,683 went to either Rouson or Ribeiro, with Rouson getting twice as many votes in Pinellas than Ribeiro did.
The conventional wisdom was that Narain and Betty Reed would share a bulk of the Hillsborough vote, and that's exactly what happened in the early vote and on Tuesday night. Narain and Reed combined for more than 52 percent of the Hillsborough vote, while Rouson and Ribeiro took 28 percent of it. Ribeiro actually received nearly 1,000 more votes in Hillsborough than did Rouson.
Redistricting expert Matthew Isbell says that, "Narain was hurt by Reed's entry into the race," which is accurate, though Reed supporters would take issue that comment, since Reed had in fact declared for the seat months before Narain had entered into it. The Reed camp (and others in the district) were angered when Narain entered the race back in March, considering that Reed's endorsement of Narain might have been the key factor in his winning his House District 61 seat over Sean Shaw back in 2014. As Florida Politics reported earlier this year, a meeting was held last December with the idea of Reed and Narain "trading seats," with Narain entering the Senate 19 race and Reed going back to running for HD 61, a seat that she held from 2004-2012. Reed rejected the proposal.
What also shouldn't be overlooked is the power that still resides with the region's only major newspaper in town, the Tampa Bay Times, who endorsed Rouson in the race.
And while Narain had major endorsements from Kathy Castor and Bob Buckhorn in Hillsborough County, Rouson won the backing of the entire St. Petersburg City Council (including Republican Ed Montanari), Gulfport officials like Mayor Sam Henderson and Councilwoman Yolanda Roman, and all of the Democrats on the Pinellas County Commission.
An early poll that showed Rouson leading and Narain in third received huge criticism after it's release, but Edwards says it was prescient. When it was released, St. Pete Polls pollster Matt Florell said that, "The geographical split is interesting in Senate District 19, with 25 percent of the population residing in Pinellas County and 75 percent in Hillsborough County," Florell said. "But when it comes to the active Democratic primary voting population, Pinellas County jumps to a 41 percent share. Our poll had 43 percent of the respondents from Pinellas County, so it is a fairly accurate representation of who will vote in this primary race."
Rouson himself said on Thursday that it was too soon to analyze how he (apparently) won the contest, but did share that "we are focused."
"We had a strategy," he said. "We did out best not to let other campaign's take us off our game. The people came out all over the district. Hillsborough to Pinellas, From Riverview to East Tampa, from Midtown to downtown, and they expressed themselves."