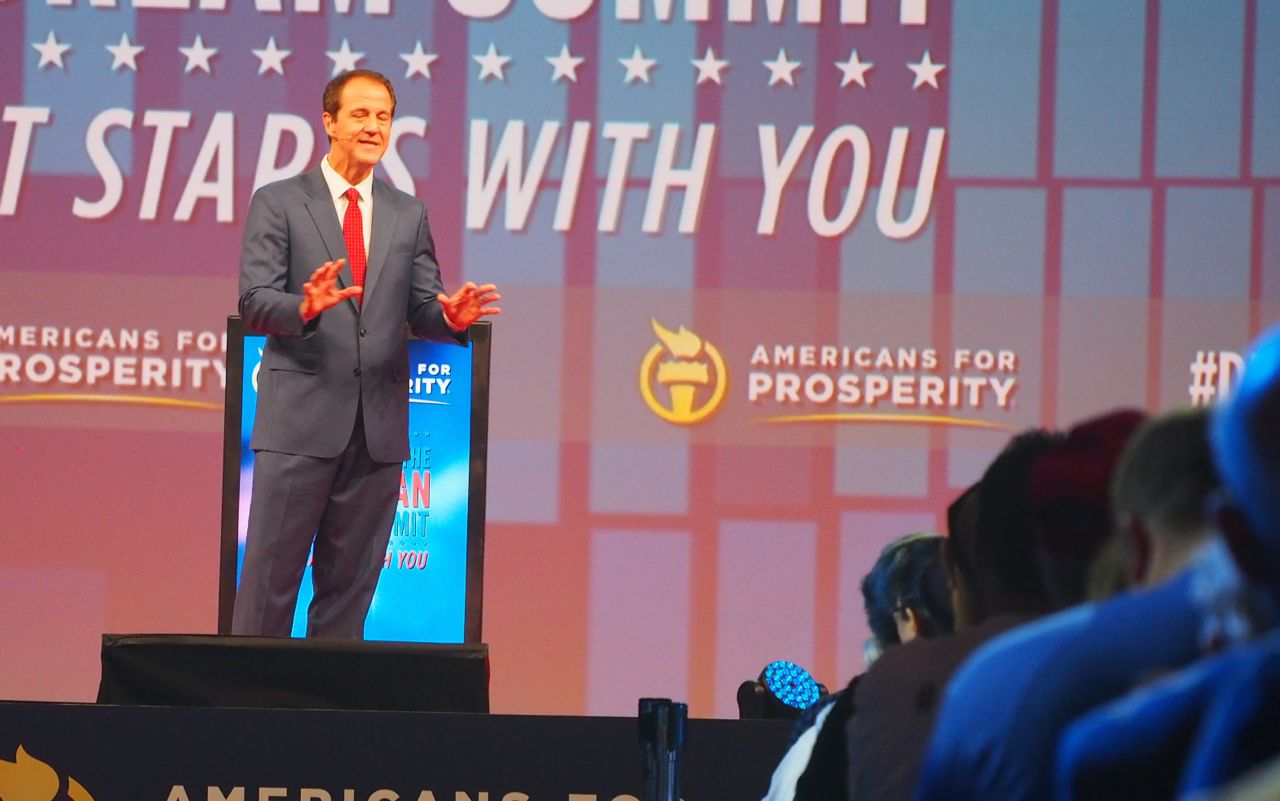 Americans For Prosperity, the conservative organization founded by the Koch brothers that deluged television with electioneering commercials the past two cycles is pushing its grassroots efforts now.
At its annual "Defending the American Dream" summit in Orlando Friday, AFP leaders stressed their ground-level organization in states like Florida to push business-friendly candidates in U.S. Senate races like Florida's U.S. Sen. Marco Rubio.
An estimated 2,000 AFP activists, including about 750 from Orlando, turned out this weekend for the Summit at the Orange County Convention Center to hear speakers ranging including Iowa's U.S. Sen. Joni Ernst, former GOP presidential candidates Wisconsin Gov. Scott Walker, Carly Fiorina and Rubio, who'll speak Saturday.
AFP President Tim Phillips and others made it clear Friday the group's issues remain the same – "repeal every word of ObamaCare," traditional energy production, fighting corporate welfare, pushing "right to work" laws, and other conservative economic issues.
But the focus is much more on states and local governments than it was in 2012 when the organization spent $36 million, mostly on national advertising. That leaves the group largely on the sideline of Republican presidential nominee Donald Trump's campaign.
"We chose to focus on the United States Senate this year," Phillips said.
But it also leaves the organization, Phillips said, prepared for long-haul, issues-oriented campaigns, focusing primarily on state and local issues. He said AFP now has professional offices in 35 states, and 750 staff members.
"In the near-term front," he said, "We are focused on the United States Senate… states like Wisconsin, Pennsylvania, Ohio, Indiana, Nevada, and Florida."
And he made it clear that Rubio will get plenty of help in his campaign against Democratic nominee U.S. Rep. Patrick Murphy of Palm Beach Gardens. Phillips characterized Murphy as "a clone" to that of House Minority Leader Nancy Pelosi.
"He's just a doctrinaire, big-government liberal," Phillips said.
Florida is one of the organization's top states, with 14 offices, more than 100 staff members and 200,000 people signed up. State Director Chris Hudson said this year they've knocked on 760,000 doors and mad 2 million phone calls.
"That puts us somewhere healthy with actual conversations with individuals.," Hudson said. "Whether we communicate with them at the door or call them back, we find they are very receptive to the issues."
Ernst, Friday morning's keynote speaker, turned to international concerns, blasting President Barack Obama and Hillary Clinton for what she said was their roll-back of American leadership overseas.
I hear from folks who are worried that American is no longer leading. And those same concerns are echoed by many world leaders that I encounter during my travels with the United States Senate," Ernst said. "The reality is that we have significant issues and they are not being addressed.
"Our country cannot afford four more years like the past seven and a half that we have experienced," she said.