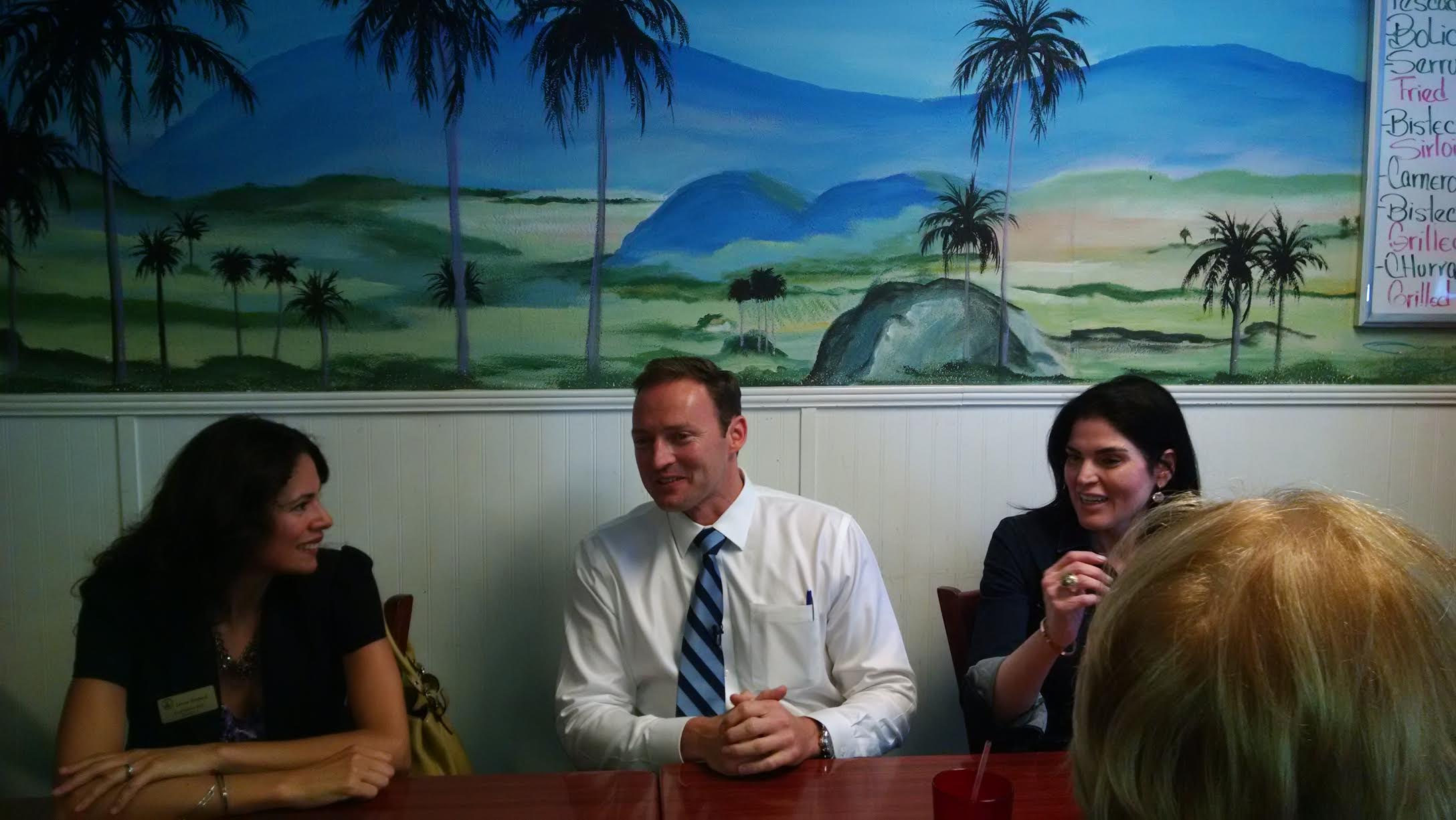 Trying to build up his numbers with the Hispanic vote in Florida, Democratic Senate hopeful Patrick Murphy made a campaign stop at Arco-Iris, a Cuban eatery in West Tampa on Monday afternoon. The restaurant sits in one of the most highly concentrated districts of Hispanic voters in all of Florida, and is a staple for Democrats running state-wide to visit during a campaign.
His appearance came just hours after a new poll showed the Jupiter Representative trailing his GOP opponent, Marco Rubio, in the race for U.S. Senate in Florida. And it comes days after a published report said that the Democratic Senatorial Campaign Committee is "scaling back significantly its effort" in Florida.
"I'm very confident that we're going to have the resources … to get our message out there," Murphy insisted, while saying that he does need to bulk up his campaign coffers to "combat the Koch Brothers and all the special interests who continue to support Sen. Rubio."
"This is the guy that votes 98 percent of the time with his supporters — the Koch Brothers — and will do whatever they say and do anything to get re-elected," he added.
Although the event at Arco-Iris was designed for him to reach out and meet Hispanic voters, the majority of people who surrounded him inside the restaurant included plenty of local Democratic Party insiders or loyalists.
Murphy told the group (which also included incoming House Minority Leader Janet Cruz and Public Defender Julianne Holt) that the polls show the the race is essentially tied, though that doesn't appear to be the case. The New York Times/Siena College Research Institute poll published on Monday showed Murphy trailing Rubio by six percentage points. That poll lines up with several other recent polls taken of likely Florida voters. A RealClearPolitics poll taken from Aug. 31 to Sept. 12 showed Rubio ahead by 6.5 points. In a CNN poll last week showing Rubio with an 11 percent lead over Murphy among likely voters, 16 percent also acknowledged they'd never heard of the Democrat. All Florida likely voters surveyed said they were familiar with Rubio.
"His name ID is twice as high as mine," Murphy admitted to the group. "Everyone knows who he is. So we have a great opportunity once we continue to build that name ID."
While the DSCC may be pulling back its ad buys, there are plenty of other third party group spending millions of dollars on behalf of the two major candidates bashing the other to smithereens. Television ads in the Tampa market lambasting Murphy have been ubiquitous in recent weeks, though they haven't always been accurate, according to PolitiFact.
Murphy said that the negative campaigning "is deterring a lot of people from voting," and he assailed some of ads that have been run against him. "They've been checked by the fact checkers and have been deemed false, so not only are they negative, but Sen. Rubio and his allies are lying about me, trying to smear my record because they have to distract from his terrible record, right?," he said.
Meanwhile, the Rubio campaign continues to hammer him for not accepting their initial offer of participating in six debates before the election. "We've agreed to several debates already," Murphy said on Monday, specifically saying the candidates have mutually agreed to participate in two at this point. "Sen. Rubio won't agree to doing one of the debates that we sent — the League of Women Voters — he says it's a partisan organization."
The Rubio campaign has questioned the objectivity of one of Murphy's debate offers — a debate sponsored in part by the League of Women Voters and a candidate forum put on by the Forum Club of the Palm Beaches. They have said that the president of the Forum Club of the Palm Beaches, Ed Chase, donated $2,600 to Murphy. The president of the League of Women Voters, Pamela Goodman, donated $1,250 to Murphy.
A theatrical element was part of the goings on at Arco-Iris. While Murphy was addressing the group, a couple of protestors stood outside the restaurant, clearly visible to Murphy. One man wore a chicken suit and a sign saying, "Patrick = 2 chicken 2 debate."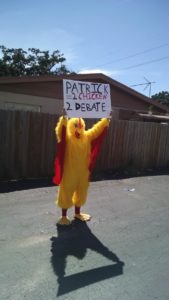 "Patrick Murphy has accomplished nothing in the last four years, and has repeatedly embellished his resume to hide that fact," said Rubio campaign spokesperson Olivia Perez-Cubas. "Murphy was ranked one of the least effective members of Congress, giving voters a clear choice between re-electing a senator with a strong record of fighting for them, or Patrick Murphy, who has proven untrustworthy and unaccomplished."
It should be noted that PolitiFact has rated the claim of Murphy being one of the least effective members of Congress as being "mostly false."