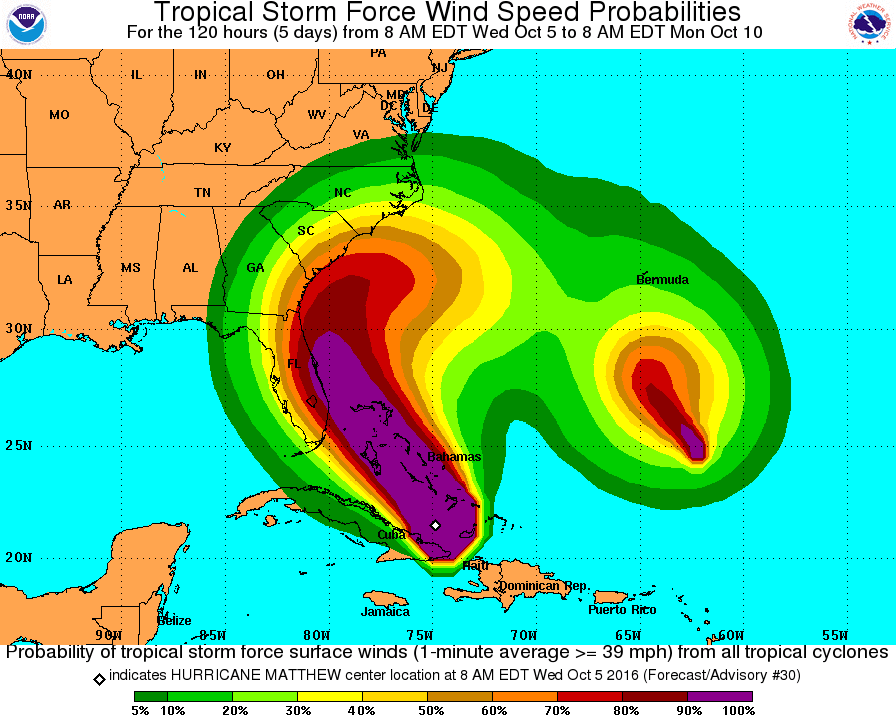 The National Hurricane Center has extended the hurricane warning northward in Florida as Matthew heads toward the East Coast.
Meanwhile, Hurricane Matthew is heading toward the Bahamas after hitting Cuba hard.
The hurricane center says the hurricane was about 105 miles (165 kilometers) south of Long Island, Bahamas. It has maximum sustained winds of 120 mph (195 kph).
The hurricane center said there is a danger of life-threatening inundation during the next 36 hours along Florida's east coast from North Palm Beach to the Flagler/Volusia county line. There is the possibility of life-threatening inundation during the next 48 hours from north of the Flagler/Volusia county line to Fernandina Beach.
Meanwhile, Tropical Storm Nicole is moving west-northwestward over the western Atlantic with maximum sustained winds of 50 mph (85 kph). It poses no threat to land.
The U.S. government says its disaster assessment teams are working to evaluate the effects of Hurricane Matthew a day after the storm blew across a portion of southwestern Haiti with winds of 145 mph (233 kph).
USAID official R. David Harden told reporters in a conference call Wednesday that it had pre-positioned emergency food and other aid in advance of the storm. The assistant administrator for the bureau for democracy, conflict, and humanitarian assistance said the area was "hit pretty hard" but the agency has not yet completed an assessment.
Harden said the U.S. is offering $1 million in food assistance and $500,000 in non-foot items such as blankets, shelters and hygiene kits.
Western Hemisphere Affairs Deputy Assistant Secretary Kenneth Merten said on the call that it is up to Haiti whether it will go ahead with planned national elections on Sunday. He said the U.S. interest is only that they have fair and credible elections and that they be held either on Sunday or the "not too distant future."
Republished with permission of the Associated Press.