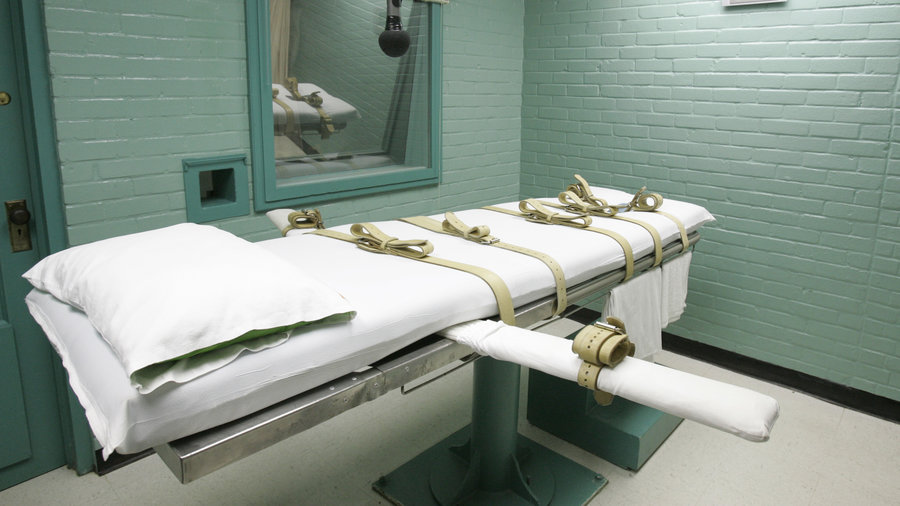 (UPDATE) There are just 16 counties in the U.S. — or one half of one percent — that imposed five or more death sentences between 2010 and 2015, and, according to a new report, four of them are in Florida — Hillsborough, Pinellas, Miami-Dade, and Duval.
The Harvard Law School's Fair Punishment Project's report notes these "outlier counties" are plagued by persistent problems of overzealous prosecutors, ineffective defense lawyers, and racial bias.
"Researchers found that the impact of these systemic problems included the conviction of innocent people, and the excessively harsh punishment of people with significant impairments," reads the report. "Many of the defendants appear to have one or more impairments that are on par with, or worse than, those that the U.S. Supreme Court has said should categorically exempt individuals from execution due to lessened culpability."
The report does not paint Hillsborough County State Attorney Mark Ober — or several of his prosecutors — in a very positive light. One of the cases it spotlights is that of Michael Mordenti, who was prosecuted for murder by Ober's predecessor. After the Florida Supreme Court reversed Modenti's conviction by finding that prosecutors had withheld evidence, Ober's office tried him with first degree murder charges two more times, despite the fact he said he was innocent and there was no physical evidence linking him to the crime.
Ober's office ultimately offered Mordenti a second-degree murder plea, which would allow him to go free. The report says none of the three juries heard from the victim's husband, Larry Royston, who told his attorney prosecutors had charged "the wrong man" before Royston eventually committed suicide. Mordenti spent 17 years in prison.
The report says three Hillsborough County prosecutors — Jay Pruner, Jalal Harb, and Scott Harmon — obtained 10 of 11, or 91 percent, of the death sentences the authors chose to examine.
The report takes particular interest in Pruner, and mentions how he planned to seek death for former military officer Julie Schenecker, whose murder of her two teenage children in January of 2011 shocked the world. Ultimately, the Hillsborough County State Attorney's Office declined to pursue capital charges against her because they believed her severe mental illness would not withstand the scrutiny of the Florida Supreme Court.
Two-thirds of the death sentences handed down between 2010 and 2015 in Hillsborough County were imposed on people of color, half of them black men. The report notes that sixty percent of the victims in these cases were white, "even though the vast majority of homicide victims in the area appear to be black."
In Pinellas County, which has led by State Attorney Bernie McCabe since 1992, the report says out of six cases decided on direct appeals between 2006 to 2015, five defendants, or 83 percent, had evidence of the kind of impairments that render the death penalty "disproportionately harsh." The authors of the report say that was the highest rate for any of the 16 outlier death penalty counties. That includes four cases involving defendants with serious mental illnesses, brain damage, or intellectual impairment. Another defendant was only 18 years old at the time of his of his defense and was diagnosed with paranoia.
"A few overzealous state attorneys account for most of our new death sentences," replied Mark Elliot, director of Floridians for Alternatives to the Death Penalty. "The funds for these long, drawn-out, super-expensive death penalty trials come from the state treasury, so all Floridians pay heavily for the excesses in a few counties."
The Fair Punishment Project is a joint initiative of Harvard Law School's Charles Hamilton Institute for Race & Justice and its Criminal Justice Institute. On its website it says "we work to highlight the gross injustices resulting from prosecutorial misconduct, ineffective defense lawyering, and racial bias, and to highlight the unconstitutional use of excessive punishment."
On Wednesday afternoon, Mark Ober released a statement regarding the report. Here it is in its entirety:
I was elected State Attorney to help keep our community safe and secure. What we are doing is working, with a lower crime rate that, according to Sheriff David Gee, dropped 3% last year, and with a violent crime rate that is the lowest since 1985.

The group releasing this report opposes the death penalty, and its report is nothing more than a position paper to support its cause. It makes no attempt to be fair and balanced. Instead of attempting to consider all the relevant factors in each case, it simply declares the death penalty to be broken, and criticizes prosecutors, judges, defense attorneys and jurors based on its own arbitrary criteria and false assumptions.

In every death penalty case, my office carefully reviews the evidence and the facts surrounding the case. We carefully consider all the aggravating and mitigating factors in determining whether it is appropriate to have the jury and judge consider the death penalty as a sentencing option. We do not take lightly our responsibility to charge accurately in any case, especially a death penalty case. We seek justice one case at a time. We do not make decisions based on arbitrary standards that a special interest group opposing the death penalty establishes.

The group's report disagrees with my office charging a man who was convicted of killing a Tampa Police Officer. After hearing all the evidence, a judge and a jury agreed that the death penalty was appropriate.

In a separate case, my office secured death penalties against a man who gunned down two Tampa Police Officers in cold blood. In a third case, my office secured the death penalty against a man for the brutal, unspeakable murder of two small children and their mother.

I believe the people of Hillsborough County agree with my office's decision to seek the death penalty in these brutal and heinous cases.
SPB has also requested comment from Pinellas/Pasco County State Attorney Bernie McCabe's office.