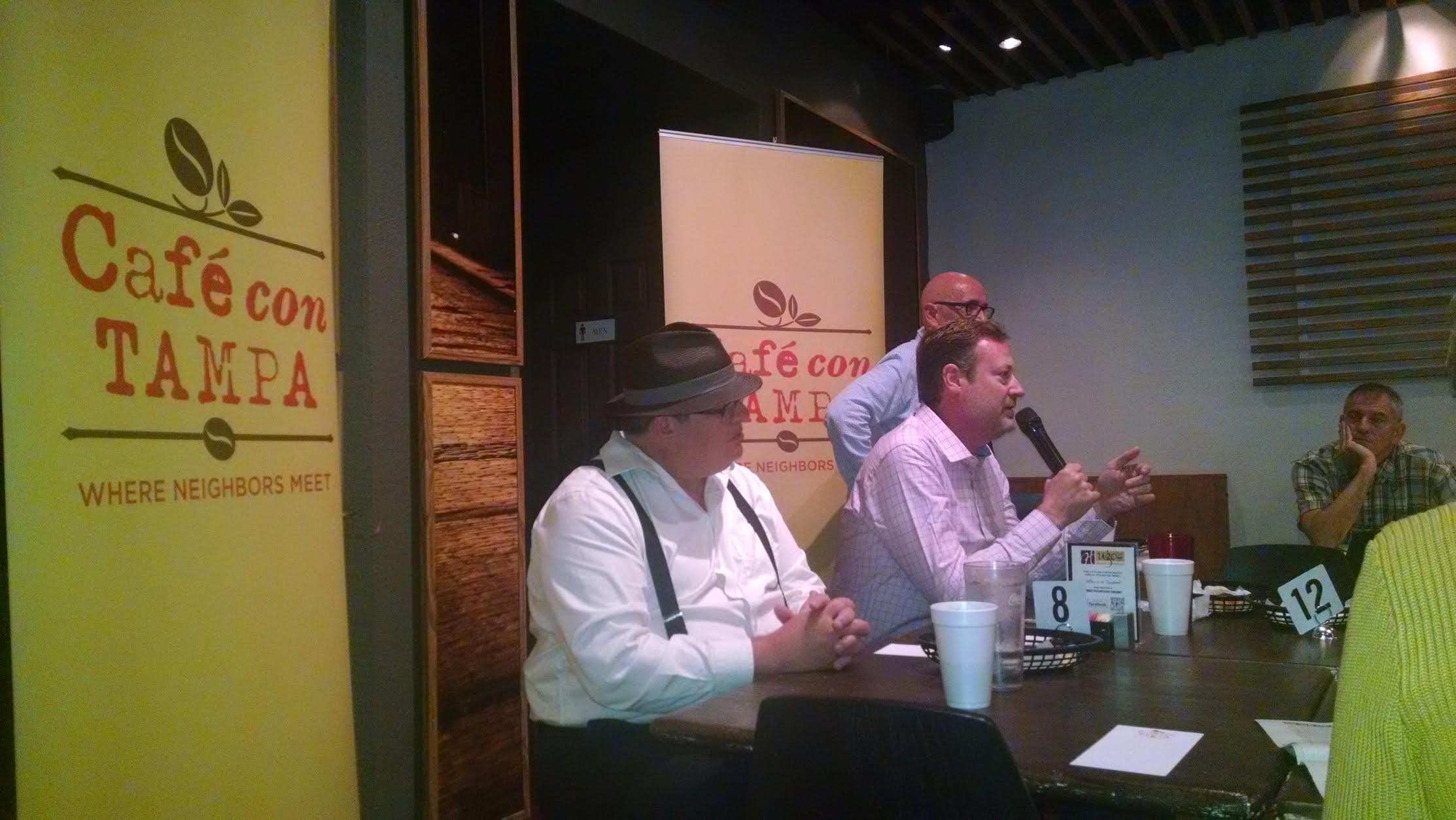 There is no region in the country that has been more involved in engaging with Cuba over the past five years than Tampa, but where that relationship goes in the future is now at the whims of President-elect Donald Trump.
"Until a month ago, I thought that the biggest obstacle to trade between Tampa and Cuba was Mayor (Bob) Buckhorn, and now we have a new player and that's Donald Trump," said Tucker/Hall head Bill Carlson at Friday's "Cafe Con Tampa" meeting in South Tampa.
Carlson and La Gaceta editor/publisher Patrick Manteiga spoke on what the change of power in Washington and the death last week of Cuban leader Fidel Castro portends regarding the momentum of relations between Tampa and the Communist nation. Almost exactly two years ago, President Obama announced a diplomatic breakthrough with the Raul Castro-led government, and he's followed by a series of executive actions to ease the sanctions which still exist.
The president ended the 180-day ban on ships docking at U.S. ports after sailing from Cuba, paved the way for doctors to work with Cuban researchers on medical investigations and allowed Americans to travel to Cuba in cultural exchange programs.
Manteiga said that Castro's death doesn't play into the equation at all. "To many people, this changes everything," he said. "In reality, it doesn't change anything at all."
Carlson referred to the surge of activity between Tampa and a contingent from the Tampa Bay History Center is currently visiting the Communist island. Officials with the Ybor City Chamber of Commerce visited Cuba last year, and officials with the Greater Tampa Chamber of Commerce have made three separate trips.
Since 2011, hundreds of thousands of passengers have made the hour-long flight from Tampa to Cuba aboard charter flights. Commercial flights through Southwest Airlines from Tampa International have just begun, as have commercial flights from nine other airports thanks to President Obama.
Several members of the City Council have also made trips to the island, and both that board and the Chamber of Commerce have backed the idea of having a Cuban consulate located in Tampa, something that Buckhorn has not become involved. The mayor has always sided with the Cuban exile community in Tampa that to this day supports the more than fifty decade-long sanctions, believing that any recognition of the Cuban government is unacceptable until they stop detaining dissidents and allow for a more open society.
Carlson accused the mayor of hypocrisy, noting his recent business trip to China, which in a congressional report listed 2015 as its worst year on record for human rights violations.
Critics of the outreach to Cuba have dismissed the discussions about improving commercial relations, saying that Cuba is a relatively poor country with little to offer the U.S. Carlson says in fact that the nation of 11.5 million have a desperate need for all types of services and products, and it is one of the great business opportunities for U.S. companies anywhere, but especially in Florida with its proximity. "There is an unprecedented investment in infrastructure," he said.
"The governor and the Republicans don't want the port to reach out to Cuba, and the Port keeps using the excuse that perhaps there might be funding that might get cut off," said Manteiga, adding, "They're not going to cut off the funding for the Port. Our legislative delegation wouldn't let it."
Perhaps the single biggest local advocate for improved relations between Tampa and Cuba, Al Fox, is in Cuba this week, but both men noted his current legal situation. Fox faces civil penalties from an agency of the U.S. Treasury Department called the Office of Foreign Assets Control. The agency accuses Fox of arranging two trips to Cuba in 2010 and 2011 without obtaining proper licenses.
"Al is going to fight in federal court to prove that these laws are unconstitutional. If he wins it will benefit all of us and the Cuban people," said Carlson.
"It's amazing that they're still punishing people who want to make a change in U.S. policy," Manteiga said.
Carlson has frequented Cuba five times in the past two years, and says he sees more and more stores opening up each he visits. "Entrepreneurship is just flourishing there, and my fear is that it will roll everything back."