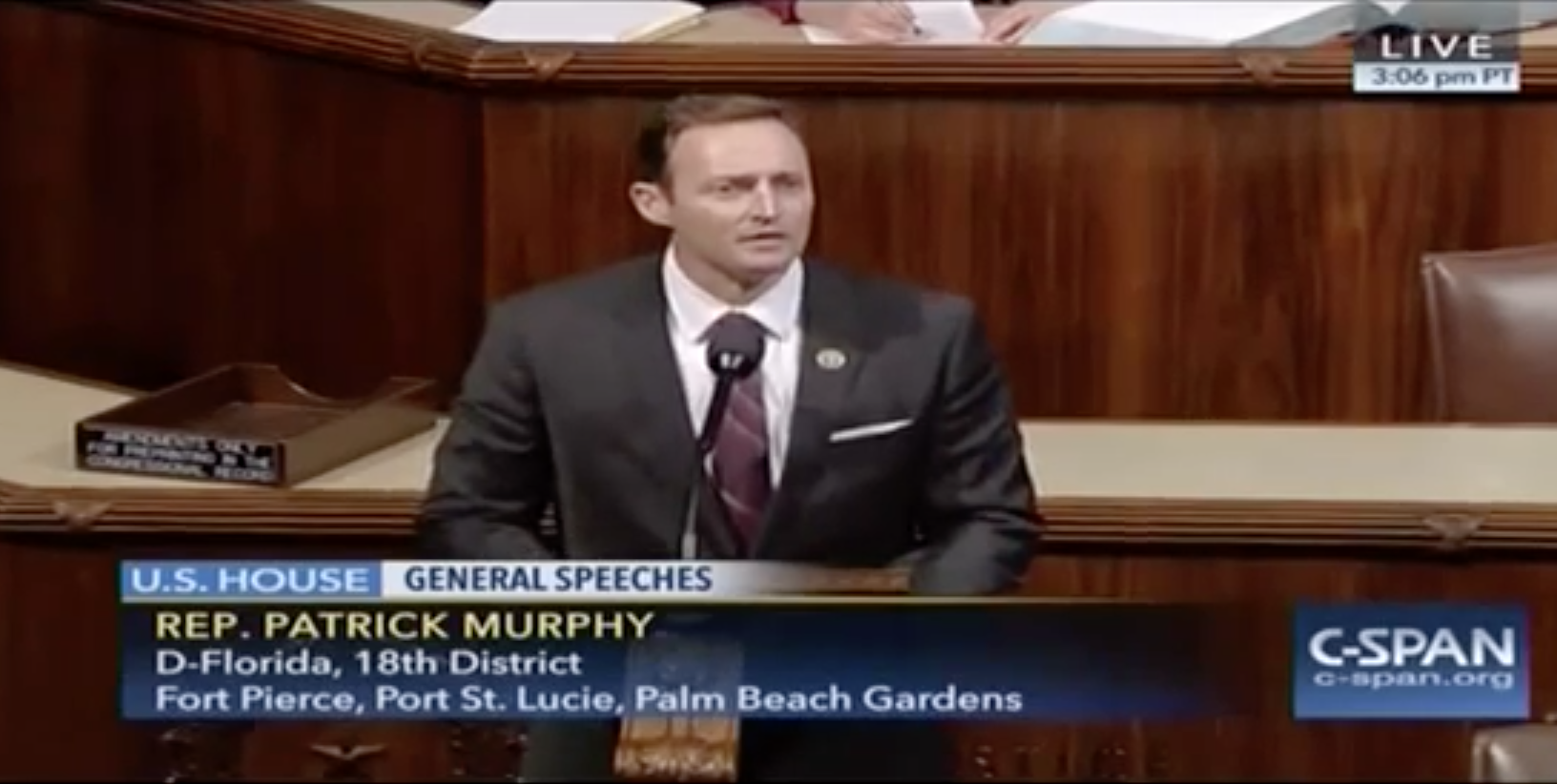 U.S. Rep. Patrick Murphy called on Congress to pursue bipartisan unity and eschew any "hateful and divisive" rhetoric as he gave a farewell speech to the House of Representatives Tuesday night.
Murphy, the Democrats' failed candidate for Florida's U.S. Senate seat in the Nov. 8 election, conceded "the outcome of this election was not what I hoped for our state and our nation" but used most of his seven-minute address to suggest he's always sought bipartisan cooperation and to urge for more.
The Palm Beach Gardens congressman whose four-year tenure ends Jan. 3 decried money in politics, corporate influences and gerrymandering and said: "much of the system is broken." But he also called for a focus on a set of issues that included priorities for both the Democratic and Republican parties.
"The outcome of this election was not a mandate for many of the policies being discussed right now. Instead, we saw a still-divided nation making it more important than ever that we have solutions that work for all Americans, not just some Americans," Murphy said in a speech Tuesday evening on the House floor.
"That is why I hope to see a new focus on tackling climate change, tax reform, investing in our infrastructure, rebuilding the middle class, improving educational opportunities, and protecting our country from the threats of cyber attacks and terrorism, all things I championed during my time in this chamber," he continued. "Above all, I hope we do not move our country backwards. That requires leaders who do not use fear and lies to further divide this country."
Murphy's primary campaign against U.S. Rep. Alan Grayson and general election campaign against Republican U.S. Sen. Marco Rubio, who won, were sometimes heated and hostile, particularly when he sought to link Rubio through association with some of the more fiery and divisive rhetoric of Donald Trump. On Tuesday, he called for healing, but not forgetting.
"We cannot simply gloss hateful and divisive rhetoric that plagued our country this past year," Murphy said. "The United States is better than that, and the world is watching. I'm an eternal optimist. I'm hopeful our leaders will work together to begin to heal these winds and move our country forward together, to show we are stronger than those who wish to divide us."
He ended by vowing, "My commitment to our community, to the great state of Florida, and to our nation will always continue."