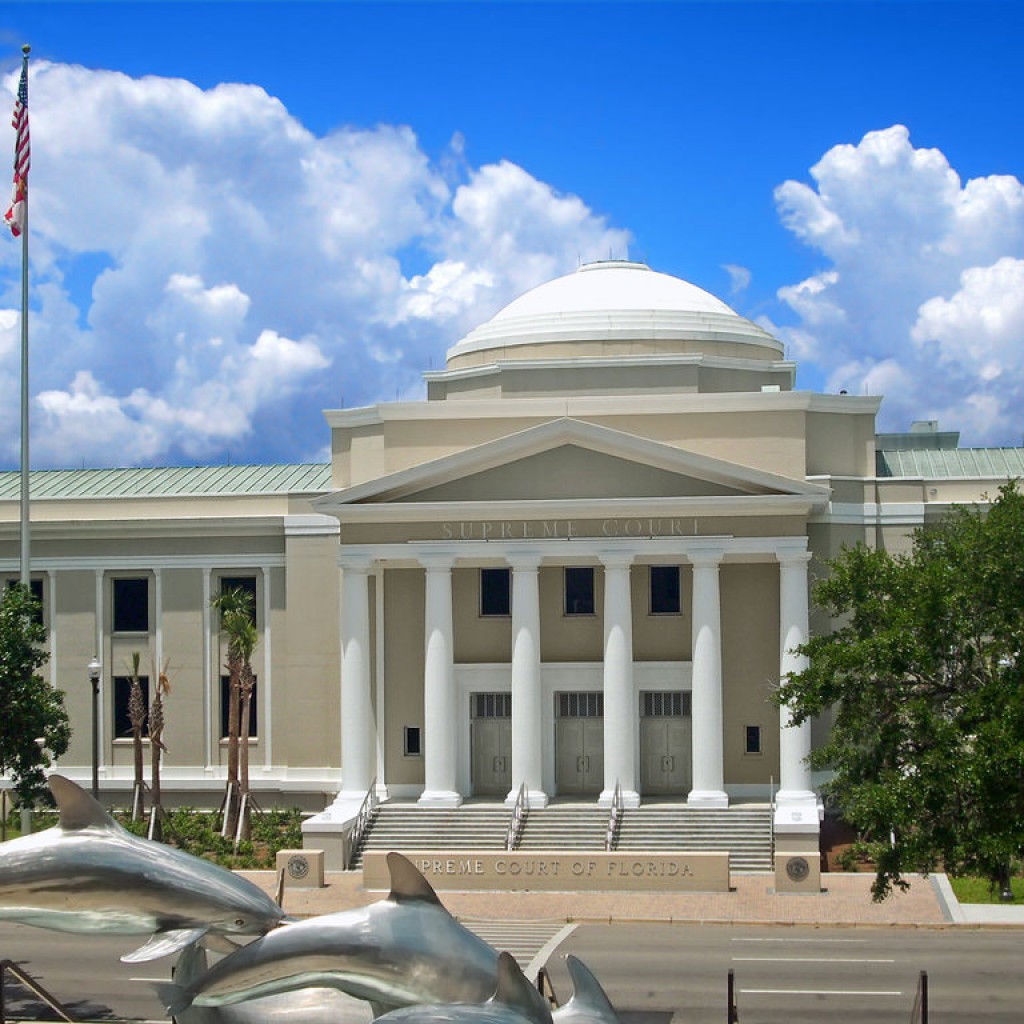 Conservative appellate judge C. Alan Lawson will become the next Florida Supreme Court justice, Gov. Rick Scott announced Friday morning.

Lawson, who will replace retiring Justice James E.C. Perry, is chief judge of the state's 5th District Court of Appeal in Daytona Beach. Perry's retirement is effective Dec. 30; Lawson's first day is the 31st.
"He's got a 20-year track record, he's been a public servant, he clearly believes in following the rule of law," Scott said, standing next to Lawson – his first ever Supreme Court pick – and his family. "He is going to do a good job … and he's not going to legislate from the bench." (Video of announcement here.)
Lawson now makes a third conservative vote on a seven-member state Supreme Court that often splits 5-2 on matters of public policy. To date, Justices Charles Canady and Ricky Polston have been the court's most reliable conservative voices.
In a statement, both men "applaud(ed)" the appointment, calling Lawson "a true leader (who) brings strong conservative principles" to the court.
Conservative lawmakers and business interests have long derided the court – specifically its liberal-leaning triumvirate of Justices Barbara Pariente, Peggy A. Quince and R. Fred Lewis – for "judicial overreach," saying the court often breached the separation of powers between the lawmaking and judicial branches.
Recently, they denounced decisions chipping away at protections afforded business owners in the state's workers' compensation law, striking down caps on attorney fees and ordering disability benefits extended for injured workers.
The state's highest court also becomes more white; Perry is black. With his departure, Quince is the now the lone African American on the court.
This isn't Lawson's first attempt to join the court. Perry, whom Lawson is replacing, beat him in 2009 for the opening created by the retirement of Justice Charles T. Wells.
Lawson appeared with his wife Julie and son Caleb, as well as his father and mother, Charles and Velma Lawson, sister Laurie Lawson Cox and brother-in-law Thomas Cox.
Lawson, whom Scott had first mistakenly introduced as "Lanson," told reporters that the judiciary's mandate to interpret laws "came with a promise, that it would be exercised with judicial restraint."
"There are a lot of precedents from the Florida Supreme Court and U.S. Supreme Court that details what judicial restraint means and is not supposed to mean," he added. Many critics have noted that "judges and courts have moved away from what is clearly laid out … that says, 'this is what courts are supposed to do.' "
When asked if he could name decisions in which judges have "overreached," he said, "No. It's not ethical for judges to comment on issues that could come before the Supreme Court."
Lawson was then backed by "religious conservatives and the National Rifle Association," wrote politics reporter William March in a February 2009 story for the now-defunct Tampa Tribune, while Perry was favored by "liberal groups and black leaders." Those backers were largely silent this time around.
The appointment created a quandary for then-GOP Gov. Charlie Crist, March wrote, "pit(ting) conservatives in his own party (then Republican) against a minority community Crist is courting." He eventually picked Perry, who joined the court the next month.
Lawson, born in Lakeland, grew up in Tallahassee. He graduated from Tallahassee Community College and later Clemson University with a degree in Parks, Recreation & Tourism Management, according to his online bio. He got his law degree from Florida State University in 1987.
He was in private practice for several years before becoming an assistant county attorney in Orange County and then a circuit judge in 2002.
Lawson also was a Florida Bar exam question writer and grader. He moved to the 5th District appellate bench in 2006. Both his judicial appointments were by Republican former Gov. Jeb Bush.
In 2012, he was a member of a three-judge appeals panel that considered a custody battle between two women who were formerly in a relationship.
The majority said both women have parental rights, but Lawson wrote "a blistering dissent," in which he said a child can have only one mother, according to the Associated Press.
The court shouldn't recognize two mothers "unless we are also willing to invalidate laws prohibiting same-sex marriage, bigamy, polygamy, or adult incestuous relationships on the same basis," Lawson said. In a 4-3 opinion, the state Supreme Court later said the non-birth mother could seek shared custody.
Scott picked Lawson over two other conservative finalists for the post: Wendy W. Berger, another judge on the 5th District Court of Appeal, and Dan Gerber, an Orlando civil-trial defense attorney.
Scott "had three excellent candidates to consider," Florida Bar President William J. Schifino Jr. said in a statement.
"I applaud the governor, the Judicial Nominating Commission and the process, and very much look forward to working with soon-to-be Justice Lawson in the future," Schifino said. "He has demonstrated himself to be an excellent jurist and someone who has the best interests of all Floridians at heart."
Business interests also commended the pick.
William Large, president of the Florida Justice Reform Institute, a group created by the Florida Chamber of Commerce, said Lawson's appointment is a "reaffirmation of our system of checks and balances between the three branches of government."
Scott "based his decision on the precepts that judges should strictly adhere to the rule of law," he said in an email. The governor's "thoughtful choice in this solemn duty will have a profoundly positive impact on Florida for a long time."
Tom Feeney, CEO of Associated Industries of Florida, added that his members have been "anxious for the day that a majority of the Florida Supreme Court can restore respect for the constitutional separation of powers, including legitimate powers of the popularly elected members of the legislative and executive branches."
"If the Florida Supreme Court will exercise only those legitimate judicial powers, such as deciding controversies of fact and enforcing the language of our duly enacted statutes and Constitution, as opposed to arbitrarily injecting their personal and political preferences, a constitutional balance can be restored."
Scott could have the opportunity himself to put a conservative majority on the bench. Pariente, Quince and Lewis face mandatory retirement in early 2019, and Scott said he plans to replace them before he leaves office that January.
"I will appoint three more justices the morning I finish my term," he said.
House Democratic Leader Janet Cruz quickly reacted, saying she was "deeply troubled" by Scott's position.
"The Supreme Court is no place for political gamesmanship," she said in a statement. "If Gov. Scott follows through on this assertion, he risks setting off a contentious legal battle with his successor that would mar the transition process and throw our state's highest court into uncertainty.
"The governor should look to the example set by Govs. Buddy MacKay and Jeb Bush in 1998 and do the right thing on behalf of Floridians," she added, referring to their joint appointment of Quince.