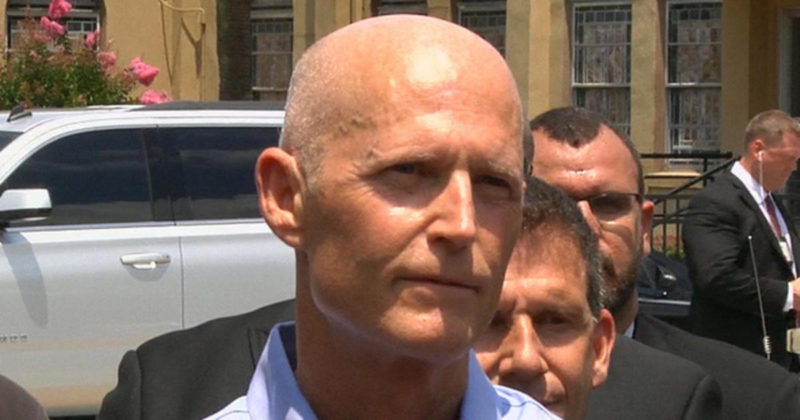 On Monday, Florida Governor Rick Scott sent a letter to the United States Congress majority leader calling for the body to "repeal and replace" Obamacare.
Scott's position on what he calls the "excessive overreach" of Obamacare is not necessarily a surprise, given his historic opposition to the president's approach to the Affordable Care Act.
However, it is newly salient in light of Republican control of the executive and legislative branches.
"For far too long, it has been fashionable in Washington to say Obamacare can only be tweaked. We have seen debate after debate in Washington about this bad law but nothing has been changed. It has to be completely overhauled and now is the time to do it. We cannot let the usual political games or partisan gridlock of Washington get in the way of immediately repealing and replacing Obamacare with a plan that actually works," Scott noted.
"The impact of Obamacare has been devastating in Florida and our nation. Obamacare was sold on a lie from the very start. Costs are skyrocketing, people have not been able to keep their doctors and many people have fewer doctors to choose from. The increases in health care costs are at a 32-year high and are expected to continue increasing in the coming months. Recent news of Obamacare rates rising 25 percent is absurd and families simply cannot afford it. We can do better and the families and businesses footing the bill deserve better," Scott added.
In the five-page letter, Scott advocated for "state flexibility," rather than a "one size fits all" approach to the replacement.
"Specifically," Scott wrote, "our state needs the greatest possible amount of flexibility from Washington … without creating a massive government program that makes promises to patients that we could never afford to keep."
Scott's letter laid out the governor's suggestions for replacement.
One suggestion: to repeal the individual and employer mandates, allowing people to choose to deposit funds into a health savings account instead of giving the money to an insurance company.
Scott also urged the allowance of insurance companies to sell across state lines, which currently isn't an option.
Scott also backs greater flexibility in packages sold, and allowing families to opt for a single plan for the entire family, rather than one plan for children and another for adults.
Regarding the state's needs, Scott told the House Majority Leader that he'd like Florida to have "flexibility to run our own Medicaid program that uses the state's successful managed care model."
Scott would also like to see the elimination of "burdensome" Obama regulations, such as the Managed Care Rule, the Access Rule, and the Outpatient Drug Rule, examples of "intensive but often purposeless federal micromanagement" that privileges federal bureaucracy at the expense of the state process.