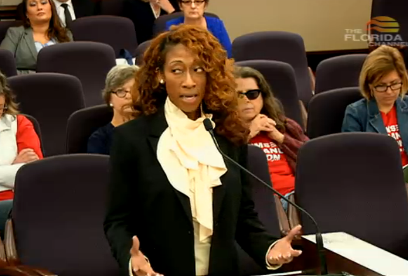 A Florida Senate committee overwhelmingly approved the latest attempt to expand the state's Stand Your Ground self-defense law.
On Thursday, the Senate Rules Committee passed the measure after advocates said it would stop unnecessary prosecutions.
Opponents alleged it would stop a lot of necessary prosecutions, as well.
Senate Bill 128 would allow gun defendants to demand pretrial hearings on their claims of self-defense, putting the burden of proof on prosecutors to prove the defendants used the guns not in self-defense.
After more than an hour of debate, SB 128 won committee approval with just a smattering of no votes, mostly from Democrats.
Sponsor Sen. Rob Bradley and others pushed the bill as a response to a 2015 Florida Supreme Court decision that established pretrial rules and procedure for stand-your-ground defenses, but placed the burden of proof on defendants. Bradley argued it was never the Florida Legislature's intent to make stand-your-ground a burden for the accused to prove. The intent, Bradley said, always had been that the state — prosecutors — needed to prove that self-defense wasn't the reason for the gun use, even if it results in the death of an alleged attacker.
The ramifications have partisan and racial overtones, as well as high emotions. Democrats and others who've advocated for restrictions on gun usages have argued that many stand your ground cases involve white defendants shooting or threatening black alleged attackers.
And the acquittal of George Zimmerman in the 2012 shooting of Trayvon Martin in Sanford made Florida's Stand Your Ground law, passed in 2005, a national debate.
Yet the ramifications also go the other way, as suggested by the case of Marissa Alexander, who is black, and who was denied a Stand Your Ground defense when she was prosecuted and convicted of firing a warning shot at her abusive husband in 2012.
SB 128 could have prevented either of those cases from ever going to trial if the prosecutors had not been able to disprove a self-defense claim, beyond a reasonable doubt, during a pretrial hearing.
Alexander, who was freed in January, testified Thursday for SB 128.
"I'm just going to give you three numbers. Number one. Number 12. And number 20. For me, one shot, a 12-minute verdict got me 20 years," she said. "I did go through a Stand Your Ground hearing. And in that hearing, you could tell the court and the prosecution struggled with that because it was difficult. With that said, putting a defendant in the position where they have to bear the burden of proof, in my opinion, removes your Constitutional right, the 5th Amendment."
Bradley argued that the bill is not an expansion but a fix, to the Supreme Court decision made in Bretherick v. Florida, which put the burden of proof squarely on the defendant to show, by a preponderance of evidence, that there is a self-defense case.
"Since our country's finding, our criminal justice system has certain basic premises that are timeless. These are principals that every American intuitively understands. You are innocent until proven guilty. The government carries the burden of proof from the beginning of a case until the end," Bradley said, arguing that the Bretherick decision goes against that.
Others, including state Sens. Perry Thurston Jr., Oscar Braynon rebutted that, saying there are many situations in which defendants pursuing "affirmative defenses" — which also include alleging entrapment — have the burden of proof in pretrial hearings. Braynon also pressed Bradley to name one other state that puts the burden of proof on prosecutors in Stand Your Ground hearings, and Bradley said he could not.