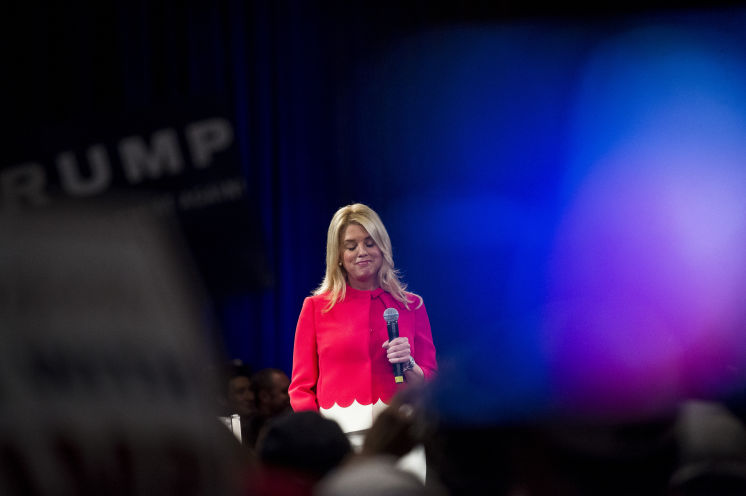 Florida's top lawmakers and Agriculture Commissioner Adam Putnam are struggling with low name identification among likely Republican voters, but that isn't the case for Attorney General Pam Bondi according to a new poll from statewide business advocate Associated Industries of Florida.
The AIF poll of likely Republican voters obtained by FloridaPolitics.com found that 54 percent approve of the job the second-term Attorney General is doing, while just 12 percent have an unfavorable view and 17 percent said they had no opinion.
Among Florida's top elected Republicans, Bondi's ratings only trailed Gov. Rick Scott, who had a net 67 percent approval rating, and U.S. Sen. Marco Rubio, who netted 57 percent approval.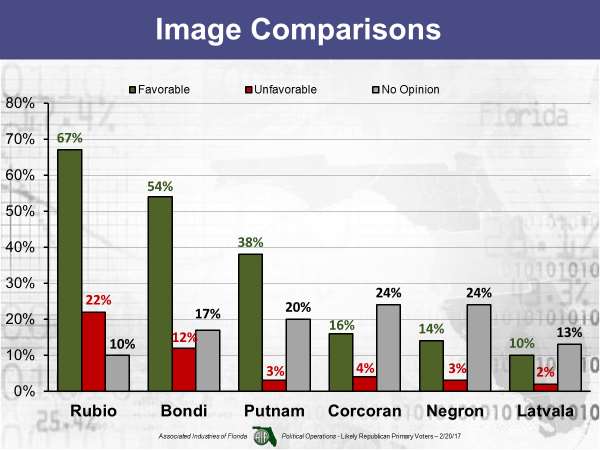 Putnam, who is considered an early front-runner to take over for Scott, scored 38 percent approval from the same crowd, with 3 percent voicing disapproval and 20 percent saying they had no opinion.
Putnam did come out on top in the mock ballot test for the Republican primary for Florida governor with 22 percent support, though 71 percent said they were undecided. The next highest vote-getter was House Speaker Richard Corcoran with 4 percent support.
AIF also tested the waters for the cabinet positions opening up in 2018, though each scenario featured "undecided" winning over 80 percent of the vote.
In other words, "there's no news here," notes Ryan Tyson, Vice President of Political Operations for AIF.
The low level of support for Corcoran likely stems from the fact only 44 percent 0f those polled knew who he was. Of those, 16 percent said approved of the job he was doing, while 4 percent disapproved and 24 percent had no opinion.
Senate President Joe Negron and Senate Appropriations Chair Jack Latvala had even lower name ID than the House Speaker, with just 41 percent and 25 percent recognizing their names, respectively.
Still, both enjoyed relative approval from the Republican base: Negron had a plus-11 approval rating and Latvala came in with plus-8.
AIF surveyed 800 likely Republican voters who had voted in at least one of the last three Republican Primaries, but not the presidential preference in 2016. The group said 81 percent of those polled were over 50 years old and 90 percent were white.