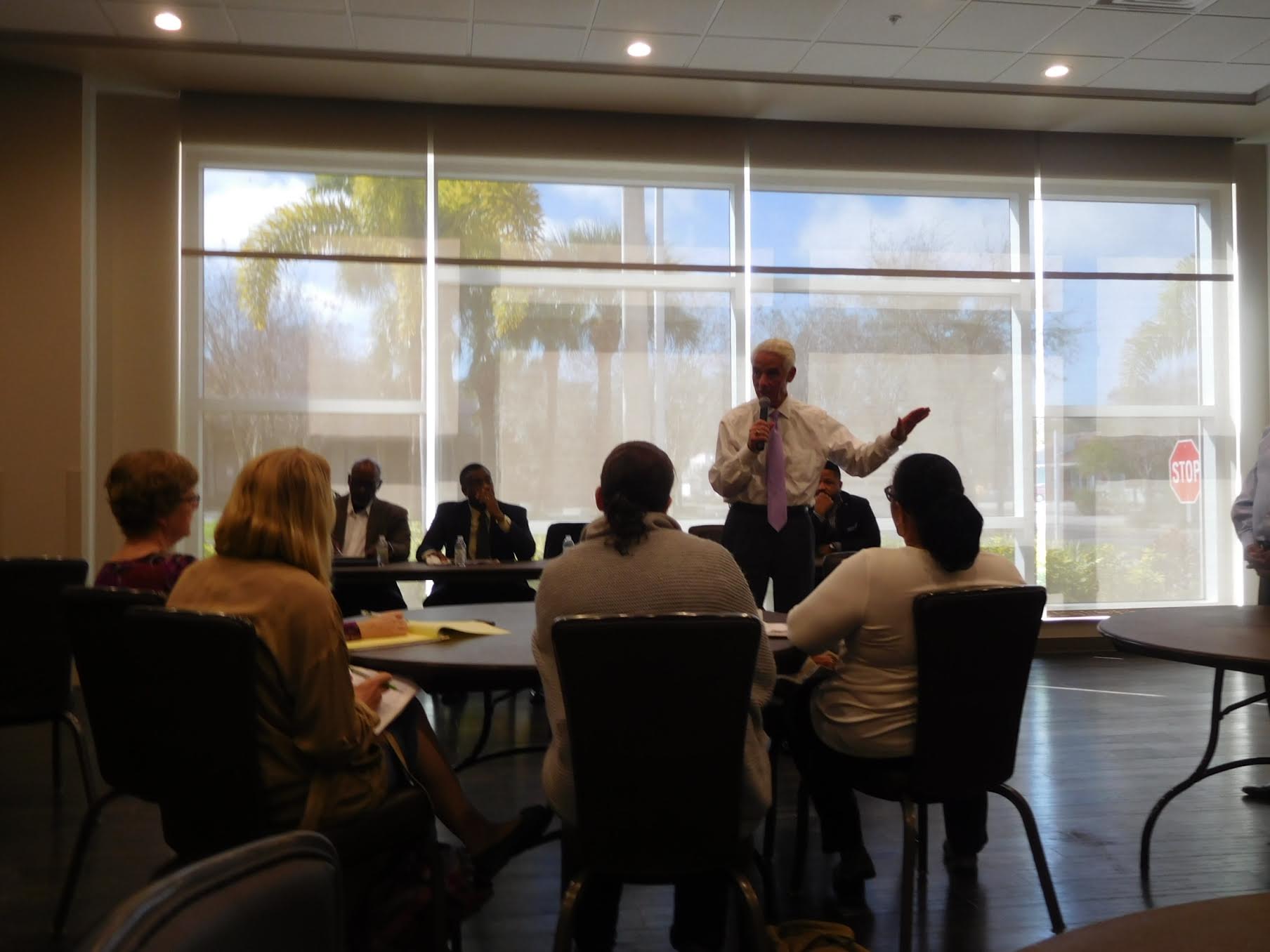 It was supposed to be a simple community meeting.
However, Charlie Crist wound up addressing a controversial personnel decision inside his office, which added a bit of drama to the proceedings.
Appearing at a community forum in St. Petersburg's Midtown area Saturday morning, Crist's visit was advertised as a discussion about the Affordable Care Act, economic development and jobs, education, and voting rights.
Ray Tampa, a community activist and former NAACP chapter president, challenged Crist to elaborate on the somewhat mysterious departure last month of district director Vito Sheeley.
Sheeley, who was Crist's campaign outreach director in his race against Republican David Jolly last fall and was serving as his district director, stunningly announced last month said that he was leaving the office to begin working for Jolly as a senior adviser. That's the same David Jolly who is no longer a congressman after Crist defeated him in November.
Tampa told Crist and the small crowd at Saturday's event that he been solicited by Sheeley for campaign strategy in last year's congressional race, and that ultimately Sheeley and other Crist advisers working for the African-American vote had decided to make copies of an email Tampa wrote in praise Crist, printed it out and distributed it to approximately 25 different churches in Midtown.
"And then shortly thereafter, you're elected, and then Vito was terminated," Tampa said. "That was not good. That was horrible, to say the least."
Tampa said that he didn't have anything against Gershom Faulkner, who has replaced Sheeley in Crist's office, but added that "Vito's termination had an effect on a lot of us in the community. And we don't know if we've gotten a good response as to why that occurred, and it could affect you later on."
"He wasn't terminated," Crist crisply replied. "Any other questions?"
Tampa left the event shortly after that exchange, saying later he was unsatisfied with Crist's response. "That was horrible. For me to call for a question and it's ignored, that's not good."
The public may never know what truly transpired between Crist and Sheeley, which resulted in the staffer jettisoning the office.
After Sheeley had announced last month that he would begin working with Jolly, he issued a statement saying: "Many have and will continue to question my reason for leaving Congressman Crist. That is an answer that will remain between Charlie Crist and me."
Jolly's hiring of Sheeley immediately set off speculation that the Pinellas Republican was already gearing up to challenge Crist in 2018, but Jolly said earlier this week that he won't make any decision on another candidacy for the seat until next year.
Crist was joined at what was described by officials the "1st quarterly Pinellas County African-American Leaders Conference" at the St. Petersburg College Midtown Center, where he was joined by Pinellas County Commissioner Ken Welch, former state representative and city council member Frank Peterman, and Carlos Senior, the Senior Pastor at New Hope Missionary Baptist Church.
Although not an official town hall (which Crist said he intends to organize in the coming weeks), the format was similar in that there were a few people in the audience who wanted to speak with their representative about the Affordable Care Act.
In fact, the first two people (there were approximately 20 people in the room) challenged Crist to state his position on the ACA, saying that they couldn't get a clear answer about where he stood on the GOP's plan to repeal the landmark initiative from Barack Obama.
"I don't want to replace it, I want to continue it … I'm not sure who you talked to in my office who told you I don't have a position on it, but I stand strongly behind the Affordable Care Act," Crist told Chelsea Baker, an audience member who said she had serious health issues.
Baker said she goes to bed every night "terrified" about the effort to repeal the law.
Crist elaborated that his GOP brethren in the House have undoubtedly learned through some of their own bruising town hall meetings this month that "they know that if they just take it away and that's that, it's over for them."
"I think they've gotten that message and figured it out, and that's why they haven't done it yet," he said about actually repealing the law.
Crist's appearance came a day after news broke that he is divorcing his wife Carole after almost nine years of marriage, news that made Page Six of the NY Post Saturday.