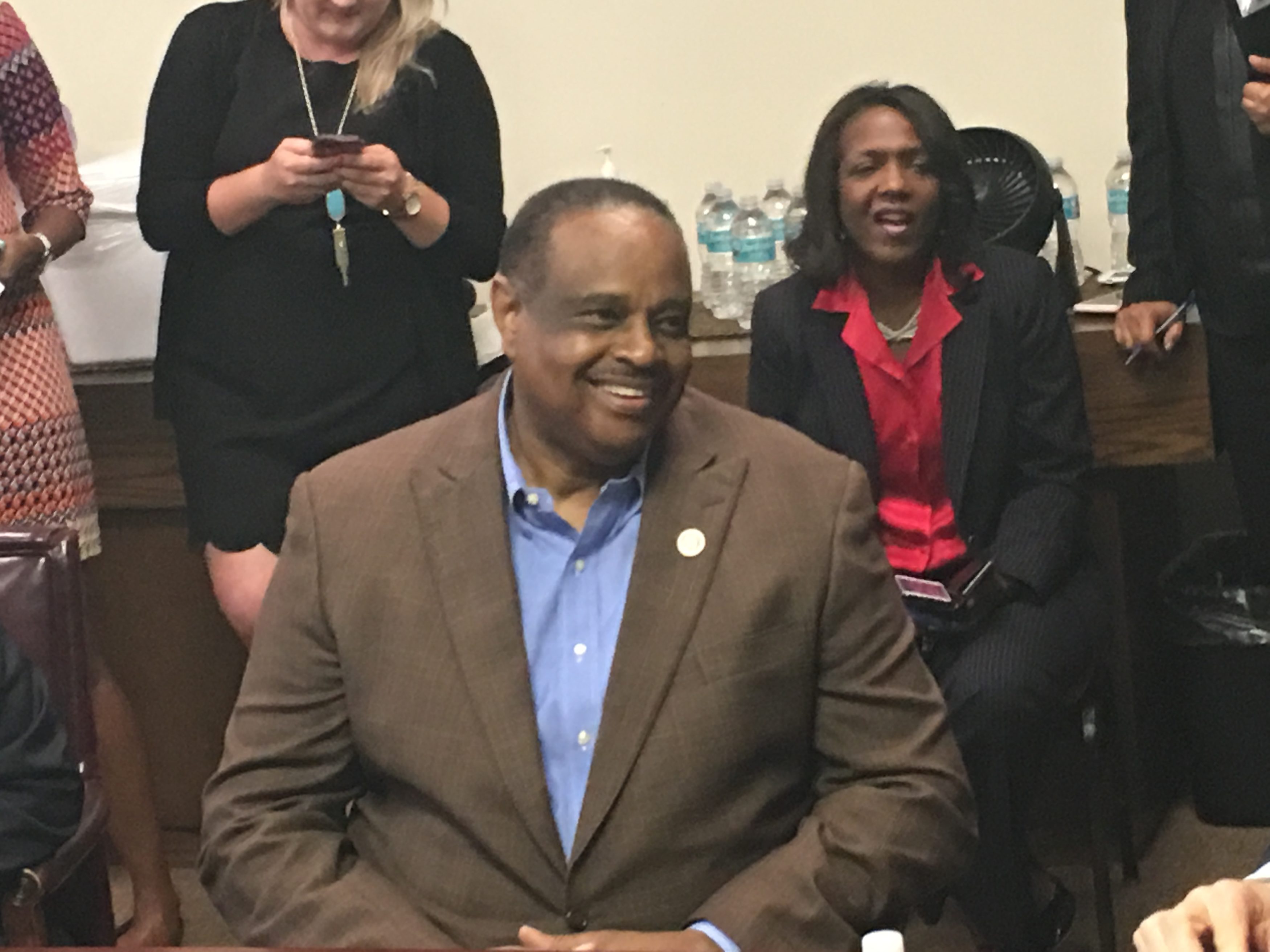 Hey, Al! Answer your phone!
That was one of the few remotely critical remarks addressed to U.S. Rep. Al Lawson during a town hall meeting in Tallahassee Tuesday, the latest in his Easter Recess swing.
"I have a real problem, frequently, getting through to your office. I mean frequently, like 50 percent of the time, I can't get an answer and the mailbox is full," one constituent told the freshman hometown Democrat.
"The reason that concerns me is, you're losing votes. Any person who tries to call you and can't get through is going to be upset."
Lawson apologized and promised to address the problem. Later, he urged constituents to volunteer in his district office.
But there was none of the acrimony that has greeted Republican members of Congress from constituents angry about the GOP plan to scuttle the Affordable Care Act and federal spending. Neal Dunn, the freshman Panama City Republican, faced booing when defending the Republican health care replacement bill during a town hall in March.
Lawson, meanwhile, told a crowd of more than 60 constituents that went to Washington to improve the Affordable Care Act, not to repeal or replace it. That brought one of many outbreaks of applause.
Lawson said he believes in working with Republican colleagues when possible. He has to, within the Florida delegation — as he noted, he's the only Democratic congressman between Pensacola and Orlando. His District 5 comprises eight counties between Tallahassee and Jacksonville.
"I have no choice, ladies and gentlemen. I'm like the Lone Ranger on some of those issues," he said. "When you talk about North Florida, who you talking about? I stand alone out there, waving a flag."
He continued: "I work with a lot of my Republican colleagues because nothing was done by one particular party. Putting a man on the moon wasn't done by a Republican or Democrat. It was a joint effort. To do things in America, it's always going to be a joint effort. We have to get over the campaign and do what's best for you, the citizens in this country."
That even goes for the president.
"Some people don't like to work with the president. I don't have a choice. I'm going to have to work with the president to make sure that these budget cuts don't hurt my constituents. So I look forward to — not flying with him down to West Palm — but getting in there to see him, along with the Democratic colleagues that we have, to say, 'These are the ones that we can't (abide).' "
In other comments, Lawson said he supports an independent commission to investigate connections between the Trump campaign staff and the Russian government. "There's no question that Russia was involved," he said.
Of Syria, he said: "It was very inhumane what Assad was doing, to destroy children and families to maintain his position of power. America's always been a country that has stood up against those atrocities. That's one of the things the president was able to do."
But he added: "The president cannot go to war without a resolution by Congress."
And even Republicans, remembering the lead-up to the war in Iraq, are wary of backing any military adventures by President Trump, he said.
Lawson supported congressional efforts to force Trump to disclose his taxes and financial interests.
As for Trump's proposed budget cuts, Lawson said one-quarter of the school children in his district rely on free or reduced-price school lunches; at one school, it's 100 percent.
"You can rest assured that I will be fighting very hard to make sure we don't cut those programs that are very essential," he said