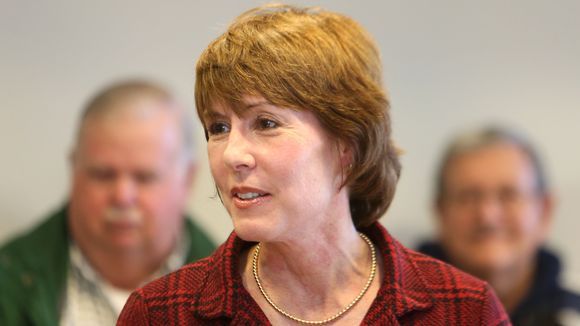 Democratic gubernatorial candidate Gwen Graham announced Thursday she is being backed by four more women leaders from the party in Florida.
She picked up the endorsements of former state Reps. Karen Castor Dentel and Kelly Skidmore, Democratic National Committee member Alma Gonzalez, and former Gainesville Mayor Pegeen Hanrahan, Graham's campaign announced in a news release Thursday.
"These women are leaders in our state fighting to restore public education, defend our health care, protect our environment and build an economy that works for every Floridian," Graham said in the release. "I'm proud to have their support and look forward to working with them to take back our state and finally put Florida on a brighter path forward."
Graham, a former congresswoman from Tallahassee, faces Tallahassee Mayor Andrew Gillum and Winter Park developer Chris King seeking the Democratic primary nomination to run for governor in 2018.
"After decades with governors undermining our public schools, blaming hardworking teachers, and over testing our kids, voters are eager for a leader who makes education a priority," Castor Dentel, a Maitland teacher, said in the release. "As a mother, Gwen Graham understands the challenges we face and has the experience and knowledge to fight back against for-profit schools that divert public school dollars. She knows that increasing teacher pay will be a first step in addressing the teacher shortage. And Gwen will fight to fully implement the class size amendment as the voters demanded. It's time to put our students first, and that's why I'm proud to support Gwen Graham for governor."
Gonzalez also is a former treasurer of the Florida Democratic Party.
"Gwen Graham understands building an economy that works for every Floridian starts in our public schools and colleges," she stated. "Gwen will fight to increase public school funding by ending the lottery shell game, expand technical education starting in our middle schools, and expand access to our colleges and universities. To move forward, we must build a 21st-century economy and ensure our children and grandchildren have the skills they need to fill those new jobs. We will tackle this great challenge with Gwen Graham as our next Governor."
Hanrahan, of Boca Raton, said: "Gwen Graham understands building an economy that works for every Floridian starts in our public schools and colleges. Gwen will fight to increase public school funding by ending the lottery shell game, expand technical education starting in our middle schools, and expand access to our colleges and universities. To move forward, we must build a 21st-century economy and ensure our children and grandchildren have the skills they need to fill those new jobs. We will tackle this great challenge with Gwen Graham as our next Governor."
Skidmore added: "It's time to send a qualified leader to the governor's office. Gwen Graham has fought for equal pay and defending our right to choose. As governor, she'll defend our health care, fight for paid sick time and build an economy that works for every Floridian."