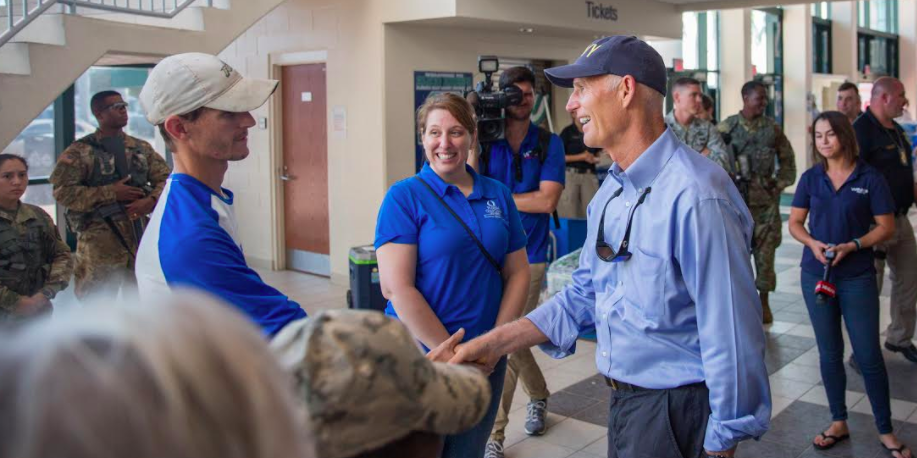 Gov. Rick Scott on Tuesday night said he's "made it clear" that getting gasoline to the pumps and turning the lights back on are tied for his No. 1 priority.
Scott "will continue to aggressively work until every Floridian can return to work and their kids can go back to school," his office said in a press release.
"Florida is an incredibly resilient state and now it is time that we come together and rebuild," he said in a statement. "After visiting shelters this week and talking to people who evacuated due to Hurricane Irma, the number one thing I heard from families is that they want their power back on.
"We must make sure Floridians have the fuel they need to get home and back to work, and the electricity they need to live their lives," he added. "We are making progress on both fronts, but I will not rest until we are 100 percent recovered.
"While power has been restored to nearly two million homes and businesses so far, there is much more work that needs to be done. I have directed every state resource to help with these issues, and we are working with local officials, public and private utility companies and the federal government to fill gas tanks and turn on the lights."

Highlights of the release are below:
— The current power outage as of 6 p.m. Tuesday is more than 4.7 million accounts. Since Monday afternoon, nearly 2 million accounts have been restored. 
— All three of Florida's major fuel ports are open and operational: Port Tampa, Port Everglades and Port Canaveral. Port of Panama City is also open and operational. Each is prioritizing fuel shipments and FHP is escorting fuel resupply trucks to gas stations.
— Scott has directed Florida Department of Transportation (FDOT) cut and toss crews to work alongside utility crews across the state to clear road debris so power can be restored quickly.
— He also waived the taxes on fuel trucks entering the state and held daily calls with all fuel supply stakeholders, including Florida ports.
Vice President Mike Pence on Tuesday announced that the federal government has waived the Jones Act upon Scott's request, which lifts additional rules and regulations to allow more fuel to get into Florida.
Also, the federal Environmental Protection Agency has approved an emergency fuel waiver which allows more fuel to enter the state.