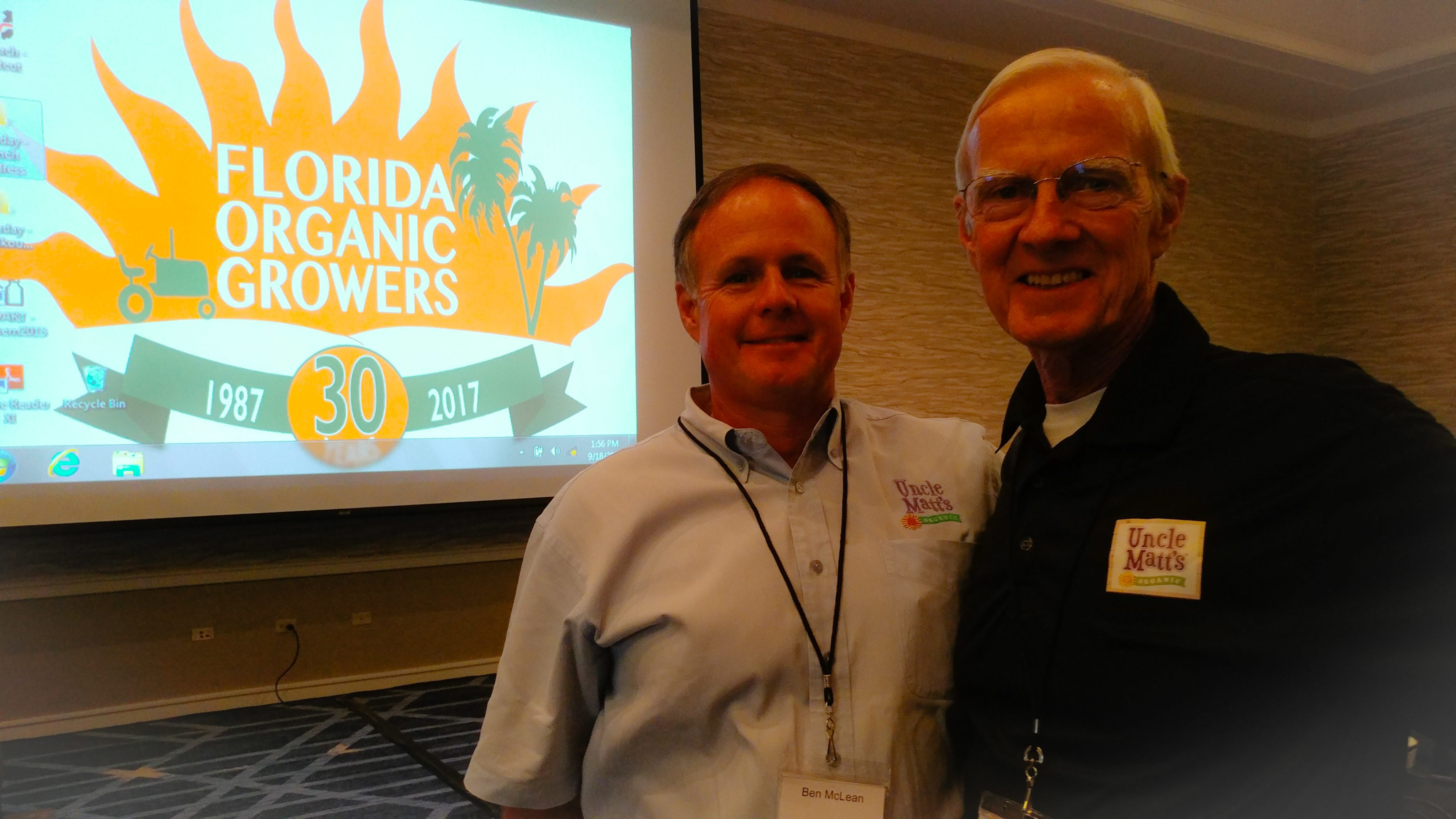 At the Organic Food and Farming Summit — this week in Gainesville, Florida — everything old is new again, and citrus growers attending the conference said they are turning to time-tested agricultural methods, which don't use chemical fertilizer or chemical pesticides and relying on plant breeding to control the incurable disease that has devastated Florida's most important crop.
Lynn Steward, who owns an organic farm in Arcadia, Florida, was a member of the panel that discussed citrus greening disease — also known as Huanglongbing, or HLB — at a workshop Monday morning at the Hilton University of Florida Conference Center. He traced the arrival of the disease from Asia with orange jasmine — a fragrant, flowering plant — imported to a Walmart Super Center in Miami.
By 2005, HLB — spread by an insect, the Asian citrus psyllid — was found in citrus in Miami-Dade County. And by 2015, the disease had spread to every Florida county where citrus is grown — from St. Johns County, on Florida's northeast, Atlantic coast, to Monroe County, on the state's southwestern, Gulf of Mexico coast.
Despite the reduction in Florida's citrus crops over that decade, U.S. Department of Agriculture data for 2015 showed Florida continuing to lead the nation in orange and grapefruit production at that time. But panelists at the citrus greening workshop Monday said that HLB damage to Florida citrus now means that California produces more citrus than Florida and will benefit from what citrus farmers in Florida have learned about the disease.
Ben McLean III, a horticultural scientist whose family has been growing citrus commercially in Florida for four generations, said, "You feel like you are in the middle of the war, so much is happening. We are so desperate to find a solution."
He is a vice president of the family-owned juice business Uncle Matt's Organic, based in Clermont, Florida. The website for the company notes, "Due to fruit shortages and citrus greening disease, we are currently not selling any gift fruit or produce."
The citrus greening panel also included Dr. Tripti Vashith, a citrus extension agent from the University of Florida.
Marty Mesh, who founded the nonprofit Florida Certified Organic Growers and Consumers in 1987, opened the workshop describing a "more holistic system that we thought would be beneficial to the issue." The panelists echoed his view.
"You view your farm as an ecological whole," McLean said. "You are trying to bring an ecological balance; you are not just producing a crop to sell. Treat your farm as a whole unit. That's what the future is really going to have to rely on, the whole system."
McLean recalled his grandfather's concerns that "farming got in a big hurry somewhere in the 1960s."
"My granddad took care of trees that were 60, 100 years old," he said. "Now we can't get trees to live 20 years."
He blamed the change on "a lot of inputs and a lot of chemistry."
"It was almost like you thought, wrongly, that you could just sterilize the place," he said, adding, "Synthetic fungicides and herbicides worsen problems."
McLean — a director of the nonprofit Citrus Research and Development Foundation, which is responsible for oversight of citrus greening research — recommended "low-input technologies," like applications of botanical oils, such as camphor and thyme emulsions, and the use of wasps and spiders in citrus groves to disrupt the life cycle of the Asian citrus psyllid.
He also discussed the advantages of using cover crops and compost to maintain soil health, and he recalled the traditional use of tobacco leaves as mulch around citrus trees because nicotine helps the trees to resist insect infestations.
McLean's father, Benny McLean II — the production manager for Uncle Matt's Organic — was among the approximately two dozen attending the workshop, including University of Florida students and farmers from Florida, Alabama and Georgia. The company's website notes that the elder McLean has been working in the Florida citrus industry since he was 10-years-old, back in the 1950s and that his grandfather "farmed without the use of harmful pesticides or synthetic fertilizers."
Tyler Nesbit, the moderator for the workshop, said: "What we call organic is truly traditional."
The younger McLean mentioned the value of "very robust, older varieties" of citrus that have better resistance to HLB, including mandarin and pomelo, "hybridized decades and sometimes centuries ago."
While those are suitable for organic growers, he cautioned against genetic modification of citrus to resist HLB since GMO varieties could not be exported to Europe and Japan, due to regulations that ban such imports.
Steward expressed optimism. "I believe we are going to develop rootstock combinations that will survive," he said, adding, "We have become better farmers since 2005. We are trying everything. We are thinking outside the box."
Approximately 200 attended the two-day conference, which began Sunday with a tour of organic farms in Alachua County and a trade show with about 40 representatives offering books, fertilizers made of natural substances — like earthworm castings or fish — and a range of expertise, from agricultural loans to social justice for farmworkers.
Beyond citrus greening, topics addressed in 20 workshops Monday included climate change and farm resilience, seed saving, the national farm bill, urban farming, organic certification, poultry and more.
During lunch in a packed ballroom at the hotel, applause and cheers broke out when Mesh, giving the conference's keynote address, said: "Make American organic again!"
The summit, commemorating the 30th anniversary of the organic-advocacy group he founded in Gainesville, continues today with training in food safety and resources available for new organic growers.