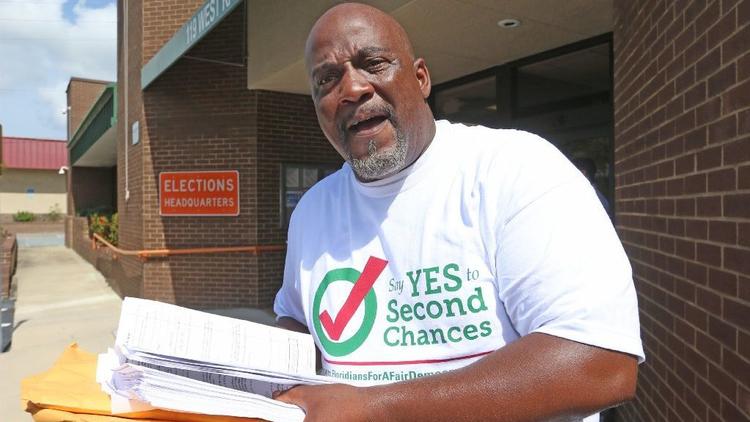 A proposed ballot initiative that would automatically restore some felons' voting rights after they complete their sentences now has more than 210,000 confirmed petition signatures, according to the Florida Division of Elections.
And while that's just the number of confirmed petition, Desmond Meade, president of the Florida Rights Restoration Coalition, says 600,000 signed petitions have been gathered and that he expects the organization to have all the petitions it needs by December.
The Voting Restoration Amendment wouldn't apply in the case of murder convictions or sex crimes, but all other Florida felons would be eligible once they exit state custody and finish out parole or probation and pay any restitution owed.
To make the ballot, initiatives need to have 766,200 confirmed signatures. Rules require those signatures be spread across Florida's 27 congressional districts, with the total number due pegged to voter turnout in the most recent presidential election. Former state Senate Democratic leaders Arthenia Joyner and Chris Smith have also filed the proposal with the Constitution Revision Commission, which has the power to put it on the ballot.
During his term as Florida governor, then-Republican Charlie Crist worked with Cabinet members Alex Sink and Charles Bronson to push through restoration of rights for more than 150,000 non-violent felons. That process was quickly halted by Gov. Rick Scott when he took office in 2011.
Crist was elected to Florida's 13th Congressional District last year as a Democrat, and as of Wednesday evening his Pinellas County district was the only one in the state that had hit its signature quota.
Current law requires Florida convicts to wait years after they complete their sentences to apply for restoration through the Board of Executive Clemency, made up of Scott and the Cabinet.
Once they complete an application, they have to play the waiting game. The line to go before the board is thousands of cases long, and it rarely hands down a decision in more than 100 cases during one of its four annual meetings.
The committee backing the measure, Floridians for a Fair Democracy, has been paying out substantial sums to petition gatherers pounding the pavement to get those signatures.
Last month alone saw Calabassas, Calif.-based petition gathering company PCI Consultants pick up more than $400,000 from the committee, while a significant amount of money also went to county supervisors of elections for signature verification fees.
At the end of the month, Floridians for a Fair Democracy had about $180,000 on hand, thanks in large part to the American Civil Liberties Union chipping in more than $1.4 million in the past four months.