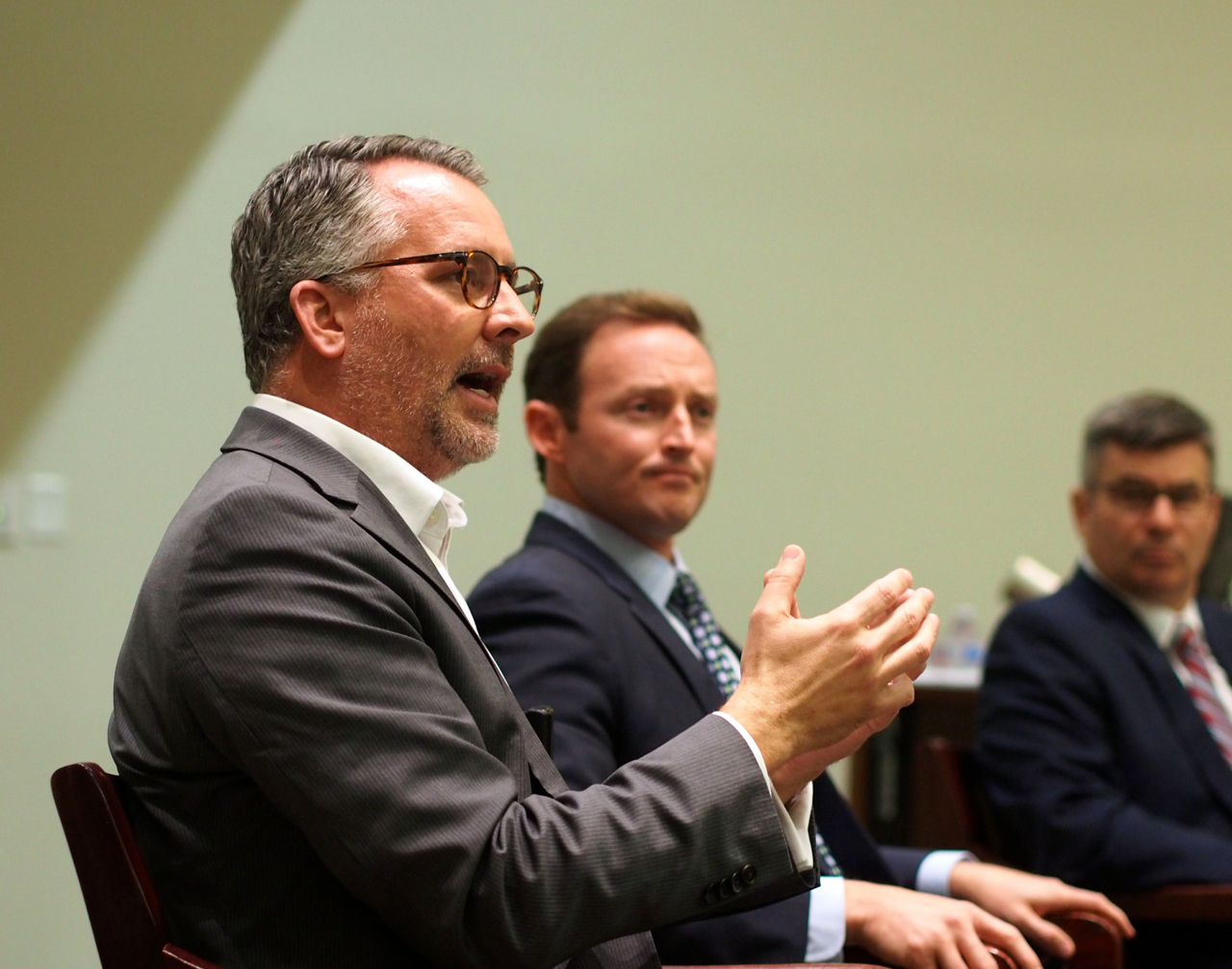 Republican former U.S. Rep. David Jolly doubled down Tuesday evening on his expressed wish that Democrats win the 2018 mid-term elections as a check on President Donald Trump, saying he hoped that so that "we may be safer as a nation."
Jolly appeared Wednesday evening at the University of Central Florida in Orlando with Democratic former U.S. Rep. Patrick Murphy on their college-campus tour to talk about their concerns about how hyper-partisanship has caused gridlock, and forced both parties to kowtow to extremes within their ranks.
Yet Jolly, the St. Petersburg politician who served two terms and then chose to run an eventually-aborted campaign for the U.S. Senate Republican nomination last year instead of for re-election, expressed great frustration Monday night on MSNBC with his party's unwillingness to stand up to Trump.
After the UCF forum Tuesday evening, he repeated that contention and his desire to see Democrats take over the U.S. House of Representatives for the last two years of Trump's term. He told FloridaPolitics.com that he views Trump as unsteady and a national security concern, and is worried that his party cannot check him.
"I've struggled with it as we continue to hear stories around the national security implications around the president's irascibility and volatility," Jolly said. "Certainly we know some of the Constitutional issues that have been raised from ethics to Russia. We also know that he is an unsteady hand as commander in chief.
"And we've seen Republicans largely unwilling to stand up to him," Jolly continued. "Listen, I'm a Republican, who hopes we see a Republican Congress pass Republican policies. But it may be for the greater good that there is a stronger check on Capitol Hill on this president than the Republicans are currently providing. So if it meant Democrats take control of the House for two years, and the president not being in office come January 2021, then we may be safer as a nation in my opinion.
"This may be bigger than the party," Jolly concluded.
The matter did not come up during the 75-minute forum, in which Murphy and Jolly expressed their concerns about how gerrymandering had created too many safe seats, and how the party leadership in Congress was valuing power over any bipartisan relationships, discouraging members in any contested seats from building relationships with those across the aisle.
Murphy said gerrymandering was the biggest single problem. Yet he also decried the closed-primary system in Florida and other states that use it, noting that voter turnout in a primary average is 15 percent. That 15 percent, he argued, likely represents the most extreme wing of the party; and becomes the deciding force in any district predetermined to be a safe seat for one party or the other. And he contended 90 percent of seats are so predetermined.
"So imagine you're a member of Congress. Imagine your a candidate. Are you going to appeal to that 85 percent [who don't vote in the primary] or that 15 percent? Murphy said. "You're going to tailor a message to them. You're going to make sure they see ads.And you're going to get to office. And then you're going to say the same thing, even if it's against your own self interest.
"We both know friends on both sides of the aisle that are standing for things they don't truly believe in," Murphy said.
Both Murphy and Jolly talked about how leaderships punish members who work across the aisle. Murphy said it starts from the very first week a freshman member of Congress arrives, and is segregated from freshmen from the other party, and then is told to not get chummy with those in the other party, because the goal is to see them defeated in the next election. Murphy and Jolly said both sides do it, threatening to not provide re-election money, or threatening to take away valuable committee seats.
"We can't can't take human nature out of this," Jolly said. "It requires a certain amount of political courage to step forward to say I'm going to be one of those people who decide to change it."