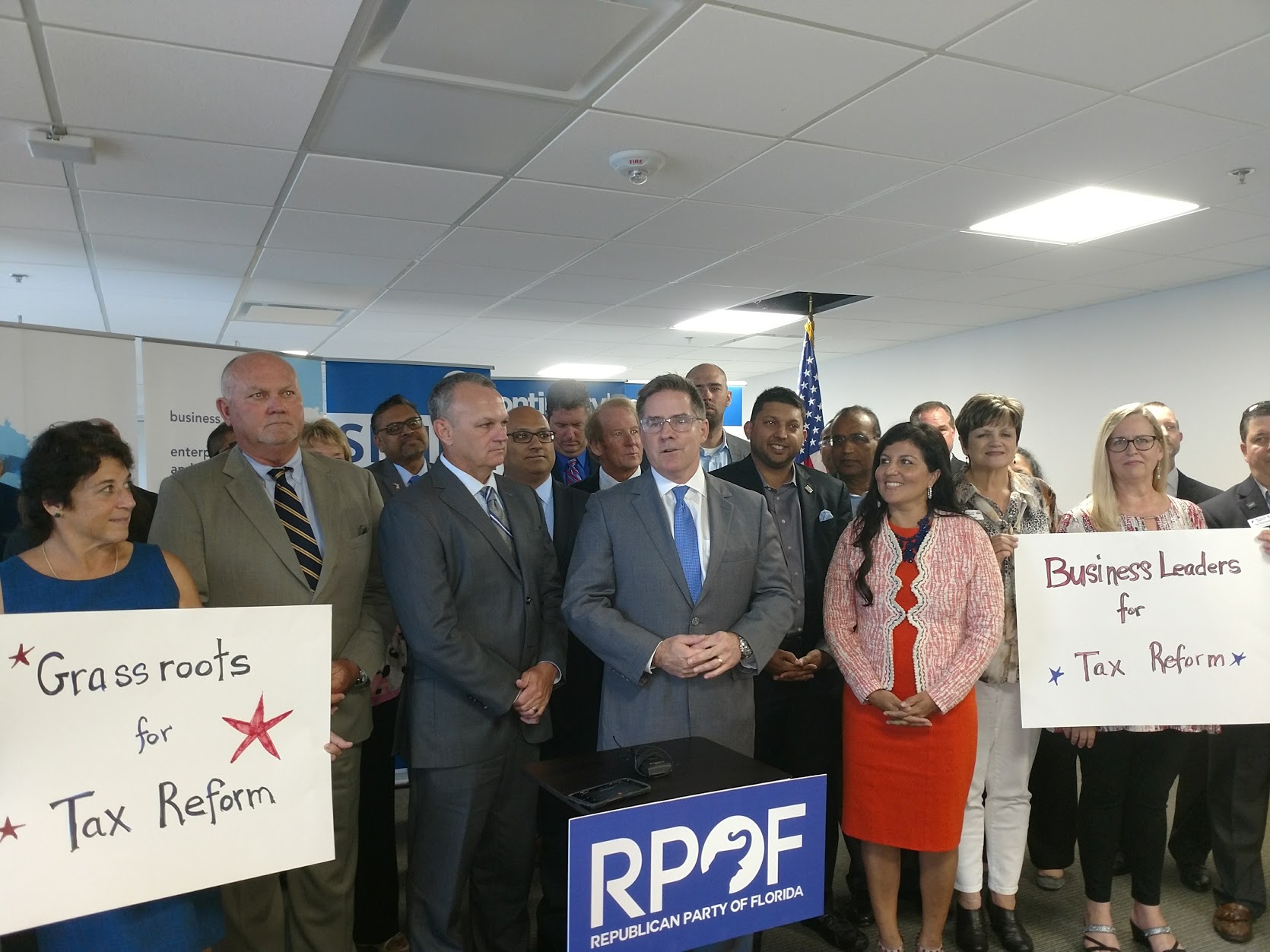 House Speaker Richard Corcoran joined other GOP lawmakers for a meeting Wednesday with business owners in Tampa, during which he delivered a stern message to Congress: Get behind Donald Trump and his proposed tax cuts.
"The time to act is now," the Land O'Lakes Republican said at a downtown Tampa news conference. "We're done with sound bite politics. We're done with talking heads. What we need is for those guys to get into a room and pass meaningful tax reform."
The plan (as currently outlined) would cut the top personal income tax rate; eliminate estate taxes (which presently only tax estates worth at least $5.5 million); kill the alternative minimum tax, and slashes rates on pass-through income. While Democrats predictably turned up noses to the proposal when it was unveiled last month, Senate Republicans have also objected to the proposed plan.
Tennessee Sen. Bob Corker indicated he would not vote for any bill that significantly adds to the deficit.
"With realistic growth projections, it cannot produce a deficit," Corker said. "There is no way in hell I'm voting for it."
"I will not vote for the budget unless it keeps within the spending caps," Rand Paul said Tuesday.
In a conversation earlier in the day with Trump, the Kentucky senator told the president, who is a fellow Republican: "I'm all in. I want to be supportive. I'm a 'yes' vote. But we have to obey our own rules."
Treasury Secretary Steven Mnuchin argues that robust growth, fueled by tax cuts, will actually pay down the national debt by $1 trillion.
However, that's not what the nonpartisan Tax Policy Center says, contending the Trump tax cut plan would cut revenues to the U.S. Treasury by $5.6 trillion over 20 years.
Corcoran doesn't agree, saying those calculations are through  "static" scoring — as opposed to "dynamic" scoring, which doesn't make room for higher growth rates that bring in more revenue.
"Read any economist, any foundation, out there," he said. "They're predicting in the first five years, this could lead to  3.2 percent growth rate, which is an additional $2.5 trillion in revenues over ten years. So that more than pays for the tax plan."
Not every foundation is saying that, however.
The nonpartisan balanced-budget advocacy group Committee for a Responsible Federal Budget believes the cuts will not be self-financing.
In a paper produced earlier this month, the Washington-based group argued the economy "would need to grow by $5 to $6 for every $1 of tax cuts," to avoid adding to the deficit.
They also said that past tax cuts in 1981 and the early 2000s "have led to widening budget deficits and lower revenue, not the reverse as some claim."
Corcoran also pushed back on the premise that the Trump tax cut plan rewards the wealthy at the expense of the middle class. The Speaker noted a provision in the plan to double the standard deduction for the majority of taxpayers who don't take deductions. He also said an increase in the Child Tax Credit (CTC) would be a huge benefit for the middle class.
Speaking on the Senate floor Wednesday, Marco Rubio said flatly that the Trump tax cut plan wouldn't pass without a "significant" increase in the CTC.
Joining Corcoran at the event were state Rep. Neil Combee of Polk County and Tampa-area Reps. Jackie Toledo and Shawn Harrison, touting that the economies of Tampa Bay and the state were flourishing "based on good, solid conservative pro-business values and policies."
It was a similar message Corcoran attempted to drive home to Congress, urging them to look at Florida as a laboratory of democracy to be emulated when it comes to fiscal health.
"When you cut 75 taxes over seven years, totaling $7 billion," he said. "When you get rid of 5,000 regulations, what happens? You become the number one state in the entire union for fiscal health. You become the number four state for tax simplicity."