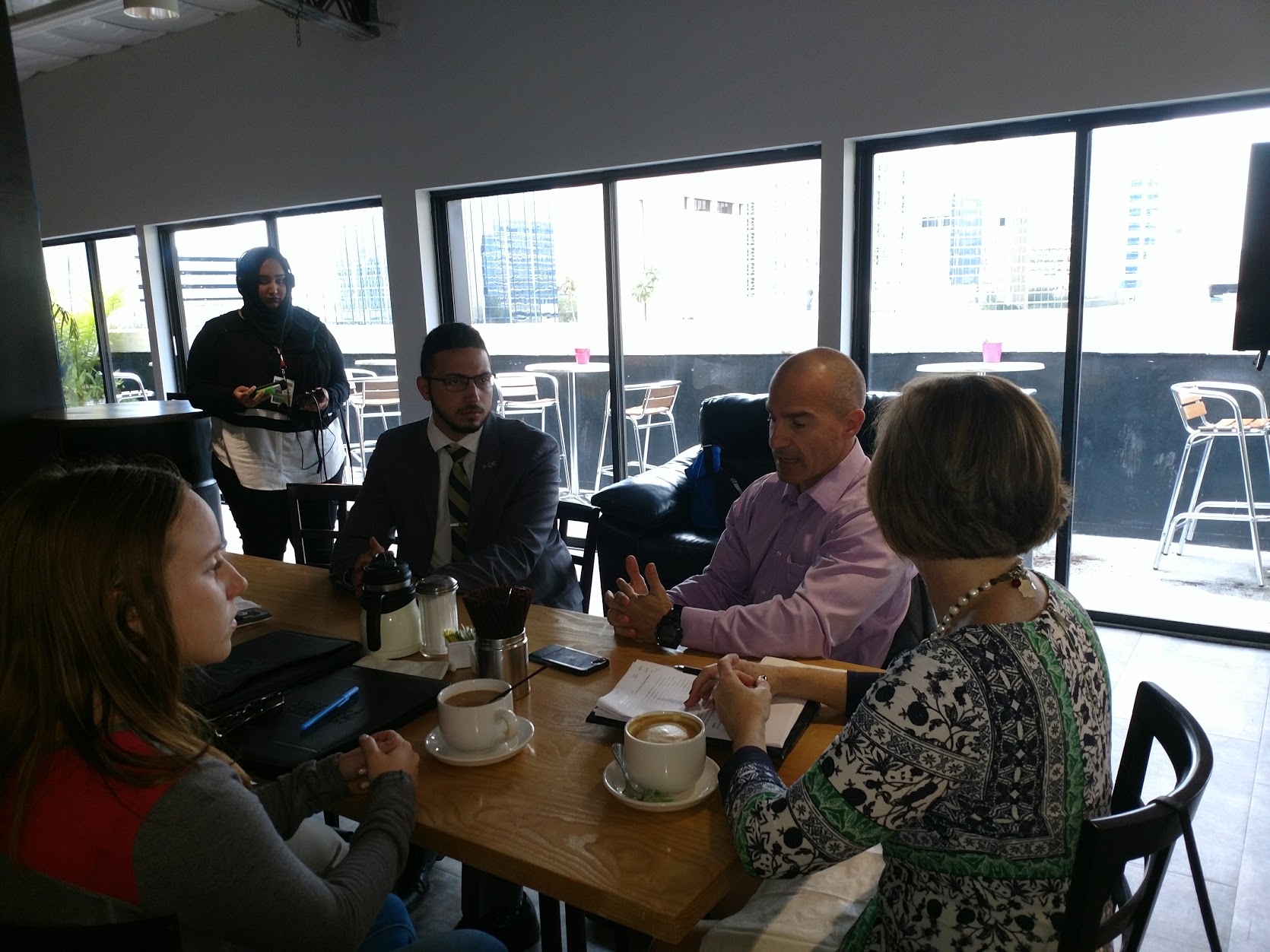 While Washington is filled with talk about cutting taxes and possibly health care benefits, Tampa Representative Kathy Castor sat down with current and former students from the University of South Florida (USF) and the University of Tampa (UT) at the Attic in downtown Tampa on Wednesday to ask them about two of her potential proposals regarding student loan debt, which continues drag the economy.
Having attended college in the 1980s, Castor said there are students with a lot more debt in 2017, with Pell Grants not keeping pace with inflation, rising tuition costs, and the attendant costs of paying for textbooks, transportation and a higher cost of living.
The average student for UT grads is approximately $31,000. At USF it's $22,000.
Castor is co-sponsoring two bills to address the issue. The first and most pressing legislation looks to reestablish funding for the Federal Perkins Loan, after Congress failed to reauthorize the program at the end of September. About 2.7 million students in the U.S. received the Perkins Loan, which was subsidized by the students, who paid for it at a 5 percent interest rate.
She's also sponsoring The Student Loan Relief Act,  which would lower the cap on federal student loan interest to 4 percent for undergraduate students, 5 percent for graduate students and 6 percent for parents.  It would change the way student loan interest rates are calculated, allow borrowers with loans disbursed before the effective date to refinance their loans at the new rates and eliminate loan origination fees.  U.S. Sen. Nelson unveiled the Senate version earlier this month.
"Just having certainty that you know that (the debt rate) is going to stay there…that would be amazing to me and I'm sure a lot of students will have the confidence in what they'll be paying," said UT student Aislinn E. Sroczynsk.
"I think people could breath a sigh of relief knowing it's going to be capped at something, " added Troy Schneider, also a UT student. "That would really help a lot of people."
Moneer Kheireddine, USF student body president, said a problem is that the payment schedule is organized so that students must pay for the entire semester just as it begins. "Instead of having to pay off loans at the beginning of the semester, they can space it out and as they accumulate their finances through the semester, they can pay that off as opposed to having to pay off loans."
"I've lived most of my business career with the wolf at the door," said Kostas Stoilas, entrepreneur-in-residence with Tampa Bay Wave, referring to the loans he continues to pay back, years after earning his MBA at UT.
"You try to keep that wolf at bay by keeping your expenses down," he says, referring to the $40,000 in debt he incurred in school, and how that affects his monthly bottom line as heads a commercial real estate company.
Sroczynsk says she aspires to go to a top-tier law school like Georgetown. But she worries that if she can't afford to payback the loans after graduation, it could diminish her zeal for even pursuing such a career.
"I don't want to have to compromise my career or my passion…just because I can't afford my loans, or because the minimal payment is too high."
Castor jokingly asked the students who gave their thumbs up to her proposals if they were ready to lobby the state Legislature, but Kheireddine said he's already scheduled to travel to Tallahassee three times next month and would gladly advocate on her behalf.
Castor said debt relief for students is rarely discussed in Congress these days, which is why she's hoping to build a coalition in the House of Representatives to push for her bills.
"The bulk of the year it's been a fight over healthcare," she said. "I hope they're going to talk to state legislators, business leaders and anyone else."