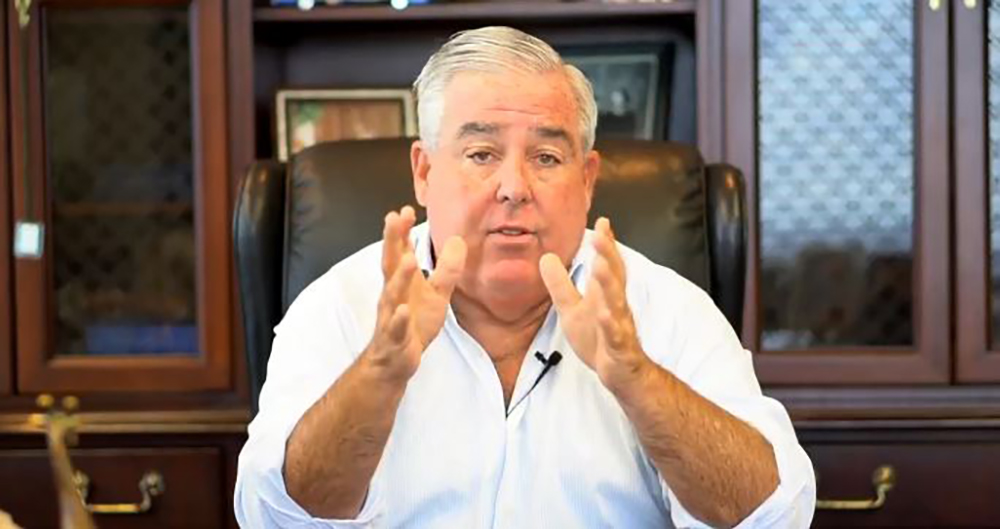 Clowns to the left of him, jokers to the right; John Morgan is stuck in the middle with you.
With sleeves rolled up, the powerful injury attorney preached the merits of compromise in a 6-minute long, convoluted, stream-of-consciousness PSA released on social media Tuesday.
The address came just three days after the major Democratic fundraiser announced he'd leave the Party and won't seek a bid as its nominee in the gubernatorial race.
"It can't be either or not," Morgan said on Democratic Party positions during the video. "It's gotta be somewhere in the middle, and I find myself to be that type of person."
Following the success of medical marijuana on the ballot in 2016, Morgan said his name was "floated as a potential gubernatorial candidate" but that "it was the furthest thing" from his thoughts.
He never denies his speeches and social media activism weren't a part of a potential run for governor. But he does acknowledge — likely to support his assertion that he's been fickle in contemplating a candidacy — that those speeches were few and he spent a great deal of time outside of Florida during the past year.
He said the race would require "a fire in your belly," which Morgan did not deny (or accept) having.
"There were some days I woke up and I was 100 percent I was going to do it [run for governor]," Morgan said. He added that it was his time on vacation that made him realize "this would be a lot of work."
His announcement Black Friday was the application of "brakes" on a potential bid, Morgan said, because he did not want to inhibit other candidates — both Democratic and Republican — from "gaining traction" or "catching fire" since he was unsure.
But he then transitioned to a critique of the two-party system and what he considers his alternative — a move that wasn't flush with his previous discussion of not wanting to interrupt gubernatorial candidacies, and one that strengthened the idea he might run for the governor's mansion as an independent.
Morgan described his niche as "somewhere in the middle" as a "compassionate capitalist."
He then broke down what that meant: fiscal responsibility, limited government spending, and to help the masses — not the elite.
"I'm somebody who believes that we need to do the most for the most with the least," Morgan said. "Not for the most, for the few, with the most."
So, it's clear Morgan might make an independent push.
But it's also clear that he can shake things up online, should he choose to. The private sector injury-law mogul has amassed nearly 54,000 followers on Twitter and 163,000 likes as a 'public figure' on Facebook.
Passers-by in Florida are sure to notice his iconic brand — either sprawled on the side of a bus or on a billboard — in most parts of the state. His firm's ads frequently occupy television and radio slots.
Morgan also likely won't have difficulty self-financing a campaign. He's lived a private career, and his true net worth is unknown, but he touched on his fortune during the announcement Tuesday while talking through Republican-controlled Congress' recent tax plan.
"Who's going to benefit?" Morgan said of the GOP tax plan. "Me and my family in an unbelievable way — it is unfathomable what's going to happen for us.
"Who's gonna lose?" he added. "The people making thirty to eighty thousand dollars a year."
Morgan also has educated himself on the number of no-party-affiliated voters in Florida, which totals 3,435,109, according to the Florida Division of Elections.
"It's best for me to be independent," Morgan said.
Here are some of my thoughts on what I was thinking before making my decision this past week… pic.twitter.com/4rVTQEcLFS

— John Morgan (@JohnMorganESQ) November 28, 2017