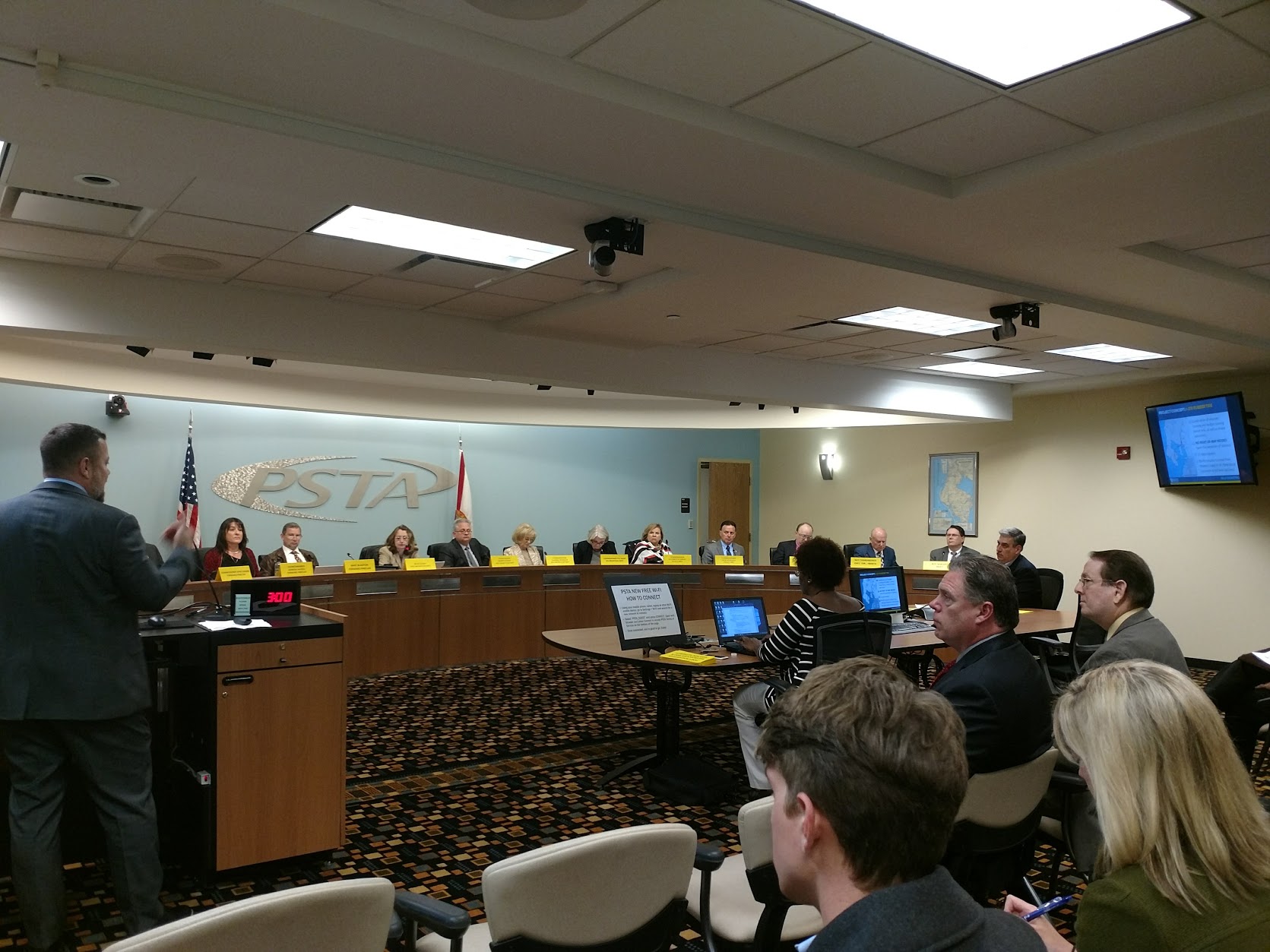 A transportation plan for the Tampa Bay area that would use bus rapid transit (BRT) and not rail to move riders from Wesley Chapel in Pasco County to downtown St. Petersburg was introduced to the public Friday.
Called a "catalyst" project because of the hopes that it would jumpstart transit planning in the region, the 41-mile, rubber transit line along I-275 was presented by a consultant to the members of the Tampa Bay Transportation Management Area (TMA) Leadership Group on Friday in St. Petersburg.
The TMA consists of political and transportation leaders from Hillsborough, Pinellas and Pasco counties.
The Tampa Bay Times reported on the initial concept of the plan last week, so most of those in attendance at the Pinellas Suncoast Transit Authority (PSTA) headquarters were aware that it was a BRT and not a rail project, but all were hungry for more specific information.
"This is not your everyday bus," Scott Pringle with Jacobs Engineering said in introducing the plan. Jacobs Engineering is the company conducting the transit.
"It doesn't look like a bus, it looks a train, and has the same passenger amenities that rail service has," he said.
Though not exclusively throughout its 41 miles, there would be a separate lane at different parts of the route for the bus to bypass congestion, enabling it to travel as fast as a train. There would also be transit stations along the route, some elevated. Because of those differences, Pringle calls it "rubber tire" rather than bus service.
Originally called a premium transit study but now renamed the regional transit feasibility plan, Pringle said that the research that his team at Jacobs did last year ultimately came down between two options – the I-275 Wesley Chapel to St. Petersburg BRT project, or a nine-mile CSX rail corridor project between the USF area in Tampa to downtown Tampa.
He presented a slideshow on how and why his team ultimately chose the BRT project. Much of it came down to costs.
Pringle presented side by side comparisons showing that the cost per trip is cheaper via the I-275/BRT project at $8-$10 a ride, vs. $10-$13 from CSX.
The total cost for the I-275/BRT project would range between $380-$455 million. The CSX project would range from $490-$620 million.
There is also this: There would be no need to build right-of-way for the BRT project vs. the CSX project, and it would take roughly half as much time: 5 years vs. 10 years, to construct the BRT project. He said it would initially serve about 4,100 passengers.
Jacobs said the decision to jettison rail and focus on BRT came last November when realizing the total dollars involved. Jacobs Engineering realized that it would cost between $2.5 and $4 billion to build passenger rail or a dedicated interstate median.
The project also connects to a number of transportation projects in the region either underway or in the planning stages, such as Pasco County's Vision 54/56, the City of Tampa's Streetcar Extension, the Florida Dept. of Transportation's (FDOT) identification of Regional Intermodal Centers, and St. Petersburg's  Central Avenue BRT (which will actually run on First Avenue North and First Avenue South).
FDOT is funding the $1.5 million study, but it's the Hillsborough Area Regional Transit Authority which has been overseeing the project. FDOT's District 7 secretary David Gwynne said that while his agency has nothing to do with the plan being proposed, it has set aside $5 million if a project is decided upon that will enter the process for federal funding.  He agreed that there are already plans by DOT to improve roadways along I-275 that could create "synergies" with the proposed BRT route, lowering the overall costs of the project.
Reviews were scattered.
"I think project definitely gets us started," said Hillsborough County Commissioner Sandy Murman. 
Hillsborough County Commissioner Pat Kemp said she was fine with the express buses and limited stops as an option, but opposed the idea of spending money on elevated stations.
"I don't think it will be transformative," she said.
"Today's presentation if off to a good start by showing we can significantly lower costs, attract federal funding and innovate with existing structures," said St. Pete City Councilwoman and PSTA Chair Darden Rice. 
Transit advocates in Tampa weren't so impressed.
"This Regional Transit Project seems to be more of the same a little bit of money spent that won't create as good of benefits as the less sexy work of making urban transit service work," said Kevin Thurman. "I'll take the dedicated transit Right of Way to operate service in, but the project itself isn't too impressive no matter what mode (rail, Bus, etc). If people want a transit upgrade here it must be combined with a massive commitment to increase the usability of the bus service — not follow a gutting of the service with this kind of project. "
Michelle Cookson with the Tampa-based group Sunshine Citizens said the entire process of the transit feasibility plan is flawed because of a lack of meaningful input and collaboration with the public.
"It has that same feel of 'here's the pre-determined outcome, a political solution' instead of listening to the public that has consistently, repeatedly communicated that they want emphasis on a vision and comprehensive plan- one that includes several, connected mass transit modes (light rail, gold standard BRT, modernized, extended streetcar)," she wrote in an email.
Cookson also criticized what she said has been a glaring lack of transparency in the process.
Pinellas County Commission candidate and Greenlight Pinellas foe Barb Haselden praised the fact that rail was now off the table.
"On behalf of the 62 percent of Pinellas voters that voted against rail, we hope you will no longer go down that road," she said, referring to percentage that the 2014 transit tax went down to defeat.
Pringles said that there would be a very robust outreach period taking place over the spring and summer. After incorporating that feedback, the plan will be finalized in the fall.