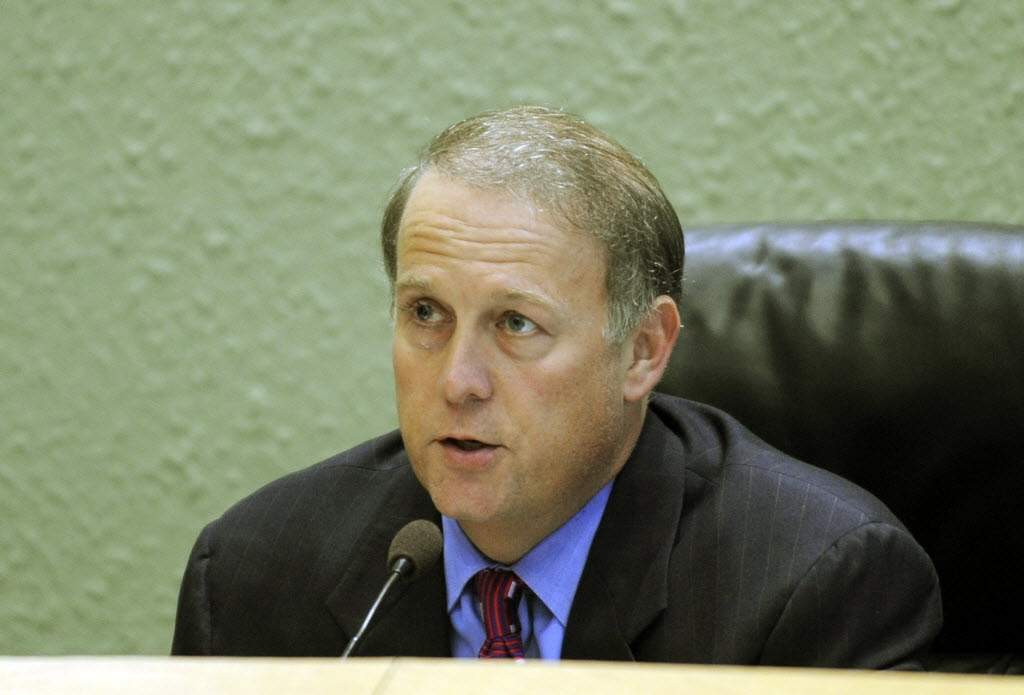 The Florida Commission on Ethics decided Friday to give Hillsborough County Commission Ken Hagan the opportunity to amend a petition requesting that activist George Niemann pay his legal fees.
The decision came after a commission attorney advocated that Hagan's petition be dismissed.
The county paid Hagan's attorney, Mark Levine, $7,841 last year to defend the District 5 commissioner against Niemann's ethics complaints.
Those complaints alleged that Hagan received free campaign consulting services and other assistance from public relations consultant Beth Leytham, and repaid her by steering a $1.3 million contract related to Go Hillsborough to one of her clients, Parsons Brinckerhoff.
The Hillsborough County Sheriff's Office investigated the matter in 2016 and concluded there were no criminal violations. Niemann and three others then filed an ethics complaint with the state office in Tallahassee. The Ethics Commission threw out the complaint last year against Hagan, as well as complaints against Commissioner Sandy Murman and Tampa Mayor Bob Buckhorn.
Hagan then turned around and called on the County Commission to back his request to have Niemann reimburse the county's legal fees to Levine. It did so on a 4-3 vote.
Among those four commissioners backing Hagan was Murman. Unlike Hagan, she opted not to pursue a claim to get the county's legal fees spent on her behalf.
At the hearing Friday morning, Gray Schaefer, a staff attorney for the Ethics Commission, said the complaint made by Levine against Niemann was "a very general allegation," that Niemann's complaint contained false allegations, and that Niemann knew or should have known that it was false at the time of his filing.
"There's nothing specific in the petition alleging why the commissioner feels Mr. Niemann knew the two allegations were false at the time he filed the complaint," said Schafer, who added that there was no support backing up the charge that Niemann knew he was making a false complaint.
Schaefer said it was common that complaints were made from news reports and not original sourcing.
Levine responded that anyone who knew him would "clearly agree" that he'd be the last person to advocate for thwarting a citizens' right to seek redress of violations of public trust. However, he said his understanding was that Niemann did not get his information from a newspaper article or television report, but from a specific tip from a news reporter.
Hagan was unfairly under a cloud of suspicion for the past two years, Levine said, adding that his children who attend public school have had to contend with name-calling because of the allegations.
"His children come home. They're not very happy. Daughter crying because somebody said, 'Your dad's a crook,'" Levine said.
He then said that if the counsel for the Commission on Ethics felt that he had not pled the case properly, then they should give him the opportunity to amend his petition.
"It's routinely done in circuit court," he said, adding that he needed time in discovery to find out what Niemann knew, "when he knew it, how he knew it and what he thought about it."
After debate, the Ethics Commission voted to give Levine 30 more days before resubmitting his petition.
Niemann has filed 10 ethics complaints over the past decade against Hagan. In 2014, he was successful. That's when Hagan agreed to pay a $2,000 fine after admitting he violated state ethics laws by failing to properly disclose assets on annual financial disclosure forms.
The Tampa Bay Times reported that of the 2,189 complaints filed since 2007 with the Ethics Commission, less than 2 percent of defendants sought reimbursement for their fees. Among the 37 reimbursement cases finalized during that period, 30 were dismissed, two were settled and five ended in an awarding of payment.
Hagan is running for the Hillsborough County Commission District 2 seat this year, after being term-limited out of his District 5 seat.
Niemann is running as a write-in candidate for the District 5 seat.