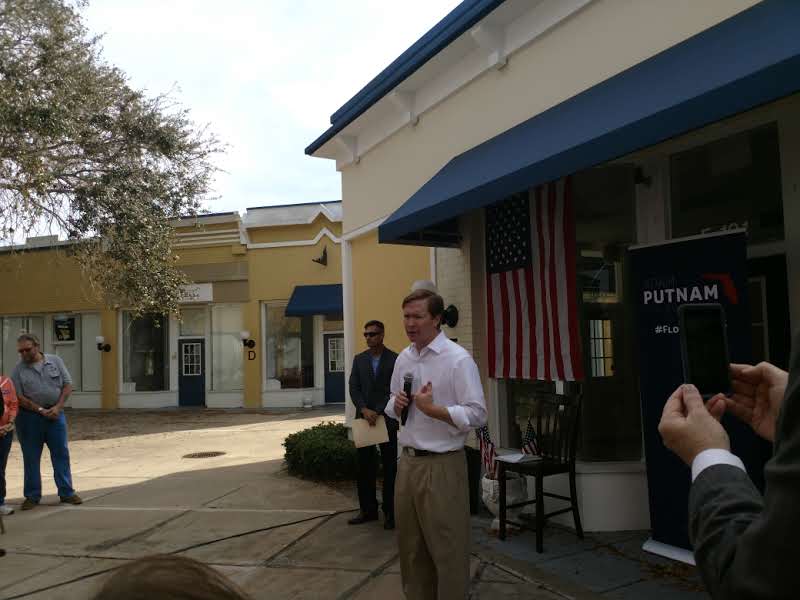 Some members of the Fourth Estate have had a field day with GOP gubernatorial candidate Adam Putnam, following the report that the current Agriculture Commissioner is seeking a rewrite of Florida's concealed weapons law so that people can receive gun licenses even when criminal background checks are incomplete.
Putnam's Department of Agriculture and Consumer Services issues concealed weapon licenses (CWLs).
Under the change, 90 days after the department receives a CWL application, it would have to issue a license, even "if the department has not acquired final disposition or proof of restoration of civil and firearm rights, or confirmation that clarifying records are not available."
That has led to fiery condemnations from gun-control advocates, who say the change is dangerous  as it would allow people who don't have clean background checks to get a license.
The move has been mocked by newspaper columnists around the state, already suspicious of Putnam after he declared last summer that he was a "proud sellout" for the National Rifle Association.
"What are the odds that if we had a background check system protecting us from 'sellouts,' politicians like Adam Putnam would pass the test?" wrote Tampa Bay Times columnist Daniel Ruth earlier this week.
"Adam Putnam may well be Florida's next Governor, that is unless voters decide his latest idea is straight out of looneyville and start asking serious questions about who he really is," quipped Florida Politics' Joe Henderson.
But Putnam says they've got it all wrong. He calls it "unfortunate" that much of the reporting on the policy change has been inaccurate.
"The change that we are seeking would align the background check for a concealed weapons license with the background check requirements of purchasing a firearm that the Florida Department of Law Enforcement has in place today," Putnam said in St. Petersburg on Wednesday.
"This in no way weakens the background requirements, and it in no way changes the fact that if you are ineligible for a concealed weapons license you will be denied, and if information comes to light after you're issued one, it will be revoked."
Putnam also praised President Donald Trump's recent proposals on an immigration fix.
More than 32,000 Florida residents could face deportation within two years without a fix in the Deferred Action for Childhood Arrivals Program (DACA), scheduled to end in a month. The Florida Democratic Party released a statement earlier in the week noting that Putnam opposed a version of the Dream Act in 2010.
"What the president has put on the table is a balanced approach," he said. "It's border security. It's reforming chain migration.It's ending the visa lottery and bringng a permanent solution to the fate of those dreamers, so I think that's a very balanced approach and I hope Congress picks it up."
Some conservatives have criticized the fact that Trump has said he's ready to give a pathway to citizenship to the 1.8 million people in the U.S. who qualify for DACA, though only 690,000 have signed up for the program.
"I was a little surprised by that," Putnam admitted.