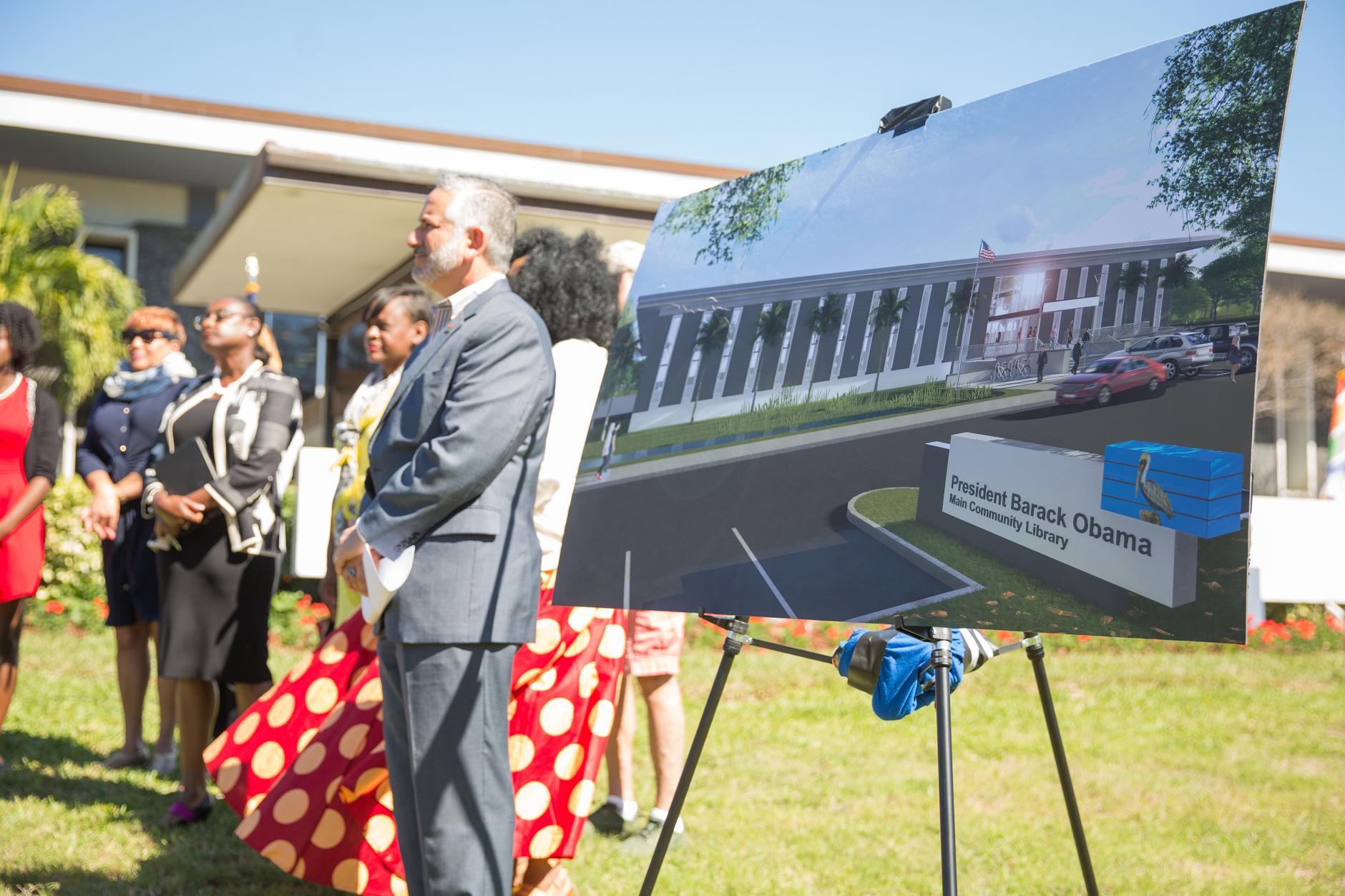 St. Petersburg Mayor Rick Kriseman announced Monday morning his administration is renaming the city's main library after former President Barack Obama.
Not everyone was pleased.
Kriseman made the announcement on Presidents Day in front of the library at 3745 9th Avenue North. The renaming is to coincide with the library's planned $6 million in renovations, using funds from the Penny for Pinellas sales tax recently re-upped for another decade by Pinellas County voters.
While naming public buildings after past presidents is hardly unusual, the move sparked controversy on the internet, with Tampa Bay Times political editor Adam Smith weighing in on his Facebook page, saying Obama has nothing to do with St. Pete.
"Mayor embracing his hyper-partisan image," Smith wrote. "What if next mayor changed the name to Donald J. Trump Library?"
Predictably, the decision set off an exchange of responses (both pro and con) on the Times website as well, with some comments hinting of racism.
Detractors complained the library should be named for a local figure; supporters noted that Martin Luther King Jr. was not a local figure either. King, of course, has a major street named after him in St. Pete.
"It's not like anyone is going to forget about Barack Obama (whether your opinion is positive or negative)," wrote Cliff Perkins. "So why waste resources to name a local library after him? He has no connection to St Petersburg. If it needs a name, pick someone local who has contributed to literacy or scholarship in the region."
Pinellas County Democratic Executive Committee Chair Susan McGrath thought the decision to name the library after the nation's 44th president makes perfect sense. One of Tampa's main streets is named after former President John Kennedy, she noted, and McGrath often flies a few times a year into Reagan-National Airport in Washington D.C., which is named after former President Ronald Reagan.
While partisanship divides the country (as well as some quarters of St. Pete, apparently), the controversy honestly surprises McGrath.
"It's not an issue before that we expect the legacies of presidents to be carried forth and reflected in the naming of buildings," she said, adding the election of the first black president in the U.S. was historic and significant.
The Kriseman administration began discussing with community leaders as far back as last spring about renaming of the main library, and the enhancement of the library's programming to include an emphasis on presidential history, civics, and the contributions of both Obama and Michelle Obama.
Obama endorsed Kriseman in his bid for re-election last August, just days before the primary. In the race against former Mayor Rick Baker, Kriseman took home the most votes in the Aug. 29 primary, going on to win re-election over Baker by two points in November.