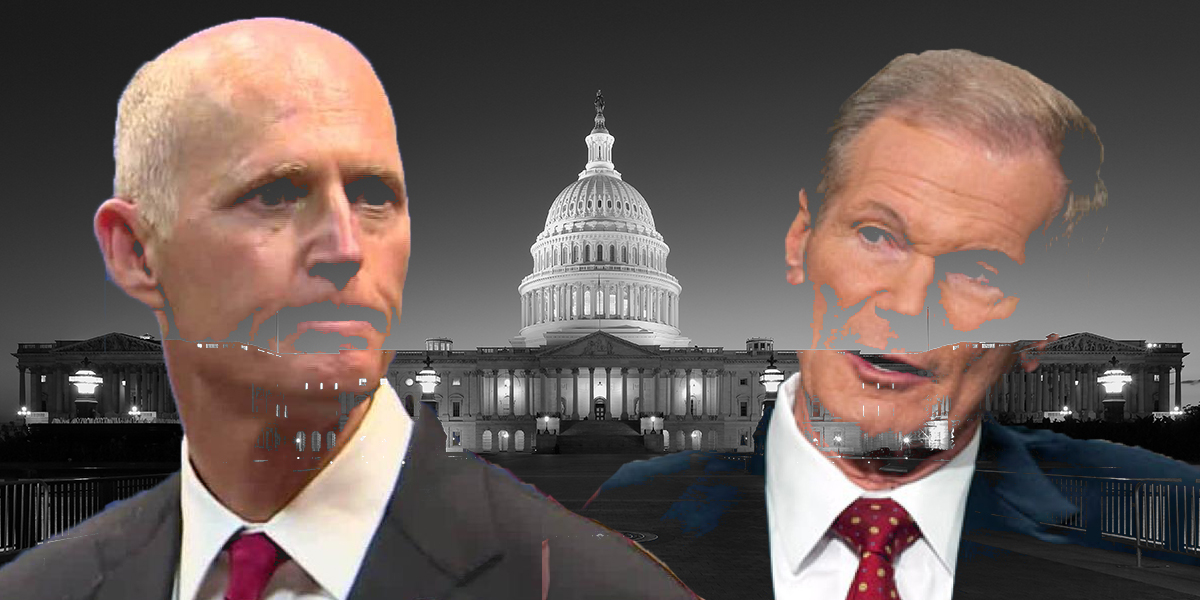 Just hours before Rick Scott officially launches his U.S. Senate run, Democrats are pulling out all the stops, offering a glimpse of the contentious race to come this November.
In a last-minute email Sunday evening, the Democratic Senatorial Campaign Committee released its most pejorative attacks yet against Florida's Republican Governor — who is launching his challenge Monday morning against three-term incumbent Sen. Bill Nelson.
It is the first of what is expected to be several memos in a series called "Fast Facts About Rick Scott & The Florida Senate Race."
The DSCC blasted Scott as not only "self-serving and dishonest" but also the "state's worst governor in the last half-century," painting him as someone looking only for himself at Floridians' expense.
In a statement from DSCC Executive Director Mindy Myers (sent to all "interested parties"), Scott's past seven years in office left Florida counties losing jobs and wages, putting them at the "bottom of the nation," all while he made himself "$46 million richer."
What's more, Myers accused Scott of funneling his fortune "through a secret financial account to hide his corruption," a reference to the controversial blind trust he was required to set up upon assuming the Governor's mansion.
This will not cut it as a Senate candidate, Myers said. She promised this record — as well as the "favors he's done as governor to enrich himself" — will be the dominant issue in the early days of his Senate campaign.
Myers also warned that Scott's time governor will serve as a "liability," particularly the 14 seniors who died in the Rehabilitation Center of Hollywood Hills catastrophe during Hurricane Irma, as well as last month's Florida International University bridge collapse and his tendency to "blame others" for the failures leading up to the Parkland shooting Valentine's Day, where 17  people died at the hands of a former student.
In addition, the Democrats served up a litany of Scott's transgressions: "lying" about expanding Medicaid, backing oil drilling near Florida's shores and beaches — even after the Deepwater Horizon disaster — and wasting millions of tax dollars on "self-serving legal bills" that supports state Republican's health care and tax agenda, which "raise costs for Floridians while giving himself a tax break."
Myers points out that in each of his campaigns for Governor, Scott "never won by more than a point."
In the upcoming months, Myers said Scott will have difficulty matching Nelson's record of "putting Florida first," where he attracted a "broad, deep coalition" for every one of his campaigns.
Myers also made note of the national political environment, which is expected to offer strong headwinds for the GOP, predicting the Scott administration's failures and a hostile political environment "will all cripple his campaign."
So, even before the campaign begins in earnest, Democrats clearly have knives out, in a struggle to gain the upper hand in the Senate scrum. Whether it is ultimately successful remains to be seen.
Last updated on April 9, 2018