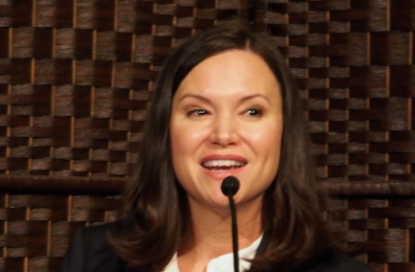 Former circuit court judge and Republican candidate for Attorney General Ashley Moody announced Thursday that two more county sheriffs have endorsed her bid to succeed Pam Bondi in the fall.
The endorsements came from Taylor County Sheriff Wayne Padgett and Martin County Sheriff William Snyder, both Republicans.
"Ensuring safety and security for every Floridian is one of the most important obligations of any elected official. Ashley Moody has spent her life in service to the safety of our state, both as a federal prosecutor and a judge," Padgett said.
"Ashley is a proven leader for our criminal justice system and I'm proud to endorse her and her vision for keeping our state safe and protecting Floridians from the evolving criminal threats that law enforcement confronts on a daily basis."
Snyder, who is also a former member of the Florida House, added: "As Sheriff, my top priority is the safety and security of the people I serve and there is no one more qualified to help assist law enforcement in their mission than Judge Ashley Moody.
"A tough on crime former federal prosecutor who has the knowledge and track record of keeping our state safe, Ashley will make an outstanding Attorney General. I'm proud to support her."
With the new endorsements, Moody has now earned the backing of 37 – nearly 80 percent, the campaign says – of Florida's Republican sheriffs. Moody's other backers include 11 state attorneys as well as Bondi, who is a lifelong friend.
Moody is running in the Republican Primary against state Reps. Jay Fant of Jacksonville, Ross Spano of Dover and Frank White of Pensacola.
Through March, White led the money race with more than $2 million on hand, though his total includes $1.5 million in candidate contributions. Moody is in second with $1.5 million on hand without the help of loans, followed by Fant with $1 million raised including a $750,000 loan and Spano with $71,000 banked.
Also running for the Cabinet post are Tampa Democratic Rep. Sean Shaw and Odessa attorney Ryan Torrens.
A recent poll showed Moody with a one point lead with a third of voters undecided if she and Shaw were the candidates on the November ballot.