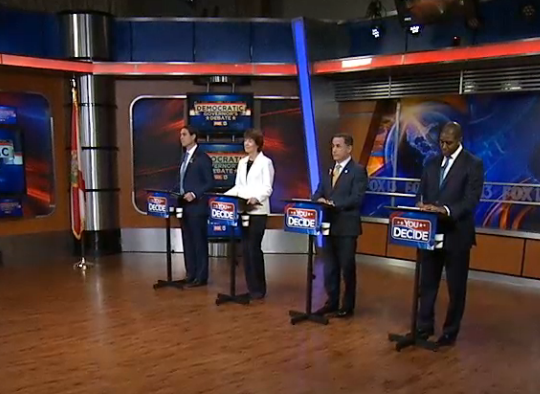 In a Democratic gubernatorial debate Wednesday that illuminated only a handful of policy differences while all four candidates sought to define their brand themes, former U.S. Rep. Gwen Graham found herself often playing defense, repeatedly disputing remarks from Winter Park businessman Chris King and Tallahassee Mayor Andrew Gillum.
At one point Graham, the presumed co-front runner along with former Miami Beach Mayor Philip Levine, decried, "Oh, I seem to be the one. It's OK. Gwen and the men."
To which Gillum snapped, "This isn't just about the men against the women. Records do matter."
Those exchanges, all about votes Graham had taken or campaign money she had accepted while she served in Congress in 2015-17, illustrated the tight spaces often found between Graham, King, Gillum, and  Levine in a wide-ranging, fast-moving debate held by Fox 13 Tampa and moderated by Fox 13 Political Editor Craig Patrick.
Graham's record as a congressional moderate Democrat – she characterized herself as an independent thinker – often belied the progressive mantle that Gillum and King in particular were wearing. King, wearing a Pulse memorial ribbon, charged that she did not support bills seeking an assault weapons ban after Pulse massacre in 2016, and for accepting campaign donations from Florida's sugar industry, which he charged is a roadblock to Everglades restoration. Gillum criticized her for voting for the Keystone Pipeline and for a ban of Syrian refugees.
Those moments gave opportunities for Gillum and Levine to both staunchly say that have consistent records in office, and for King to maintain that he is offering a strong unconventional challenge.
Graham took strong issue with their reads on her record, especially when Gillum accused her of siding against President Barack Obama too often.
"I voted with the president the vast majority of the time. And I'll tell you, the last time I saw the president, at the end both of our terms, President Obama, he put his hand on my shoulder, he said, 'Gwen, I am so proud of you.' I said, Mr. President, I am so  proud of your presidency.' So he is an example of what we need a lot more of in politics: you don't have to agree every single decision to support and recognize good leaders."
On  gun laws, minimum wage, public education funding and reform, Medicaid expansion and health care, water quality and the environment, and economic development each of them sought to be the most convincing candidate in urging a different direction from the Republican leadership that has controlled Tallahassee over 20 years.
Still, they each found their marks on certain issues.
Gillum was able to espouse his plan to raise the corporate income tax rate to generate an additional $1 billion to invest in public schools.
King, who repeatedly tried to distance himself from "conventional politicians," was able to advocate his proposal to model a free community college program after one now established in Tennessee.
All four called for increases of the minimum wage, but only Levine, who passed a $13.10 per hour minimum wage in Miami Beach, cautioned that it needs to be tied to local economies, not set at a specific, statewide minimum like $15.
And from there, Levine spelled out clearly what he thought it would take for Florida to attract companies that bring high-pay, 21st century-economy jobs, essentially arguing that the Democrats playbook is also a modern corporation's human resources policy book.
"You have to invest in education, invest in health care, have the best transportation, have the best environmental policy, have the number one, greatest non-discrimination laws in the country, make sure you have equal  pay for equal work," he said. "If you create these policies, which are very similar to the H.R. manual of the great companies we want to come, like Amazon, e-Bay, Apple, Lockheed, and Boeing, then they will come."
Graham turned on her passion for public education, declaring it would be her top priority as governor.
"We are funding our public school education 15 percent less than we used to and it is way underfunded," Graham said. "And let me tell you, as a PTA mom and as a former public school official, this is going to be my number one priority. And there is no magic number. What it is going to take is the governor, I am going to sit down with all of the school districts across the state and say what do you need, what are you getting currently, and where are the holes?"
Levine hit hard a couple of times in criticizing Republican-led programs to spend tax money on charter schools, saying that's a program he would cut. "We should not be investing in the competition," he said.
Graham pounced on a question from Patrick about civics education to bring up both her father, former governor and U.S. Senator Bob Graham, who has written books on civic responsibilities, and President Donald Trump.
"We are living through a civics lesson today, that it does matter who you elect into office. Donald J. Trump is the greatest civic lesson that any of us could ever have taken, that we need to get out to vote, we need to participate in our government, we need to be informed on our choices," she said.
A handful of questions did incite differences:
Levine was the only candidate to support the proposed expansion of the homestead exemption on property taxes, arguing that it helped make make Florida's tax system fairer to all, while the other three decried the proposal's likely effect on local governments' revenue streams.
Graham was the only candidate who expressed a willingness to spend state tax dollars to keep the Tampa Bay Rays in Florida, She suggested that would be an appropriate use for Enterprise Florida money.
Gillum was the only one who explicitly supported full legalization of marijuana, arguing "We have got to put an end to this prison industrial complex that is being built all around a plant that quite frankly provides more redemptive use than it does harmful."
Patrick threw a couple of "gotcha" questions at the quartet, quizzing them on their knowledge of details of state government, and both times left Levine stumbling, first when he was unable to give a ball-park figure for how much Florida spends on public education, and then when he was unable to name the outgoing Democratic House Minority Leader, Janet Cruz.
The first of those questions led to the debate's most awkward moment, as Patrick repeatedly asked Levine for an estimate of state spending on education.
"What is the budget currently for K-12 schools?" Patrick asked after Levine gave a lengthy answer the first time without getting specific.
"I know the budget is about $89 billion, close to it, and I know that's one of our top numbers, right there," Levine replied.
"Give me your best guess: how much are we spending on K-12?" Patrick retorted.
"I know its right in the billions, Craig, OK? I can tell you that."
"Can you narrow that down for me?
"I know its in the multi-billions, Craig, and there's no question that we absolutely need to spend more, moving forward."
But in both of those cases, the substances of the questions had the candidates in general agreement, that more needs to be spent on public schools, and that leaders of the minority party – Democrats for more than two decades – have tough jobs.