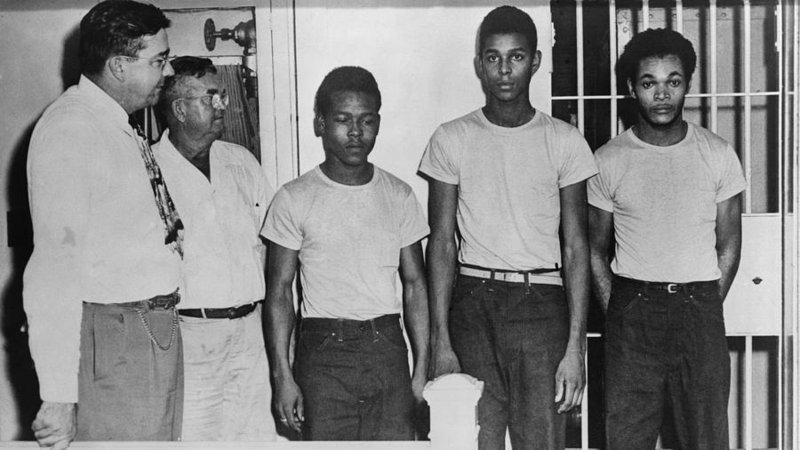 A year ago, the families of the "Groveland Four" fought back tears, joined with Florida Legislature leaders, and watching as lawmakers sought to do what they could to right a 68-year-old injustice from the Jim Crow era in Florida.
On April 18, 2017, the Florida House of Representatives approved CS/HCR 631 by 117-0. On April 27, 2017, a year ago Friday, the Florida Senate followed up with a 36-0 vote, apologizing for the "grave injustices perpetrated against Charles Greenlee, Walter Irvin, Samuel Shepherd, and Ernest Thomas." The injustices had emerged from the 1949 wrongful accusation of four young, black men, of raping a white woman in a rural area outside of Groveland, in Lake County, triggering events that led to the deaths of Shepherd and Thomas, and imprisonments of Greenlee and Irvin.
The Florida Legislature's resolution urged the governor and the Florida Cabinet to "expedite review" of clemency, granting full pardons.
Following the House vote, the bill's backers, state Rep. Bobby DuBose, state Sen. Gary Farmer, House Speaker Richard Corcoran and other lawmakers joined the families to praise the day.
It is now a year later, and the families still are waiting, and have heard nothing about any expedited clemency review, let alone the granting of full pardons. That moment of praise seems so long ago to them now.
"We want closure. We want them to come out and pardon, or whatever it may be," said Walter Irvin's nephew, Eddie Lee Irvin Jr. "They got the proof now, the stuff from the FBI, that they were innocent the whole time."
"I'm very disappointed at this point. I would like to know: What's the holdup? What's going on? Is there something else we have to do? Or just, why hasn't there been any movement, any activity toward the pardons?" expressed Charles Greenlee's daughter Carol Greenlee.
"We haven't heard anything from anyone," said Vivian Shepherd, Samuel Shepherd's niece. And without any information, she fears the pardons are not being expedited, but are at the bottom of very tall stack, "so it's like saying, 'It'll never happen.'"
[FloridaPolitics has not been able to track down any family of Ernest Thomas.]
There is much that is secretive about Florida's clemency review process. Cases are confidential until they actually reach the point of appearing on the docket for public consideration by the Commission on Offender Review. As of late last fall, the commission had more than 22,000 requests pending for pardons and other forms of clemency. The commission takes them up for review in chronological order based on the filing dates, unless a member of the Florida cabinet intervenes and requests that any particular case is expedited.
Formal applications for pardons have been filed for Charles Greenlee and Walter Irvin, the two who survived long enough to be fully convicted and sent to prison. Their families filed for those pardons last summer, as did a young activist who took an interest in the case, Josh Venkataraman.
Normally, without requests to expedite cases, Commission on Offender Review cases are, as Vivian Shepherd feared, backlogged for many years.
Has anyone in the cabinet sought to expedite the Groveland Four cases?
Florida Politics asked all the cabinet members early last week: Gov. Rick Scott, Attorney General Pam Bondi, Chief Financial Officer Jimmy Patronis, and Agriculture Commissioner Adam Putnam.
Only Scott's office responded, and the response did not answer that question, or whether the governor even supports the requested pardons. The response was essentially the same statement his office offered the last time he was publicly asked about the matter, in November, noting that the cases were going through "standard procedure" and the governor was keeping options open.
DuBose and Farmer also did not respond to inquiries to their offices about progress in the cases.
"Governor Scott is aware of the Groveland Four case and is strongly against any form of racial injustice or discrimination. Currently, the families of Walter Irvin and Charles Greenlee have applications pending with the Commission on Offender Review which conducts clemency investigations per standard procedure and the Florida Constitution. After the Commission concludes clemency investigation, their findings are presented to the four-member Board of Executive Clemency," Scott's spokesman McKinley Lewis said in a written statement. "We continue to review all of our options."
Charles Greenlee was a young father, only 17 in July 1949, when he came from Alachua to Groveland looking for work. That was his path into what now is the infamous, nightmare episode of false accusations, arrests, beatings, shootings, railroaded justice, killings, and imprisonments of four men since demonstrated to be innocent. The narrative was spelled out in the 2013 Pulitzer Prize-winning book Devil in the Grove by Gilbert King.
Some of it also was spelled out in the resolution approved last year by the Florida Legislature. The resolution declared, "We hereby acknowledge that Charles Greenlee, Walter Irvin, Samuel Shepherd, and Ernest Thomas, who came to be known as 'the Groveland Four,' were the victims of gross injustices and that their abhorrent treatment by the criminal justice system is a shameful chapter in this state's history."
Greenlee and Irvin were paroled in the 1960s. Irvin died in 1969, Greenlee in 2012. His daughter Carol Greenlee finally got to know him when she went off to college and stayed with him in Nashville. At that time, he was working in maintenance at a funeral home and a department store.
"My father was, in my eyes, a great man, a very compassionate person, considerate, a family man who loved his children, and he was just a calm, gentle person, in spite of all that he had gone through," she said. "He embraced life, and was very considerate of others.
A pardon, she said, "would, number one, lift the clouds over our heads in terms of his being sent to prison for something he did not do. It would give my nieces and nephews a sense of dignity, of respect, some confidence in themselves. When you're associated with someone in prison, it leaves a cloud there."
"For me, it hurts, to have lost the time that I'd never get back with my father. [There also is] a sense, a recognition that we are not descendant of a criminal. It will restore my father's dignity and honor, even after his death," she said.
Vivian Shepherd's uncle, her father's younger brother, Sam, was shot and killed while being transported to a pre-trial hearing, long before she was born. She's 56 now, living in Clermont.
Like the others, she was thrilled with the resolution. Frustration is mounting now, though. The resolution was an apology. The pardons, she said, offer a concrete legal statement, and that's what they want.
She has turned her frustration specifically toward Gov. Scott.
"From what we're told, he can do it. He doesn't have to go through the committee, but he calls himself 'following protocol' here, but we know he can do it," she said. "I don't know. Maybe I'm wrong, but I believe he just choses not to do it. What reason? I don't know.
"If not him, we'll look to the next governor," she added.
Walter Irvin's nephew, Eddie Lee Irvin Jr., 56, of Clermont, said he also believes politics is holding up the pardons process. And he fears there may not be the luxury of time for delays. Walter Irvin has a surviving sister, and two surviving brothers, including Eddie Lee Irvin's father.
"I'd just like to see something done, we've got three siblings left, before they leave this Earth," Eddie Lee Irvin Jr. said. "My Dad's sister, Henrietta, she's very sick right now, and she's been battling for this [justice] a long time. Before she leaves this Earth, I would like to see something done, so she can go and be at peace."