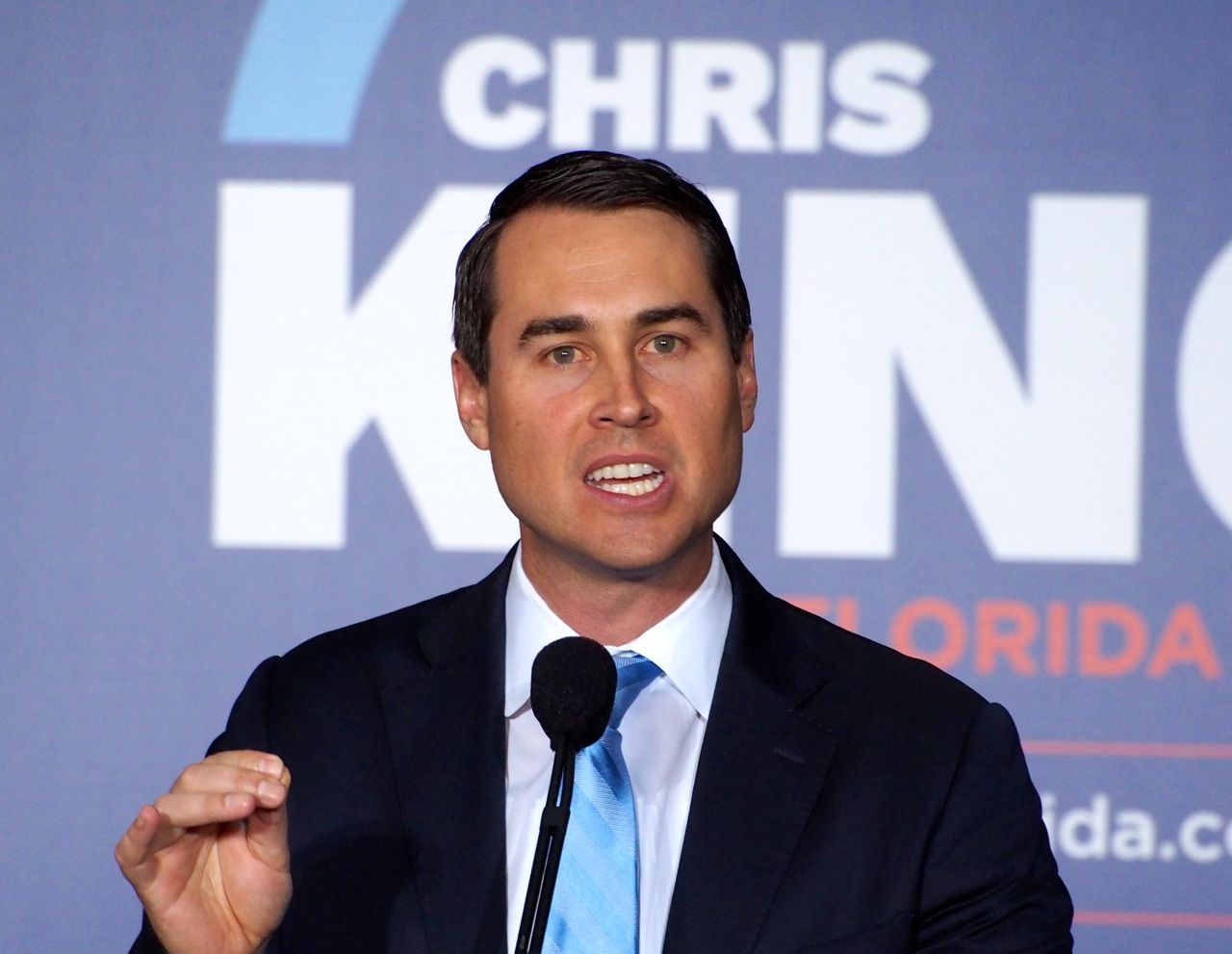 Democratic gubernatorial candidate Chris King laid claim Tuesday to the the Democrats' most far-ranging criminal justice reform platform by vowing to seek to end the death penalty, legalize marijuana, restore felons' voter rights, and close Florida's private prisons.
The six-point plan, which also called for reducing incarceration rates and investing in schools to close what King termed the "school to prison pipeline," is the broadest package yet proposed by Democratic gubernatorial candidates, though they all have pushed various justice reform issues, particularly Tallahassee Mayor Andrew Gillum.
King, the Winter Park entrepreneur who's been running a distant fourth behind Gillum, Philip Levine, and Gwen Graham in Democratic polls, unveiled the plan at the first stop of what he's calling his "Turning the Tide" tour, at a roundtable discussion in St. Petersburg Tuesday.
"Florida needs fresh ideas and new leadership to reform its broken criminal justice system," King stated in a news release issued afterwards by his campaign. "'Turning the tide' means reforming a system that needlessly criminalizes tens of thousands of nonviolent men and women in Florida. I reject the conventional politics of just seeking incremental change – we've got to fight for bold, progressive ideas to make our justice system fair while keeping Floridians safe."
Perhaps the biggest and most daring of the policy positions is his call for ending the death penalty in Florida. King, a devote evangelical who often cites his faith in his speeches, has been opposed to the death penalty a long time, according to his campaign.
It's an issue that divided much of Florida last year when Orlando's State Attorney Aramis Ayala sought to ban the death penalty in Florida's 9th Judicial Circuit, eventually losing an extremely hostile fight with Gov. Rick Scott and others in the Florida Supreme Court. Yet some public opinion polls indicated that Ayala, and now King, might have majorities of voters behind the position.
King's campaign said he would decline to issue death warrants as death row inmates come up for executions, and would seek commutations of death row sentences through the Florida Cabinet.
The campaign also said he would use "all legislative and constitutional avenues" to seek the end capital punishment in Florida and replace the state's ultimate punishment with life imprisonment without parole, and that he would use his line-item veto pen to reject appropriations for the operations of death penalties.
With Tuesday's platform unveiling, King also became the second Democratic candidate, after Gillum, to call for the complete legalization of marijuana in Florida.
"King believes the time has come to legalize marijuana for recreational use and tax it," his campaign stated. "Criminalizing marijuana has resulted in increased spending in incarcerating non-serious offenders and strained relations with the police. For example, African Americans in Pinellas and Hillsborough counties are at least six times as likely to be arrested for marijuana possession as white people. King supports legalizing, regulating and taxing marijuana for recreational use."
Among King's other proposals:
– Ending private prisons. "Rick Scott hands out private prison contracts like candy, promising that they will lower costs while not a single dollar of savings has been confirmed," the release contended. "Private prisons in Florida absorb $142 million taxpayer dollars each year yet produce inexcusable conditions for prisoners and fail to lower the recidivism rate."
– Restoration of voting rights. "King supports Amendment 4 to restore the rights of 1.6 million Floridians who haven't had their civil and voting rights restored because no one who has paid their debt to society should be denied the right to vote," the release stated. "Additionally, King supports reinstating reforms made by Gov. Charlie Crist attempting to stop delaying or outright ignoring requests by ex-felons for restoration of voting rights and other civil rights."
– Reducing mass incarceration. "Florida's crime and incarceration rates are in the top 10 nationally. King believes Florida's goal should be to reduce mass incarceration by 25 percent in the next five years and 50 percent in the next 10 years with proper sentencing reform for non-violent offenders. To reduce mass incarceration, King supports eliminating harsh mandatory minimum sentences for nonviolent crimes, instituting gain-time reform and pursuing civil citation programs," the release stated.
– Ending the school-to-prison pipeline. King's campaign contended the proposals would result in a $1.05 billion savings, which he would spend on K-12 education, colleges and universities, the justice system and corrections' rehabilitation program,s and childcare and early childhood development.