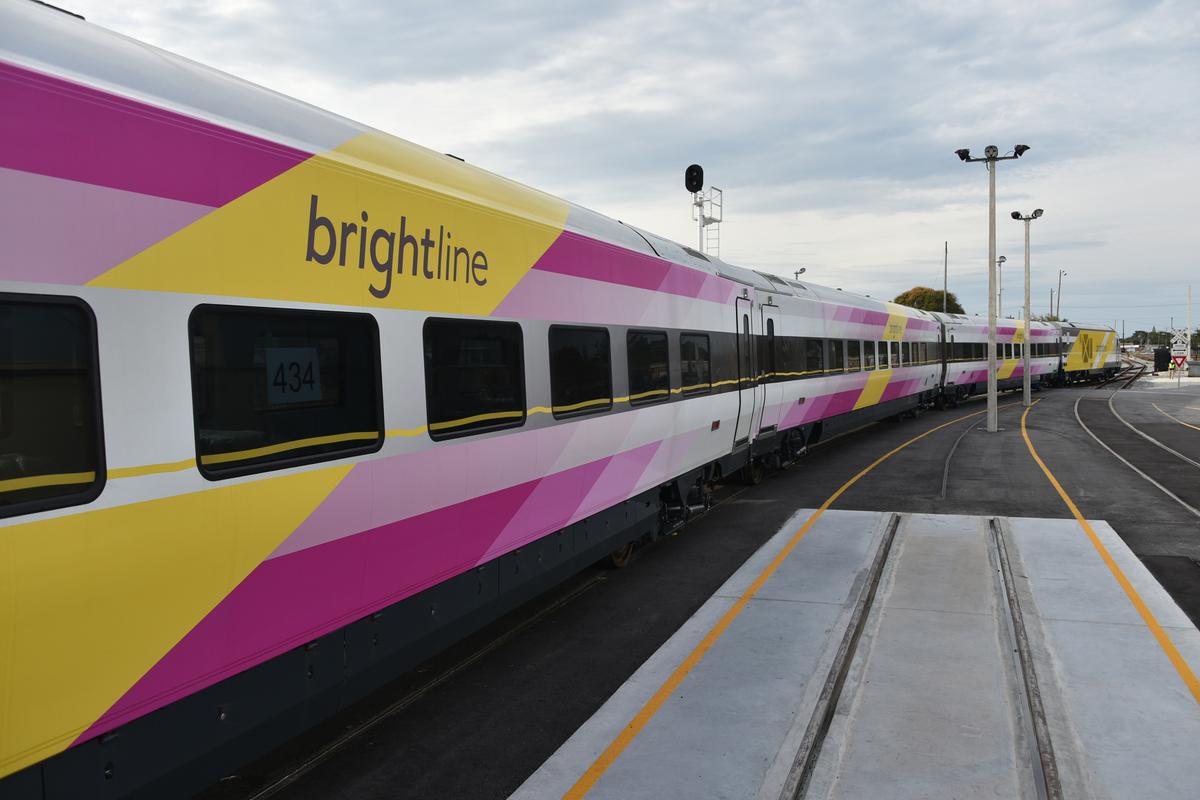 The federal government has granted a seven-month extension for All Aboard Florida to sell the $1.15 billion in private equity bonds it intends to use to finance the proposed higher-speed rail expansion that could roll private Brightline passenger trains between South Florida and Orlando.
The extension comes in the nick of time, as the company's federal approval for the bonds was to expire Thursday.
With the extension, the train project continues to roll, even as opponents have heated up efforts to convince the U.S. Department of Transportation that it had made a mistake in approving the federally-authorized, tax-exempt bonds in the first place. Opponents contend that Brightline shouldn't have been eligible under federal rules, which they interpret to apply to highways, not railroads.
The battle has been raging in Congress, as groups of congress members opposing the company's use of the PABs have dueled with members supporting the company. Meanwhile All Aboard Florida has maintained that not only was the train project eligible for the federal bonding program, it's an ideal recipient.
"We appreciate the leadership of the U.S. Department of Transportation in extending our private activity bond allocation," Brightline President Patrick Goddard said in a written statement issued by the company Thursday. "This propels our project as we extend Brightline to Orlando, developing a transportation network that will benefit the entire state. Having recently launched service to Miami, Brightline has already created thousands of jobs and will drive millions in economic impact as we serve Florida's residents and visitors."
The Brightline passenger trains now are running between Miami, Fort Lauderdale and West Palm Beach. The more difficult, more expensive, and more controversial part of the plan is the extension to Orlando. All Aboard Florida intends to sell $1.15 billion worth of private activity bonds.
Opponents led by Citizens Against Rail Expansion in Florida have raised concerns about the company's financial prospects, the potential longterm costs to local and state governments, and the safety of trains passing through Treasure Coast and Space Coast communities at speeds up to 110 mph, and between Cocoa and Orlando at speeds up to 120 mph.
The two sides' allies in Congress weighed in Thursday.
"The fact that Brightline needed to request an extension underscores that their business model is questionable at best without taxpayer subsidies," U.S. Rep. Brian Mast, a Palm City Republican, said in a written statement. He, along with U.S. Reps. Bill Posey, Ron DeSantis, and Matt Gaetz have been urging the U.S. Department of Transportation to suspend the bonds approval. U.S. Sen. Marco Rubio also has raised concerns.
"And the Department of Transportation's continued disregard that Brightline is in fact not a highway is absolutely unacceptable," Mast continued. "We will continue working to hold both Brightline and the Department of Transportation accountable for their serious abuse of taxpayer dollars."
Added Posey, "I am saddened to learn that apparently the Department of Transportation will continue to flout the law and turn a deaf ear to the safety concerns of residents who are worried about the impact of running these high speed trains so close to their homes, schools and downtown areas."
On the other side, U.S. Reps. Darren Soto. Carlos Curbelo, Mario Diaz-Balart, Ileana Ros-Lehtinen, Dennis Ross, John Rutherford, Frederica Wilson, and Lois Frankel have been urging the department to back the train.
"This approval provides critical funding needed to jumpstart Brightline Phase 2," Soto, an Orlando Democrat, said in a statement. "Soon, Central Floridians will be able to take near high speed rail to Palm Beach, Broward and Miami further connecting our big state. I am proud I was part of the bipartisan efforts that helped secure this approval."
Still at issue, though apparently not for the U.S. Department of Transportation's extension approval Thursday, are concerns that Mast, Posey and U.S. Rep. Mark Meadows of North Carolina raised in an April 19 congressional hearing on whether Brightline should have been deemed eligible for the bonds. Meadows has demanded more information from the department.
All Aboard Florida rebuffs their concerns, also arguing that taxpayers are not at risk, private investors assume 100 percent of the risk, and the PAB program has long been used as effective method of attracting private financing of projects that provide public benefits, as the company says Brightline will do, when it offers a privately-run option to transport Floridians and tourists between the Orlando and South Florida markets.
Opponents continue to challenge those assertions, pointing out that a 2014 lawsuit led a judge to conclude that taxpayers would be saddled with up to $600,000 in the form of taxes not paid on the bonds.