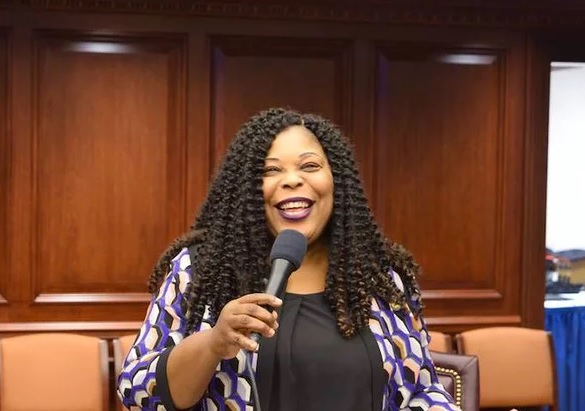 District 38 Sen. Daphne Campbell brought in a healthy $12,650 for her re-election campaign last month but shelled out even more as she looks to fend off primary challenger Jason Pizzo in the Democratic stronghold.
Her report, filed Thursday, shows 28 contributions including a half-dozen for the campaign maximum of $1,000.
Those donors included telecom company T Mobile, racetrack Gulfstream Park, Miami physician Allan Jacob, Jack Cory of Public Affairs Consultants, and Rudy Moise, a Haitian American businessman and retired Air Force colonel who has twice mounted Democratic primary campaigns for the seat held by U.S. Rep. Frederica Wilson. His wife, Mirjam Moise, also showed up as a $1,000 donor.
Further down the list were five Miami law firms: The Law Office of Michael J. Feldman, James D. Payer PA, Goldberg & Hirsh PA, The Deprimo Law Firm and Gregg M Goldfarb LLP.
The Campbell campaign also spent $15,393 for the month. Included in that tally was a $3,300 check to Harry Reese for campaign consulting, $2,500 to The Gospel Truth for advertising and $1,300 to Walter Haas Graphics for signs. A long list of canvassing and phone banking payments made up another $2,600 of the outflow, while payments to campaign staffers totaled $1,600 for the month.
The Miami Democrat has now raised $92,400 since filing for re-election. She started June with $29,800 at the ready.
Pizzo, a former prosecutor, has not yet filed his May report — it's due to the state on Monday — however his prior month report showed $152,000 in total fundraising since he began campaigning in earnest around New Year's with more than $78,000 in the bank. That total includes $75,000 in loans.
Campbell and Pizzo were the top two finishers in the six-way primary for SD 38 two years ago. Campbell received 31 percent of the vote compared to a 24 percent share for Pizzo, a difference of 2,129 votes.
If no other candidates enter the race before the qualifying period ends on June 22, their rematch will be a true head-to-head with the winner heading to the Senate without opposition on the November ballot.
The primary election is Aug. 28.