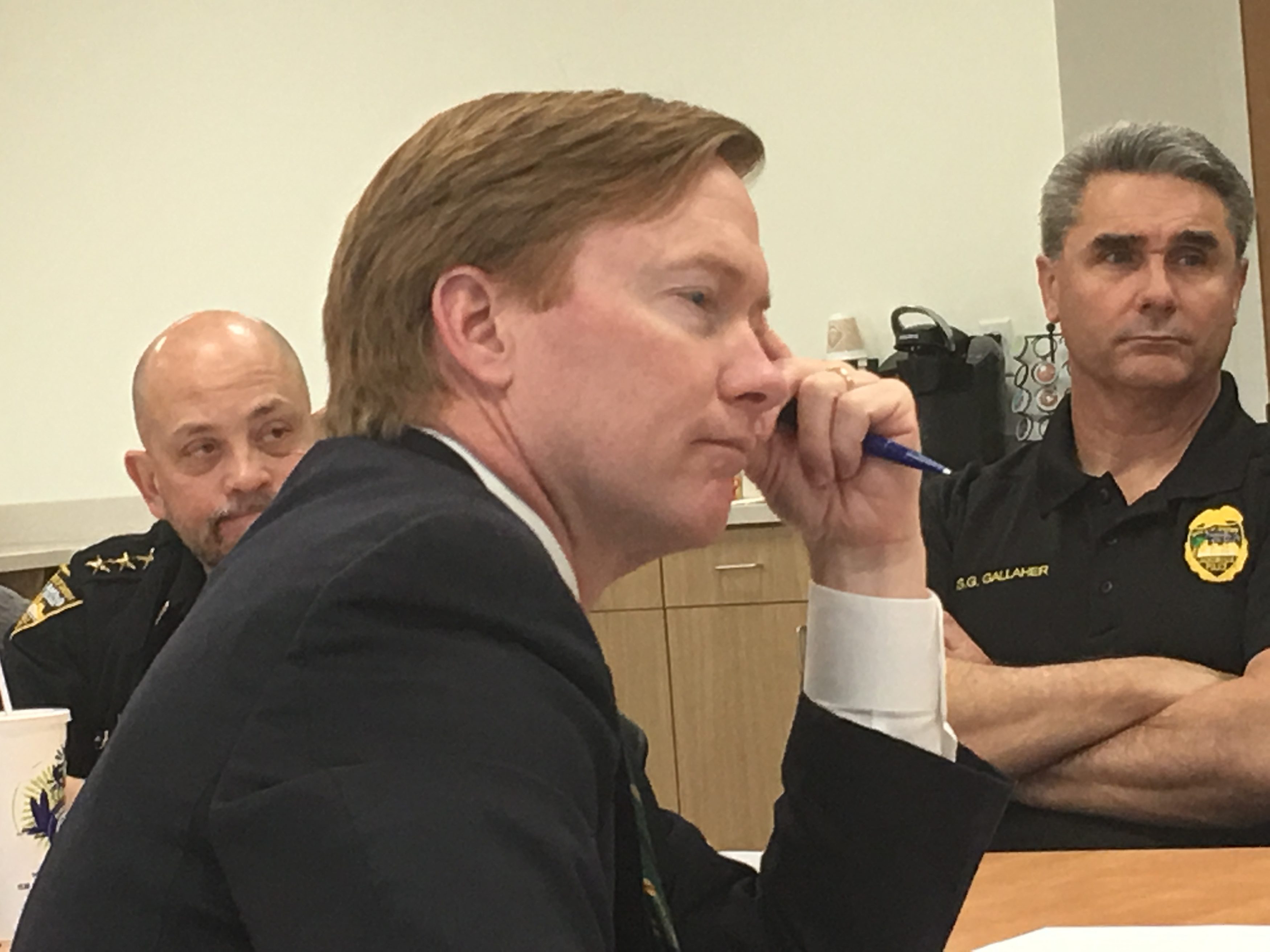 A Tampa Bay Times investigation into an apparent yearlong lapse in national background checks for Florida concealed weapons permits has started a wave of Democrats calling for Republican Agriculture Commissioner and gubernatorial candidate Adam Putnam to drop out of the Governor's race or resign.
They were responding to a new report from the Times "Buzz blog" Friday afternoon that said Putnam's Department of Agriculture and Consumer Affairs failed for more than a year to run national background checks on people applying for Florida concealed weapons permits.
The lapse may have resulted in unknown numbers of permits issued to people not qualified to carry guns in public.
A response put out by Putnam's office reads, "To be clear, a criminal background investigation was completed on every single application. Upon discovery of this former employee's negligence in not conducting the further review required on 365 applications, we immediately completed full background checks on those 365 applications, which resulted in 291 revocations. The former employee was both deceitful and negligent, and we immediately launched an investigation and implemented safeguards to ensure this never happens again."
Leading the pack was Democratic gubernatorial candidate and Tallahassee Mayor Andrew Gillum:
"Adam Putnam's rhetoric on guns has been dangerous — but this is far worse. His department's failure to conduct background checks is a dereliction of Putnam's duties, and he should consider whether he is able to continue running for governor or serving as commissioner of agriculture," Gillum, the mayor of Tallahassee, said in a written statement Friday.
Gillum also released a video on Facebook that went into greater detail, railing against dangers that he says Putnam may have unleashed in the forms of armed people who were not screened.
Former U.S. Rep. and Democratic gubernatorial candidate Gwen Graham:
"Drop out now, Adam."
Democratic gubernatorial candidate Philip Levine:
Former Miami Beach Mayor Philip Levine stopped short of urging Putnam to drop out of the race, but did say he should consider resigning from the agriculture commissioner's post, and Levine called for an investigation.
"Negligence that threatens and costs lives must never be tolerated — Adam Putnam's lack of due diligence and disregard to follow protocols endangered communities and put people's lives at unnecessary risk. Career politicians like Mr. Putnam think this is just another bad day at the office — but when you conceal a level of negligence that endangers every resident, and every child, in Florida, you forfeit any moral right to lead."
"This failure by his office to review background checks coincided with the tragic Pulse shooting — a lack of responsibility like this cannot be tolerated. An investigation should be opened immediately. These developments require an immediate response from Commissioner Putnam, starting with if he deserves to continue to serve in his current role."
Democratic gubernatorial candidate Chris King:
"Adam Putnam should resign."
U.S. Rep. Ted Deutch:
His district includes the scene of the horrible Marjory Stoneman Douglas High School slaughter in February. He said in a tweet that Putnam "must" resign.
"My blood is boiling. This is an unimaginable failure for anyone who serves the public. He made FL less safe. He put lives at risk. He must resign."
State Sen. Linda Stewart:
Her district includes the site of the horrible Pulse slaughter on June 12, 2016, said Putnam "needs to resign."
"I'm extremely alarmed at the failure by Commissioner Putnam to disclose that his agency had failed to conduct these critical background checks — allowing possibly mentally disturbed individuals and others who shouldn't be disqualified, to be legally armed in Florida."
State Rep. Jared Moskowitz:
"After twenty-two years of holding public office, we can now add an additional major accomplishment to Adam Putnam's lifetime government employee resume: helping to put guns into the hands of terrorists. Putnam's gross negligence may have allowed someone on the FBI terror watch list to get a concealed carry permit.
"How can a politician who can't even fulfill their basic duty to keep Floridians safe be our next governor? Lets just think what some Republicans would say if Obama did this, they would ask for his birth certificate……again!"
American Bridge:
"Adam Putnam should resign immediately," American Bridge spokesperson Zach Hudson said in an issued statement. "Not being able to log into the FBI background checks system should have resulted in Adam Putnam's office calling an IT professional, not approving concealed carry permits to potential criminals."
The Pride Fund to End Gun Violence:
"Adam Putnam clearly has more allegiance to the NRA and gun culture than he has to ensuring the safety of Florida's citizens," stated Pride Fund executive director Jason Lindsay.
The Times article cites a report from the Office of the Inspector General that says that starting in February 2016 the department could not get into the FBI's federal background check database to see if applicants had issues in other states that should prevent them from holding concealed weapons permits in Florida. The situation persisted until at least March 2017, according to the Times. The problem existed because the clerk with that role could not log into the FBI's National Criminal Instant Background Check System, according to the OIG report.
In the 2015-16 fiscal year, Florida received a record 245,000 applications for concealed weapons permits. In the 2016-17 fiscal year the record was broken again with 275,000 applications, the Times reported.
Without federal background checks, it could be impossible to screen out anyone who might be disqualified from carrying guns in public in Florida, who might have such issues as mental illness, the Times notes.
Gillum's reference to Putnam's rhetoric may have been to Putnam's statement, in a tweet last year, that he considers himself a "proud NRA sellout."
The liberal media recently called me a sellout to the NRA. I'm a proud #NRASellout! Sign below if you are, too.https://t.co/Uro4UVtIOf

— Adam Putnam (@adamputnam) July 26, 2017