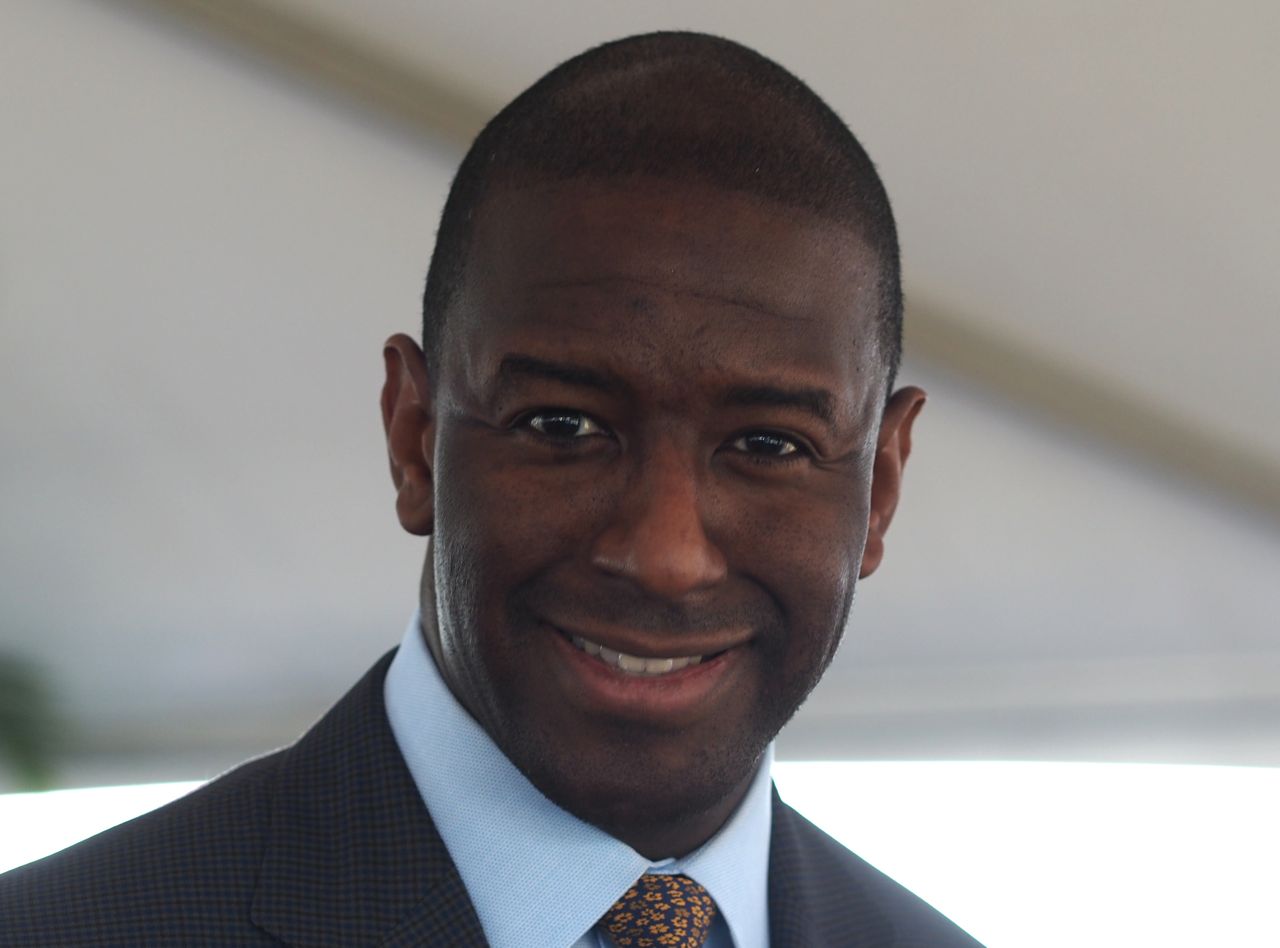 Central Florida Democrats may not have gotten a debate in their backyard, but they did get to hear Tallahassee Mayor Andrew Gillum give his pitch Tuesday on why he should be the Democrat to go toe-to-toe with Adam Putnam or Ron DeSantis in November.
Before the town hall got into full swing, Gillum made clear, without naming names, why it was happening in the first place — he (and primary opponent Chris King) had signed on for a Central Florida debate, but former Congresswoman Gwen Graham and former Miami Beach Mayor Philip Levine were keen on sticking to the five primary debates all candidates originally agreed to.
"In spite of the debate being canceled, Orange County and Orlando matter to me" … "in fact, it should matter to anybody who wants to be Governor of this great state," Gillum said. "I'm prepared to go to every corner of this state because when you're the governor of Florida, you're not the governor for some of Florida you're the governor for all of Florida."
Gillum then launched into the platform that should be familiar to most who have kept tabs on his campaign since he entered the race to succeed term-limited Republican Gov. Rick Scott over a year ago.
He dogged the incumbent for not expanding Medicaid and turning away federal cash for high-speed rail; he gave a full-throated endorsement for Amendment 4; and he detailed an extensive list of education priorities he'll push for if elected — a $50,000-a-year base salary for teachers, better early education, and more opportunities for K-12 students who aren't college-bound to learn skills that can land them a place in the workforce.
Many of the questions asked by the crowd were on topics that Team Gillum had already hammered out a snappy response for during his time on the campaign trail.
On guns, he told a young student that "no parent should fear that their kid will come home in a body bag," and that he was fully in favor of arming teachers … with better salaries" but never firearms.
On marijuana, he said the Republican-controlled state Legislature had shirked the will of the people and "dragged their feet" on implementing medical marijuana. He also mentioned his support for full legalization of the drug, citing the racial disparity in the criminal prosecution of marijuana possession.
On private prisons, Gillum said: "I believe they ought to be illegal in this state."
That line, like many others throughout the 90-minute event, led to a burst of applause from the crowd and an explosion of likes and hearts for those watching via the Facebook livestream. He also said he wanted other criminal justice reforms, namely an end to cash bail.
"We need money bail reform," he said. "People sit in prisons for months when they're not convicted of anything."
The only true curveball Gillum fielded was a question about the dysfunction in Tallahassee's City Hall, which has long been under investigation by the FBI for alleged corruption among elected officials. Gillum is not a target of that investigation, but some people with close ties to him are.
"I'm willing to take responsibility for what my actions have been. Not the actions of a colleague who might have been independently elected," said Gillum, adding that he hoped voters would look at his 15-year record in public office, first as a city commissioner, then as Mayor.
Later on, a charter school employee asked for Gillum's position on funding for-profit schools, and he didn't blunt the edge on the language he and other candidates for Governor have employed thus far, telling her that Florida "shouldn't be funding for-profit education" and that he believes if elected, public K-12s "can do better" because they "have done better" in the past, before the prevalence of high-stakes testing.
The closing minutes of the town hall saw Gillum pass the mic to Orlando City Commissioner Regina Hill, who gave him a very personal endorsement in the primary race.
She said she met Gillum when she rushed to Tallahassee on the eve of her daughter's death in 2015, and in that hour of need, Gillum was the first person to reach out to her and her family. Since then she's kept her eye on the Tallahassee pol and has liked what she's seen.
She then riled up the crowd with an impassioned recounting of Gillum's merits as a candidate, while also knocking his opponents.
"I don't care who your momma or daddy are — yeah, that's some shade there. I don't care how much money you have," Hill said of the other Democrats in the race. " … Gillum is the choice for working Floridians."