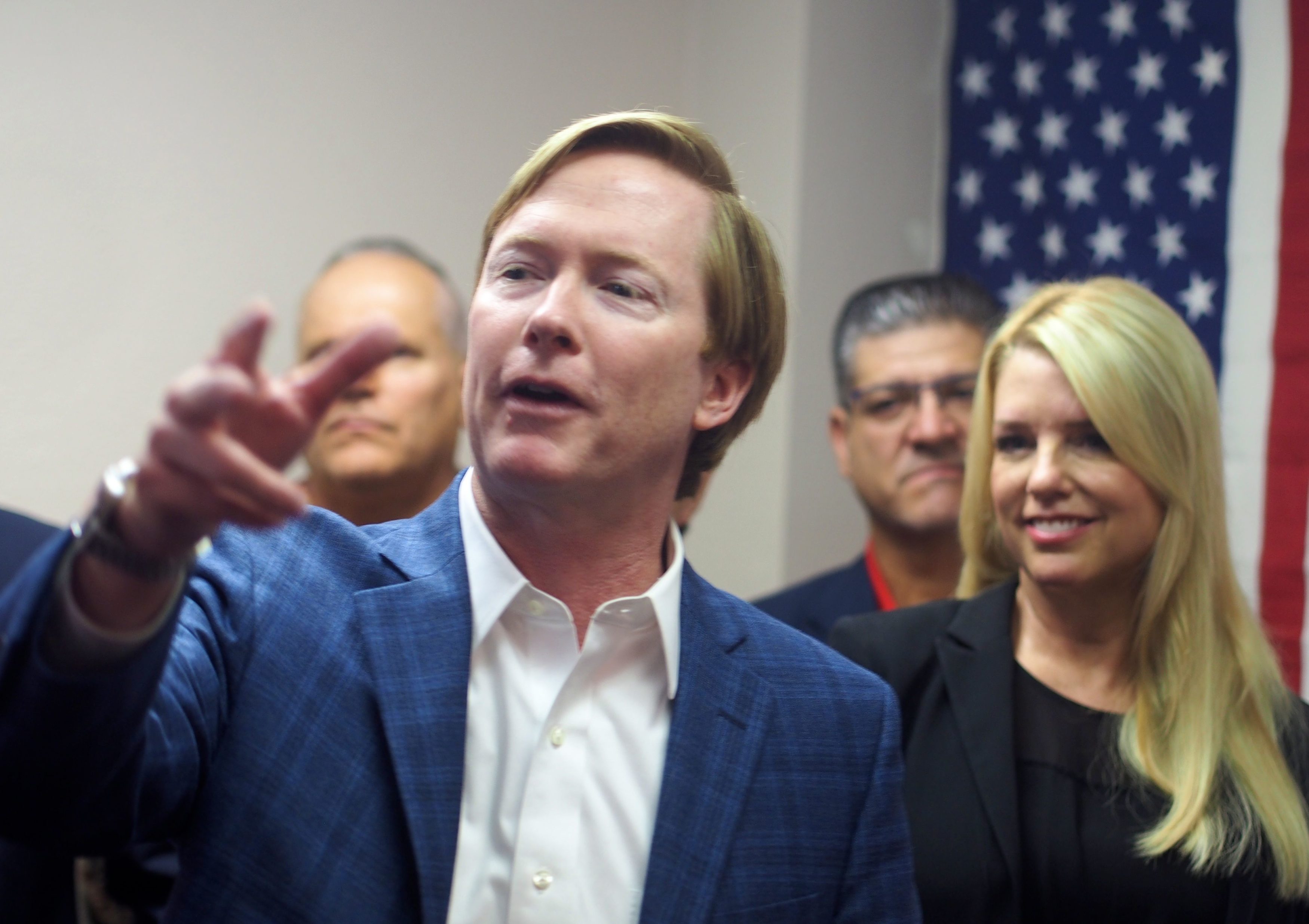 Needing a little love in a month that so far has gone largely his opponent's way, Republican gubernatorial candidate Adam Putnam drew full support from Florida Attorney General Pam Bondi Thursday, as she said the Florida agriculture commissioner "is like family to me."
Bondi has long supported Putnam but Thursday's appearance, as he opened a campaign office in Winter Park, gave her the opportunity to make the strongest public endorsement of her fellow cabinet member whom she called "a dear friend," and to place the two together on the campaign trail.
"Ethics, intelligence, and humility I think are so important for these jobs. And Adam Putnam epitomizes that here in the state of Florida. I know him personally. He's like family to me. I know his wife, his kids. I know his heart. He's a great human being," Bondi said.
"He cares about the state of Florida. He knows Florida inside and out and he will do everything he can to protect Floridians and take care of our great state," she added.
Putnam's primary opponent U.S. Rep. Ron DeSantis, who has surged well ahead in the polls since the June 28 Republican gubernatorial debate, in large part by waving his endorsement from President Donald Trump, has been trying to short-circuit any Florida endorsements Putnam receives, telling rallies, derisively, that all the Tallahassee insiders like Putnam.
Bondi could be different, given her popularity among Florida conservatives and ties – for which she has received her share of criticism — to Trump.
Still, Putnam finds himself in defense mode from DeSantis' direct attacks, and from the Ponte Vedra Beach congressman's 20-point surge in many polls in recent weeks, after Putnam had been stumping for 13 months. While DeSantis has been drawing huge, raucous crowds to rallies, Putnam said he's confident that he's drawing just as many people to his barbecues.
"Here's why we're going to win. We're going to win because we have the strongest grassroots group of volunteers. We're going to win because we have a message that resonates across the state.  We're going to win because I'm the candidate who knows Florida best," Putnam told dozens of supporters who came to his campaign office opening, including former U.S. Rep. John Mica, state Sen. David Simmons, and state Reps. Bob Cortes and Scott Plakon.
Unlike DeSantis, who goes after Putnam by name in his speeches, Putnam referred to his opponent only vaguely, as he talked about knowing every inch of Florida, and thereby implying that DeSantis does not.
"You can't solve problems from a television studio in Washington," Putnam said, referring to DeSantis' frequent appearances on FOX News, which, until late June, had been his prime campaign venue. "You can't solve our problems with bumper sticker slogans. You have to have solutions. I'm the candidate running for governor who has specific plans, a real agenda, and real-world experience in business and public life."