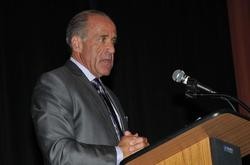 Frank Biden, brother of former Vice President Joe Biden, is set to join The Berman Law Group as a senior advisor.
The firm handles litigation in a wide variety of fields, including government relations and personal injury, representing clients throughout the state of Florida.
"We are honored to welcome Frank to the firm. He brings a prestigious combination of accomplishments and experience that will be an integral asset guiding our advisory clients' efforts as well as assisting our expansion nationally," said Russell Berman, one of the firm's cofounders.
Biden previously worked as executive director for School Property Development LLC, where he was responsible for approval and construction of educational facilities throughout Florida. Biden also worked as a White House legislative director during the Bill Clinton administration.
"We are thrilled to have Frank, a proficient strategist who is highly regarded in the business and government sectors, join the Berman team," said Theodore Berman, another of The Berman Law Group's cofounders.
"Our clients will be well served by Frank's diverse insight and expertise."
Representatives of The Berman Law Group referenced past government clients served by the firm, noting the addition of Biden would help in those efforts.
"The Berman Law Group has a remarkable organization of hard-working attorneys and consultants who achieve a high level of success for their clients," said Biden.
"I am looking forward to working with Russell, Theodore and the Berman team in broadening strategy that will continue the history of winning and help our clients meet their objectives."
Of course, Biden's brother Joe has also earned some headlines recently, saying he would decide on a 2020 presidential run by January of next year. President Donald Trump responded by saying Biden would be "a dream" opponent, implying an easy victory.
The Berman Law Group has offices in Boca Raton, Miami, Orlando, Tampa, Jacksonville, St. Petersburg, Gainesville, Pensacola, Stuart, Sunrise and Sarasota.